Meeting the demands of maintaining and servicing offshore boats for the go-fast community comes naturally for Tom Healey his Partner Mike D'ambra and their team at Marine Unlimited. In fact, for the last decade, the marine service operation has been meeting the needs of performance enthusiasts in more ways than one.
Based in Mount Holly, NJ, with three facilities that amount to 12,000 square feet, Marine Unlimited caters to the offshore crowd with many offerings including boat maintenance and rigging, fiberglass work, winter storage, as well as paint, graphics and interior design, manufacturing and installation. In between, is the company's special boat transport and five-star concierge services for clients who want hassle-free boat services and experiences while attending boating and poker run events across the county. If it's five-star service they want, its five-star service they get.
While they are not the only company that offers this type of program, Marine Unlimited, which serves the New Jersey region and beyond, seem to meet the needs of its clientele. All demands are met, regardless of the request and/or final destination.
"I like managing the logistics of taking a client and his boat at an event," says Healey. "I am very good at it and enjoy the challenges. For instance, there's a lot of effort to picking up, say for example, a 52' MTI. We have road permits to attain, long-distant travel details to prepare and ensure we have everything in order when working with a client(s) for a poker run event. It also has to be met within a certain time frame."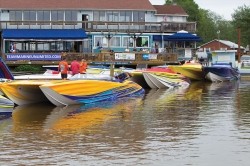 According to Healey, its concierge service is just that. Marine Unlimited recently worked with a client from Texas who was attending a poker run in Miami. A member of this team flew to Texas, picked up his boat and rig, drove it to Florida, prepped it at TNT Custom Marine in North Miami, splashed it, brought it to the slips at the hotel, checked the client in at the hotel, and sent transportation to the airport to pick the client up. Their boat was also fueled, iced, cleaned and ready to run the next day. They then waited for further instructions.
Healey explained that approximately 90 percent of the clients run the boat themselves. If requested, Healey or another Marine Unlimited expert will be on board to inform the client of navigation, assist in demanding water conditions or take care of any unexpected mechanical issues.
"We have been to so many of these events we know the areas and waterways very well. We also know the region, the facilities, slips, local services, etc. so that really makes the client's experience less stressful," says Healey. "For us, our clients have been boat owners for several years, and are very knowledgeable and experienced. If they want to go boating by themselves, what we do is prep everything for them and will be in stand-by mode ashore at the ready if there are any problems or concerns."
Marine Unlimited also doesn't take any chances on the road. They transport their own parts and tools and always have enough parts whether a client is running 525s or 1650s. At long-distant poker run events (while working with several clients on one weekend) Marine Unlimited sets up a site, making service and other tasks easier and more efficient.
"All of clients are long-term and our number one goal is to ensure they are happy," said Healey. "If there is a mechanical breakdown – not a catastrophic breakdown – but something that may hold us back for a few hours we will handle the boat. If we can fix it, we will keep the weekend alive. Keeping everything operating is our number priority."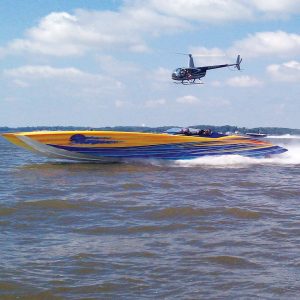 As Healey clearly understands the time and costs it takes to attend some of these events, Marine Unlimited not only practices preventative maintenance, but they practice what they call "predictive maintenance" seeing potential problems way before they may arise.
"Over the course of a season, or even in advance of an event, we do a lot of predictive maintenance as it's our job to inform our client about potential problems. For example, we inspect some parts that haven't yet failed. If we have a boat that is four or five years old, and if a certain part is at the 65 percent level and we are planning on running 300 miles at an event, we will suggest some swap-outs."
With a busy season so far for Healey and his crew, they are expecting to attend 10 to 12 events by the fall. With clients spanning the Jersey coast, Long Island, NY, throughout Upstate New York, even parts of Florida and Texas, Marine Unlimited will be on the move taking care of their clients with efficiency and professionalism. PRA
www.teammarineunlimited.com