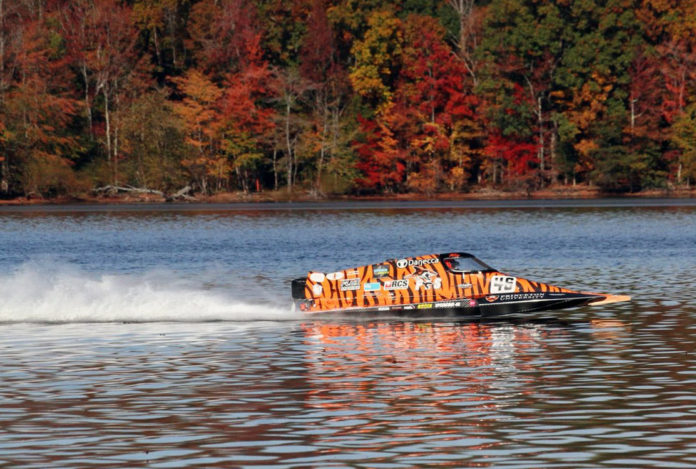 Princeton University's Electric Speedboat team broke the world water speed record for an electric-powered boat on Thursday when hydroplane driver John Peeters averaged 114 mph on the American Power Boat Association's sanctioned kilo course on Lake Townsend near Greensboro, N.C.
The team, made up of 30-plus students and alumni from New Jersey's Princeton University, broke the previous record of 88.61 mph established by Jaguar Vector's race boat in 2018.
After a brief course delay the team launched their 200 hp three-phase AC motor attached to a customized D-Stock hydroplane on perfect lake conditions with picturesque fall trees surrounding the lake.
Peeters entered the kilo speed-trap and posted his single direction speed of 111 mph.  Without recharging the engine's batteries, he then increased his speed in the opposite direction, recording a speed of 117 mph.  The two speeds averaged together for the new world record.
"We came together as a team with a dream.  Today the hard work and ingenuity brought this dream into a reality," said Peeters, an Arlington, Wash. resident and holder of numerous hydroplane racing records.
"Rarely can one say, we are the greatest or best, but today we can, -fastest electric boat ever," he said afterwards.
Fortunately for the team the record was reached on the first run of the day because it was later discovered the team had broken their only propeller shaft in the record run.
After repairs are made, Andrew Yates, Princeton Electric Speedboating chief technology officer said they are on point for 120 mph on the next attempt and plans are in the works to increase the record they just set.