When John Diakoulas takes to the water in his 42′ Outerlimits, School's in Session, he always does so with family and friends.
John Diakoulas has been boating for as long as he can remember. He started with his parents' boat when he was growing up in Baltimore and today when he goes out for a ride in his 42' Outerlimits, School's in Session, he has his three sons, daughter, daughter-in-law and at least one or two friends on board with him.
"A lot of people have boats," said the 63-year-old construction and real-estate development magnate. "But a poker run is a special event that you get to enjoy, especially when you have your family and friends with you. It can't get better than that."
He bought his current boat in 2013 from well-known boat auction house, National Liquidators. The 2001 Outerlimits 42' Legacy was last registered in 2007 and it was quite the project. Diakoulas made the hour drive from Baltimore to Annapolis six different times to look at the boat. He heard there was another interested party, so he pulled the trigger and bought his first high-performance boat.
"I still didn't know exactly what I had," said Diakoulas. "It looked like fun, but it needed a lot of work."
He owns Acropolis Construction in Baltimore and Diakoulas looked at the boat the same way he evaluated a property that he would buy and restore.
I said, "What's the difference?'" laughed Diakoulas, figuring a project boat was no different than a house or an apartment complex. He had the interior re-done and the exterior was taken care of with some good polish, wax and elbow grease, completed by Stu Riger.
Tony Silveira, a seven-time World Champion, at Chesapeake Marine Services. Silveira, is not only the mastermind behind the boat's supreme power source, but also a close friend and high-speed boating mentor.  His masterpiece starts with 656-cubic inch Merlin super blocks with Bryant custom cranks, Carrillo connecting rods and JE pistons. The Dart Big Chief cylinder heads are loaded with Inconel exhaust and intake valves. The high-octane aviation fuel is delivered to the engines through twin 1,150-cfm carburetors that sit atop PF Marine intercoolers and Blower Drive Services 16-71 superchargers that compress the air/fuel mixture prior to injection into the cylinders. CMI Big Tube headers blast the exhaust out the stern and when the engines fire up, be prepared for some serious thunder.
"If you get behind the boat when we start it up, it's hard to know if your heart is beating or not," said Diakoulas. "Your whole body is vibrating. I love the feeling."
While they are rated at around 1,200 hp, the engines make crazy torque. "It's got so much torque that the dyno can't pull it down," said Silveira. "What surprised me was blowing transmission after transmission," said Diakoulas. But they finally remedied the issue by installing Velvet Drive 72 L-HP transmissions that will work with the boat to put the power to the water and keep everything else healthy. After three years of working out the gremlins, the Diakoulas family is hoping that 2017 will be a positive season.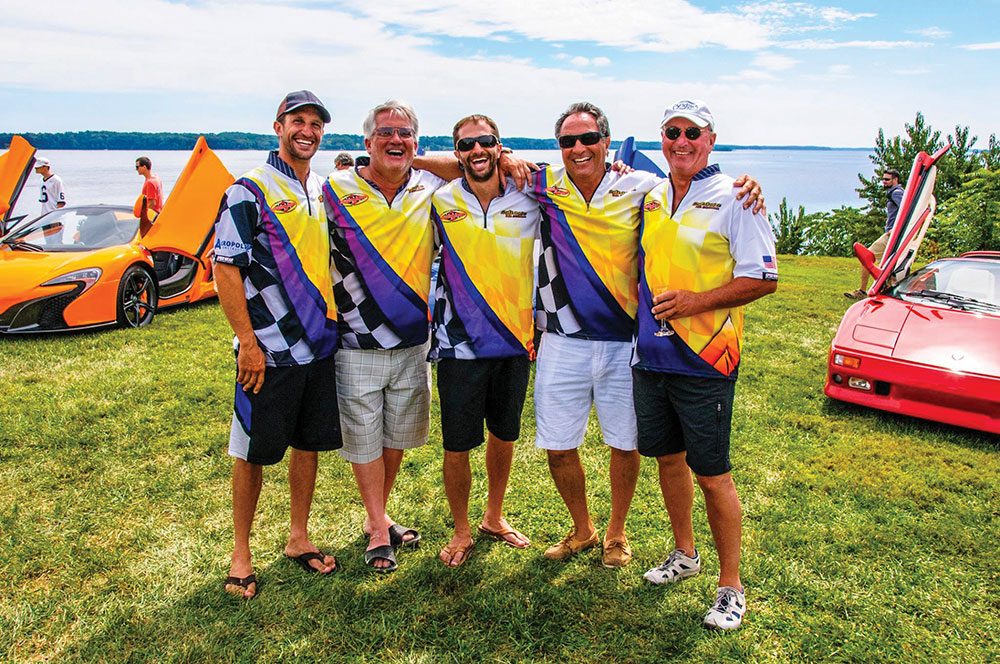 Son, Mike, who is the family crew chief added, "When we tested it at the end of last year and pushed the throttles to the max, it felt incredibly strong. My hopes are high for a great season." The boat went to Lily Sport Boats in Millersville, Md., to have some dings in the fiberglass and gelcoat fixed and to get polished and prettied up from bow to stern. The Hering props were sent to Gene Thomas at Black Dog Propellers to be dialed in.
Owning a stunning 42' boat that can run over 120 mph is something a young John Diakoulas could only dream about when he was running around the Chesapeake Bay in the family bowrider. His parents immigrated from Greece and his father Emmanuel was a tailor and his mother Pauline was a seamstress. Diakoulas grew up with two older brothers, Gus and Paul and a sister, Chris. John was the youngest and from an early age, fell in love with the water.
At the age of 14, he started working part time because his father told him, "Nobody is going to give you anything. If you want it, work for it." He wanted a boat so he worked to earn the money.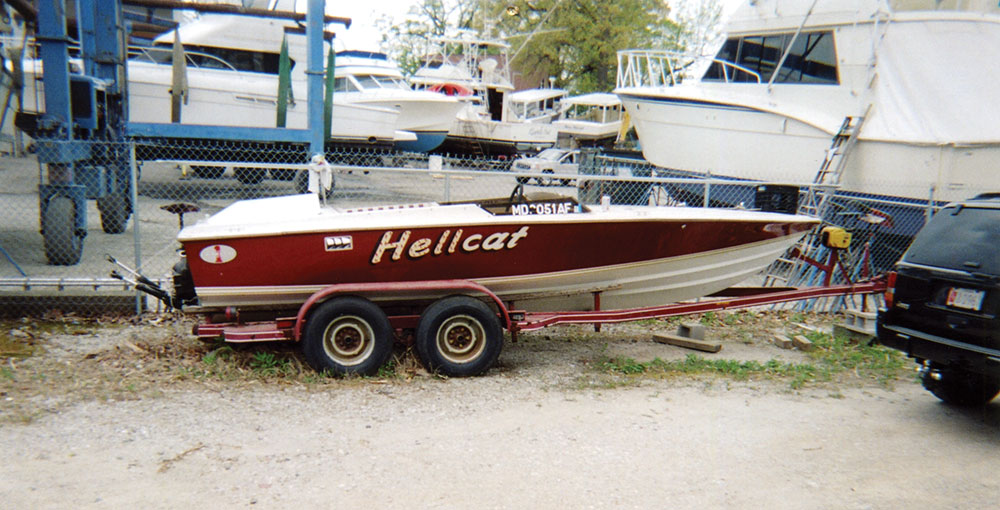 He bought a 21' Cigarette, notoriously known as Hellcat, from Don Aronow and from close personal friend Dale Lucas. It was powered by a 350-cid engine that made 420 hp and Diakoulas immediately installed a nitrous kit. The boat had a foot throttle and the nitrous was controlled with a switch operated by the driver's left foot. When he hit that button, Diakoulas said he and his friend would be thrown back into the seats.
Like any kid, Diakoulas loved going fast and jumping waves. One time he was out on Chesapeake Bay and returning to Baltimore Harbor. There's a cruise ship called Lady Baltimore that takes passengers out for scenic tours and she was headed out as Diakoulas was coming in.
"I floored it over this wake and hit the nitrous, I had everything going," laughed Diakoulas. 'We hit this wave and were 8'out of the water. I heard sirens and looked up and there was a police helicopter above me."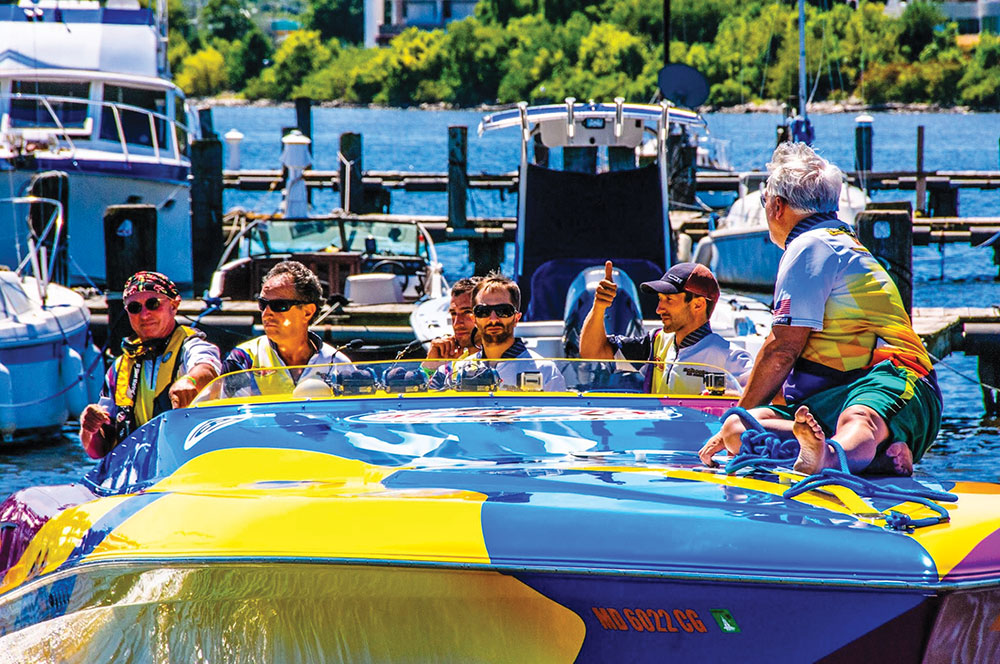 The pilot of the helicopter told Diakoulas to cut the engine and then said, "The sky is mine. Stay in the water. He then gave the thumbs-up, smiled and flew away."
"I was grinning from ear-to-ear and already looking for the next adrenaline rush," exclaimed Diakoulas. "That was a pivotal movement in my high-speed boating adventures."
He had the Cigarette for six years and from there, moved up to a Formula 357 powered by twin MerCruiser 420s with TRS drives.
Diakoulas also owned a 1969 lime green Fiat 850 Spider and when he was 19, he noticed that two girls were hitchhiking home from high school on his street. "I picked them up and dropped off one of the girls first, and then asked the other out on a date," he said. That lovely lady, Darlene, is now his wife of 40 years. They live in Baltimore and have four children, Mike, 36, Devin, 34, Brendan, 31 and a daughter Kara, 27. All the boys stayed close to home, while Kara lives in San Diego. Brendan recently got married to his wife Sofie and she loves riding in the boat. The boys are part of the School's in Session regular crew and last year Kara flew home to participate in the Rock the Bay Poker Run with the family.
At the age of 21, John Diakoulas started Acropolis Construction Co., Inc. Today, the company is managed by Devin, Vice President and CFO, and is one of the premier general contractors in Baltimore. Acropolis offers a full suite of services including design/build, construction management, general contracting and real-estate development. Brendan is a Division Manager for the family business, while Mike owns and operates a successful landscape company.
"One thing I was always told," said John. "If you work hard, you get to play hard."
The family enjoyed tubing, skiing and just cruising on the Formula for 14 or 15 years. John and the kids used to go and watch the offshore races that took place in Baltimore, but they never entered that boat in a poker run.
"We just went out there and had a good time," said John. "The key is to make lasting memories with family and friends."
While there are no set plans for the coming season, Diakoulas said that the Key West poker run is on his bucket list. Regardless of the event, you know that when School's in Session pulls into town for a poker run, the cockpit will be filled with Diakoulas family and friends and that John will be enjoying every moment.
"The key to my happiness is having so much fun with everyone and watching my sons and daughter drive the boat. It's great to be there, seeing their excitement and loving the water the same way I do," said John Diakoulas. "It's not about me, me, me. It's about all of us having fun and enjoying the rush of our boat flying through the waves. It doesn't get any better than that."