By Eric Colby
Photos Courtesy of Smart Marine
After introducing its Phoenix 32X catamaran at the Super Boat International offshore powerboat racing world championships last November, Smart Marine has been building additional boats and is moving into a new, bigger facility to keep up with demand.
"We've got the production process down-pat," said Smart Marine president Chris Schoenbohm. "We're able to complete a hull and deck in a six-week window."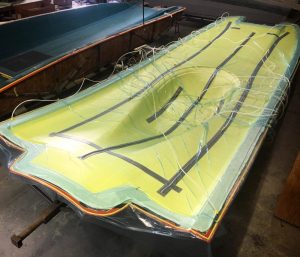 As of mid-March, Smart Marine had built seven of the 32' catamaran, all of which are powered by twin Mercury Racing outboards. Three are raceboats that will compete in the Superboat Stock class in SBI and will have twin Mercury Racing 300XS outboards. The remainder are pleasure/poker run models—the32XPR—that will be powered by twin Mercury Racing Verado 400R outboards. The company also recently introduced the Phoenix 32XCC, a center-console model.
All the boats have the Variable Speed 11/10 Running Surface multi-stepped bottom that was developed by Schoenbohm and Smart Marine Naval Architect Dustin Johnson. The raceboats and pleasure models also have the Smart Marine Diamond Safety Barrier, which is a cockpit that is shaped like a diamond and has the bulkheads and supports designed to deflect water and objects away from the occupants in the event of a collision.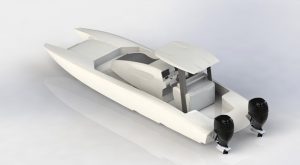 Schoenbohm is a former world champion in the Superboat Stock class in a 32' Doug Wright that he and his crew at Smart Marine widened and changed the bottom on to improve its turning. The company raced the running plug for the Phoenix 32X in Key West last November and Schoenbohm and Kevin Pruett will race a new 32-footer on the SBI circuit this season.
Schoenbohm and Johnson both said that by perfecting resin-infused construction, Smart Marine has significantly reduced the weight of the Phoenix 32 and that will result in improved performance. "We've brought down hundreds and hundreds of pounds after we switched to infusion" said Johnson. "When the Phoenix hits the water, the performance of the hull will speak for itself." Schoenbohm said that he expects the Superboat Stock class to be competitive this season and that his company alone is adding four boats to the fleet.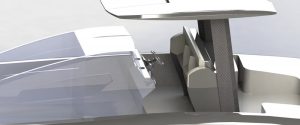 On the pleasureboat side, Schoenbohm said that the Phoenix 32XPR is available in four, five and six-seat configurations and all of them will have plenty of cockpit and deck space, including easy passage fore and aft on each side of the cockpit. "It's such a functional boat with such a roomy cockpit," he explained. "There are so many quality boats out there where you can't walk across the back or walk around the windshield."
On the 32XCC, some highlights include carbon and structural supports for the hardtop and a chaise-style lounge on the front of the console.
Moving forward, Schoenbohm said he wants Smart Marine to be known for, "The high-end 32' high-performance outboard catamaran that's priced right." When asked to describe his boss, Johnson said, "He's a very driven and passionate person. He has a mission he wants to achieve and it's great to work around a person who wants that."