Last weekend Marine Technologies Inc. held its third annual Owners Fun Run Through the Keys for its customers. If one word could be used to describe the event, it would be "busy."
"This run is a completely different program than most people are used to," said Tim Gallagher, MTI sales and marketing manager. "I keep everybody moving so they don't wonder what's next. I give them a little notice and a plan. We keep everybody informed."
Participants appreciated the attention to details. "It was really, really well thought out and planned," said Billy Moore, who throttled David Spear's 40' MTI, Distant Thunder, with the owner driving. "It was set up really first class. You could just show up and get in the boat and go for a boat ride if that's what you wanted to do."
The event that was held in mid-March for the first time drew 32 boats from around the country including the company's larger catamarans, a handful of the new outboard-powered 34 MTI and come center consoles. Derek Wachob came in from Oklahoma and had his 52' MTI, Black Diamond, as well as his 34-footer, Black Diamond Express, and his 110' motoryacht, all on hand. The Panty Dropper crew hauled44' MTI all the way from Utah and Johnny O'Loughlin came down from New Jersey to run the first day in his 48-footer.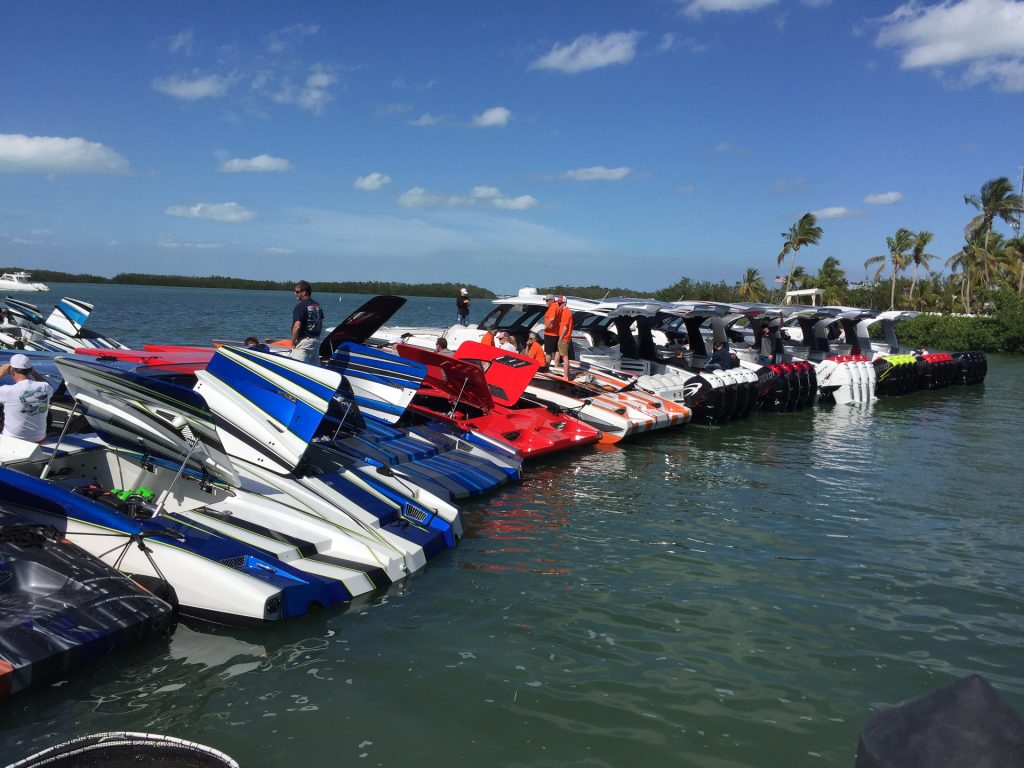 Things started Wednesday evening with a captains meeting at Duffy's Sports Grill in North Miami. The next morning, the boats were all launched at Haulover Marine and TNT Custom Marine. MTI had a number of employees on hand and all the participants' luggage was loaded into a factory provided support truck to bring it to the Faro Blanco Resort in Marathon, Fla.
The first stop on Thursday was at Bass Pro Shops in Islamorada, Fla., for lunch, where the fleet spent a few hours before heading to the hotel for the evening. At the end of the day, Gallagher arranged for cocktails on the docks at the hotel before the participants headed out to dinner on their own.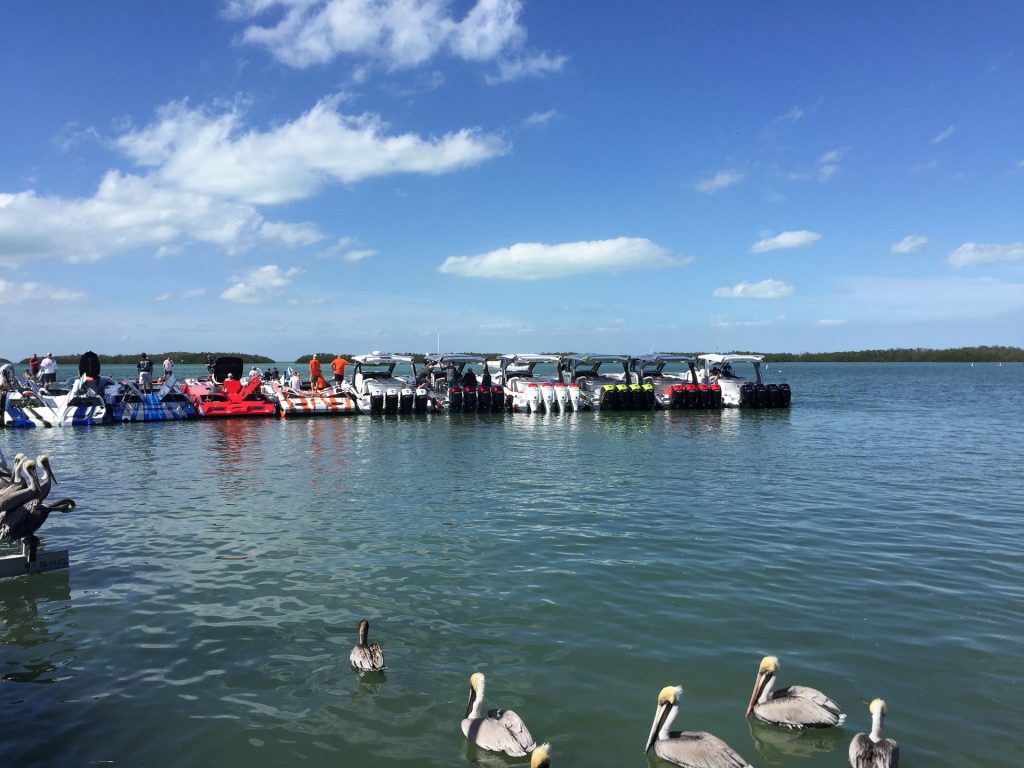 Group texts kept the boat owners apprised of the goings-on at all times and no detail was left unattended. When the fleet arrived at a destination, Gallagher even had slip spaces assigned. "Everything was all updated so you knew where you were going and what everybody was doing," said Moore.
Additionally, MTI brought seven employees to check the sea strainers of each boat at every stop and help with lines. At the end of the day, they helped tie up the boats and cover them for the evening. The Wentzville, Mo., based manufacturer even provided a fuel truck with high-octane gas. The customers paid for their own fuel, but if they didn't want to move their boats around the docks to top off their tanks, the MTI crew took care of things for them.
On Friday morning, Gallagher had a fun run arranged for the boats that took them through the back bays of Marathon and a lunch stop at Burdines Waterfront restaurant. After the fleet returned to Faro Blanco for the day, Stu Jones, president of the Florida Powerboat Club, hosted cocktails for the MTI owners at the Courtyard Marathon Florida Keys next door.
Saturday brought more boating and a banquet dinner hosted by MTI that evening and for the 15 owners who stuck around Sunday morning, they headed north as a group, stopping for lunch at Sundowners in Key Largo, Fla.
All told, the boaters covered as much as 550 miles and Gallagher said he and MTI president Randy Scism were happy to see their owners enjoying their boats. "We handle ourselves differently than a lot of manufacturers do and that's why we have a lot of guys who are on their fifth or sixth or seventh boat with us," said Gallagher. "Once they're in the family we want to keep them in the family and keep them happy."