Multi-time offshore powerboat racing champion Robert Noble, Jr.,—JR to most of us—passed away in his sleep early on the morning of Tuesday, March 8. He was 58 years old. Originally from Grand Rapids, Mich., he spent most of his life in the Orlando area where he worked as the president of Stihl Southeast.
I didn't know Noble well. We spoke a few times on the phone and I did meet him at the Superboat International National Championships in Clearwater, Fla., last fall. But I didn't need to know him well to understand the impact he's had on offshore racing and on the many friends he's made through the sport. No one was closer to Noble than his longtime throttleman and friend Grant Bruggemann, owner Grant's Signature Racing in Sarasota, Fla., "He was a larger-than-life figure," Bruggemann said of his friend. "He always greeted everyone the same whether you were an important business client or a kid at a race."
Noble started racing offshore almost by chance. His friend Chris Schoenbohm, now owner of Smart Marine in Orlando, had purchased a 30' Doug Wright to race in the Superboat Stock class in 2007. He called Noble when he was headed out for a test drive and asked if he wanted to come along.
Noble had spent plenty of time at the helm of offshore fishing boats, driving sports cars and flying a private plane. He took to the boat quickly and after he and Schoenbohm spent about 90 minutes emptying the boat's fuel tanks, Schoenbohm said to him, "If you ever want to race, let me know."
A few days later, Noble called and said he'd like to drive for Schoenbohm and a team was formed. They ran two races together and Noble liked it so much that he decided to order his own 32' Doug Wright to race in Superboat Stock.
"He liked to tell a lot of people the story that this guy gave him a ride in a raceboat and that he was hooked instantly," recalled Schoenbohm.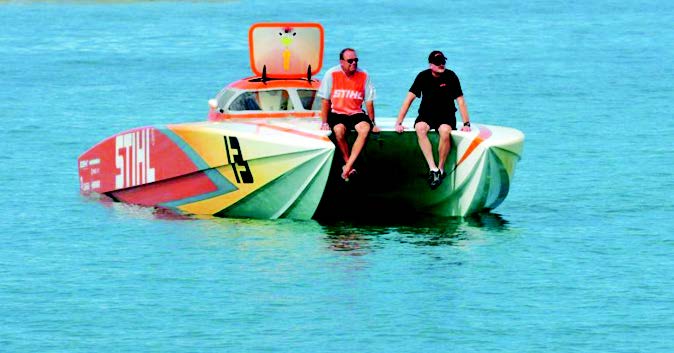 Noble had Bruggemann rig his new boat and he started racing with his brother-in-law Mike Fosse, who now drives the Papa's Pilar boat in Superboat Stock. The two finished second overall at the 2007 Key West Offshore World championships in the new boat. At the start of the 2008 season, Noble called Bruggemann and asked him to throttle for him. Bruggemann agreed and he was part of Team Stihl from 2008 to 2013. He returned to the team at the end of 2015 and was rigging Noble's new boat for the 2016 season. "We're going to keep working on the boat until the family tells us not to," said Bruggemann.
Remembering his friend, Bruggemann said there were so many stories in the boat, on Noble's plane and just becoming part of Noble's extended family. When asked for a favorite memory, Bruggemann said winning the team's second Super Stock race in Marathon in 2008 was a major milestone. So was the first Super Cat Lite victory in Sarasota, Fla., when team stepped up in class.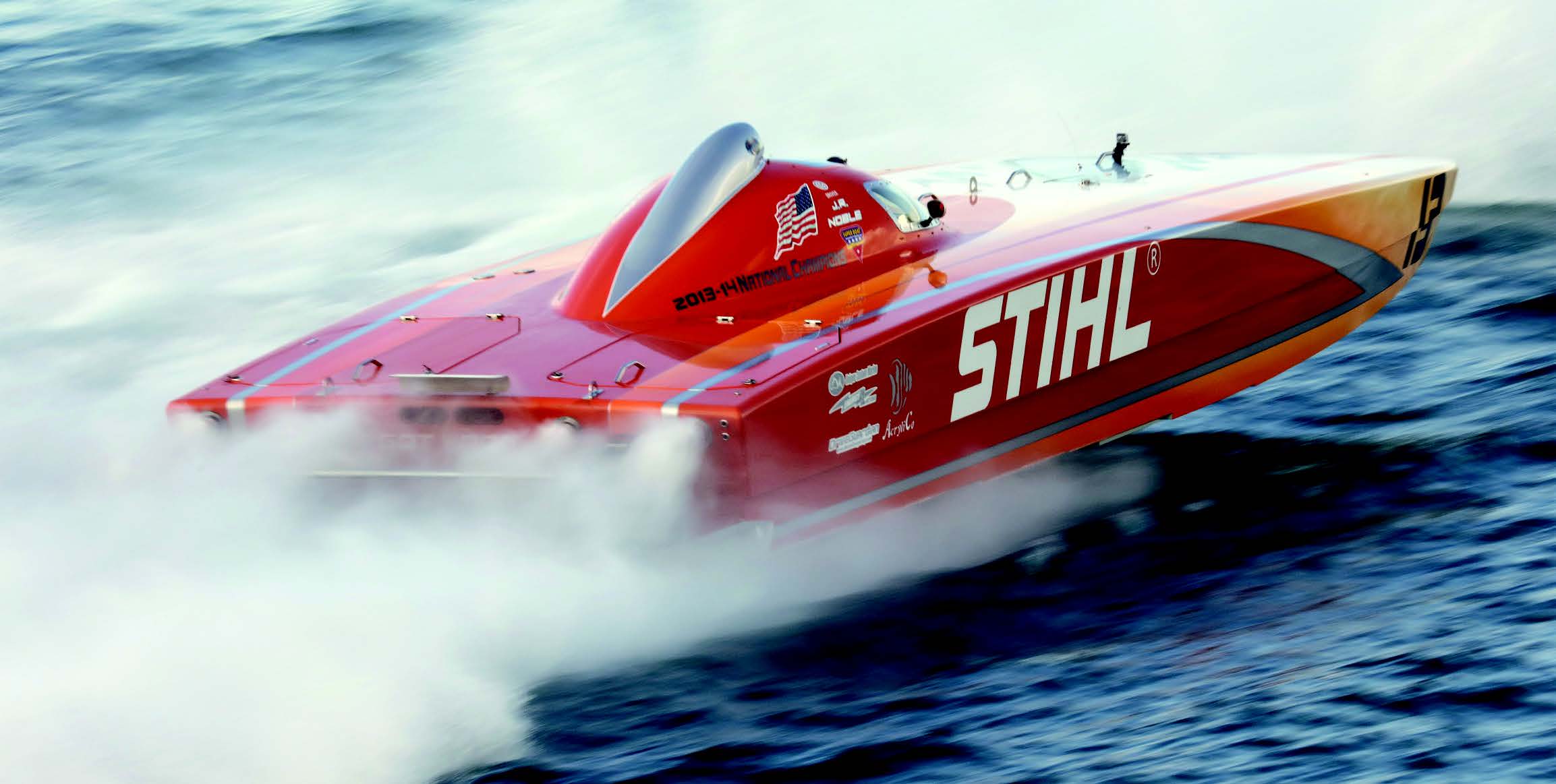 "When we first started, he was still learning everything," said Bruggemann. "But as the years passed, he became a raceboat driver. You didn't have to tell him what to do or how to do things." Bruggemann said that Noble became such a good driver because he was always facing the best competition. "We were always fighting Amsoil, WHM and Gary Ballough," said Bruggmeann. After Noble had experienced tough luck in Key West the past few years, Bruggemann said the team was focusing on the world championship in 2016.
Off the racecourse, Bruggemann said that Noble always made sure that everyone around him was enjoying themselves, whether it was in the pits at a race or at the annual Christmas party he threw for his employees at Stihl Southeast. In addition to being a fierce competitor in offshore racing, Noble was a big promoter of the sport. He was also pivotal in getting NBC sports to recently air coverage of the Superboat International Key West World offshore championships from last November.
Noble is survived by his mother Ardyce (Dr. David) Youel, his father Bob Noble, Sr., and wife Suzanne, son Jacob, his sisters Susan Hasselkorn and Sherri Sussex and her fiancé Mike Fosse and his partner Elizabeth Shively. A Celebration of Life Service in Noble's honor was held on Saturday March 19 from 2 to 5 p.m. at the Hyatt Regency, 9801 International Drive in Orlando. Race on, J.R. Noble.

Eric Colby, Editor
ecolby@pokerrunsamerica.com