Above: Eric Colby and Joe Sgro at the 2016 1000 Islands Poker Run
Joe Sgro, the president of Outerlimits Offshore Powerboats in Bristol, R.I., passed away following a single-boat crash during the Florida Powerboat Club's Key West Poker Run last Thursday. The boat Sgro was in, the new Outerlimits SVX 50, reportedly rolled near the Faro Blanco Resort and Yacht Club in Marathon, Fla.
There were three other people on board and all four were taken to Fishermen's Community Hospital in Marathon, where Sgro was allegedly revived multiple times before he was put on a life-flight helicopter to be transported to a hospital in Miami. During the flight, Sgro's condition worsened and the helicopter was forced to land at a medical facility where Sgro passed.
Sgro was 63 years old and is survived by his wife, Eileen, their five children and three grandchildren.
According to the website, www.flkeysnews.com, Sgro was throttling the boat at the time of the accident and Joseph Cibellis, 52, was driving. Also on board were Joseph Latona, 60, and Steven Kropp, 60.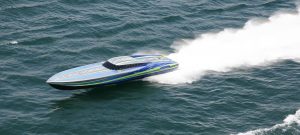 Poker Runs America Editor Eric Colby rode with Sgro in the 2016 1000 Islands Can-Am Poker run in an enclosed Outerlimits SV 43 powered by twin Mercury Racing 1350s. "We had an excellent day," said Colby. "The boat ran flawlessly. Since neither Joe nor I was that familiar with the waters of the St. Laurence seaway, we decided that I would navigate while Joe drove and throttled. Joe was an excellent driver and I thoroughly enjoyed the day we spent together. The entire sport of performance boating has lost a great supporter."