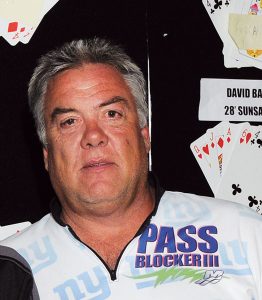 Last December 5, one of the most respected names in performance boating, Tom Healey, unexpectedly passed away in his sleep at the age of 53. Mr. Healey died of natural causes.
A vice president at Marine Unlimited, a performance-boat concierge and service business with two locations in New Jersey, Healey is being remembered as that rare total package of mechanical, boat handling, and people skills in a larger-than-life personality.
"I don't know how we're going to pull our boats out this year," said Pete Mazzo, a well-known performance boater from New Jersey who has owned a number of Outerlimtis powerboats. "Tom was just a great guy. He started off as our mechanic and the next thing you know he's having dinner with us and it progressed to a full-blown friendship."
Healey worked closely with Marine Unlimited owner Mike D'Ambra, who called his late friend, "A man who did what he said. He would jump in harm's way to help somebody out."
D'Ambra and Healey knew each other for about 25 years from working on projects in various industries. D'Ambra praised his friend's mechanical aptitude and ability to adapt to a given situation. One of the skills that people remember most about Healey is how engaging he was.
"The fit for me and Tom was that Tom liked talking to people and I just liked getting it done for the person," said D'Ambra.
While the suddenness of Healey's death was seen as a blessing for him, it was difficult for friends who missed the chance to say goodbye. "I saw him on Saturday and he was gone by Monday," said longtime Marine Unlimited client and friend Michael Ciasulli. "It was a punch in the gut."
Ciasulli started working with Healey when he owned a 36' Nor-Tech cat. He continued to drive and throttle with Healey after Ciasulli bought his current Skater 388 powered by twin Mercury Racing 1350s. "I learned everything I know about driving a high-performance catamaran from him," said Ciasulli. "He was good at instilling confidence that your boat was with the right guy. He absolutely put the customer first."
Ciasulli spoke for all of Healey's friends and clients when he said, "He's going to leave a void that is going to be very difficult to fill."
"Tom's friends were like family to him, and he spent almost every weekend at the marina with them. He enjoyed bringing new people to the poker run sport, and he will be greatly missed by friends like Doug and Shirley Falcone, and the many poker runners who relied on his advice and skills", says Bill Taylor, Publisher of Poker Runs America.