By Eric Colby
Photos provided by Pete Boden, Shoot 2 Thrill Pix.
Despite slightly chilly temperatures that people in the rest of the U.S and Canada would have loved to experience, on December 10, 2016 more than 60 boats gathered at the Crystal Cove Resort in Palatka, Fla., to ensure that children in the surrounding area will have a happy holiday season at the 16th annual Toys Tour.
"We collected over $20,000 worth of toys that will help hundreds of families in the Putnam County area," said event promoter and organizer Rus Matos, who is best known as Raceboat Rus on the website boatfreaks.org. This year, he was helped by production manager Joe Honaker.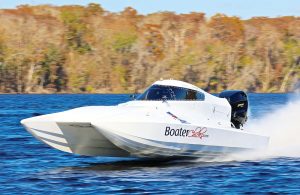 "It did get chilly, but it did not dampen anybody's spirits," said Matos. "You had to wear a light jacket or sweater, but it was not cold." Temperatures during the weekend were in the 60s and 70s.
Among those who helped promote the event were the website Boatershicks.com and the Passion for Powerboating Facebook page as well as Bob Farris, the owner of Farris Construction in Jacksonville, Fla. He won a mini-bike at the Saturday night party and donated it back as an auction gift that raised another $500 that went towards more toys for the kids.
The Toy Run draws a variety of boats from 18' runabouts to larger offshore models. Matos said that because the event is about giving instead of winning a poker hand, the atmosphere is more low-key. "It's the opportunity for everybody to get together," he said. "Whether you drive an Allison or a Donzi ZRC, we're all there to get together to do the same thing."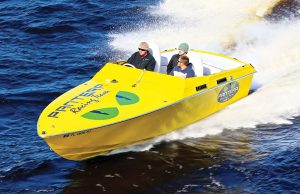 The weekend started with a lunch fun on Friday followed by a meet and greet at the resort that evening. Saturday started with a captains briefing in the main hall at Crystal Cove and the boats left at 11:30. They ran on the St. John's River from the bridge in Palatka to the City Dock in Welaka, where police officers and firefighters collected the toys to be distributed to kids throughout Putnam County.
From Welaka, it was on to lunch at the Renegades On the River in Crescent City, Fla., and then the boats returned to the Crystal Cove Resort for a dinner and banquet.
"We had a lot of fun giveaways at the Saturday Night party," said Matos. "A lot of people left with fun stuff."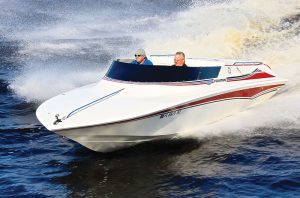 To wrap up the weekend, some of the attendees headed up to Silver Glen Springs in Ocala National Forest to go for a swim. Matos said that even when the air temperature is 50 degrees, the water in the springs is 72 degrees, so it's a relaxing way to wrap up an already-rewarding weekend. To learn more or to get in on next year's Toy Run, keep an eye out on www.boatfreaks.org.