Mercury Racing's  Race to Repower program lets owners of boats with older high-performance engines install new power with improved technology.
Let's say you own a boat powered by a Mercury Racing HP 500 or HP 525 EFI. You love your boat and she's in phenomenal condition. You would never think of getting rid of her. But her engine is getting a little tired. You know it. You can feel it. You've thought about having it rebuilt, but aren't convinced that's the way to go.
Fortunately, Mercury Racing  has a solution with its Race to Repower program (www.mercuryracing.com/racetorepower) introduced in late January. A customer who repowers his boat with a new Mercury Racing 520, 540 or 565 and a  Bravo XR drive (or engine only) will receive a cash rebate plus a free DTS (Digital Throttle & Shift) rigging kit and a free DTS Zero Effort Control.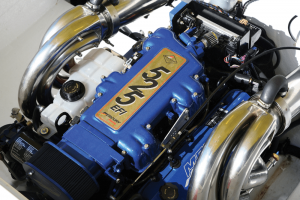 "Over the years, we sold a tremendous amount of HP 500 EFIs, HP 525 EFIs and HP 575 SCi to the boat builders," said Mercury Racing National Sales Manager Kevin Skiba. "We believe there's a lot of pent-up demand."
He continued, "People are spending money upgrading their boats with new interiors  and paint jobs, so we want to get them out of the legacy product and put them in the latest and greatest."
Skiba explained that market research had indicated to Mercury Racing that owners of boats powered by what the engine manufacturer calls legacy motors such as the HP 575 SCi, HP 525 EFI and HP 500 EFI were reluctant to re-power with the newer series of engines because of the cost to upgrade to the digital controls. Simply put, if someone buys a new Mercury Racing 520, 540 or 565 to repower his boat, he will get free a free DTS Zero Effort control and DTS Rigging Kit, plus a rebate on the motor itself. For example, if a boatowner repowers his single-engine boat with a new Mercury Racing 520, he gets $1,000 off the motor, a free control ($1,247 value at retail) and a free  DTS rigging kit ( a $556 value at retail) For a total retail value of  $2,803. A single 540 comes with a $2,000 rebate on the engine and a free control and rigging kit total value of  $3,803. Step up to the 565 and the engine rebate is $2,500, plus the kit and controls for a total retail value of $4,303.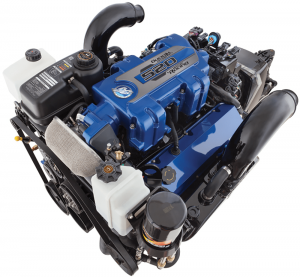 Want to repower a twin-engine boat? The math is pretty simple. Repower with twin 520s and get a $2,000 rebate on the motors, plus free control and rigging kit. A pair of 540s gets a $4,000 in engine rebates with a free control and rigging kit. Twin 565s have a total value of $8,212 including $5,000 in engine rebates, a free control and rigging kit.
Each engine in the Race to Repower program also comes with a two-year warranty and a person buying the 520 can purchase up to three years of additional coverage.
"If you don't want to spend the money to go to DTS, we're going to help you with that," said Skiba. "We're going to give you a free wire harness and a free control." He explained that the program will run through this June so an owner can have the repower done in time to have his boat ready for the new season.
Even with the rebates, it's still a serious investment. A single 520 has a retail price of $47,000 while a 565 retails for $60,173.
To show potential customers the benefits of installing the new engines, Mercury Racing even provided performance and fuel-consumption charts as a part of the program. For example, a new Mercury Racing 520 makes more peak torque than a legacy HP 525 EFI or HP 500 EFI and gets better fuel economy. We've attached the charts so readers can see for themselves.
If you're interested in learning more about Race to Repower, visit www.mercuryracing.com/racetorepower or see your authorized Mercury dealer.