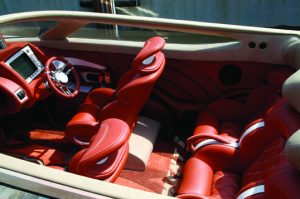 For many years, the new design and technology developed for racing and high performance, have found their way into the general marketplace. This is true for cars and it's true for boats. For the past two years, Statement Marine has tantalized the boating world with big exclamation mark posters, promising a spectacular new boat in 2009. Well, the new Statement 42 'Ultimate' is here and based upon my sea trial, every go fast buff will want one.
After reading such a statement, you probably are expecting to read about blinding new speed records. Well yes, it is very fast, but that's not it! 'Okay', you say, 'then it's made from unobtanium and weighs less than a dingy'. No, that's not it either! Aside from its beautifully smooth uninterrupted lines, the totally unique feature of the Statement 42 is that it has a "floating cockpit".
Take a good look at the picture of this cockpit, because words cannot accurately describe the luxury, comfort and welcome simplicity of what it contains. The five leather seats – two forward and three aft -are shaped to fit and grip but because the seat back leans further aft than normal, your body is supported over a larger area than with a standard bucket seat. Statement take a buyer's physical measurements and apply them to the actual seat construction. Mounted atop the seat backs are ergonomic, designer head supports. All grab handles are leather wrapped and stitched. Matching carpeting with the Statement logo adds to the quality package. Protecting occupants is a full wrap windshield with solid struts, a polished stainless exterior molding and heat-molded acrylic suspended in rubber in which the windows are set. So strong is this windshield that you cannot only stand on the top of it, but you can jump up and down – – which we did, just to verify the claim.
The weather on test-day was twenty five mph winds, with seas four and one half to five feet. This was either going to prove the Statement cockpit system to be a success, or bust my butt – – and I was hoping for the former.
Being the first non-factory person to sea trial this boat was a real privilege. Powered by a pair of Mercury Racing 1075 SCi's the 42 foot Statement slipped effortlessly to sixty mph. Running at various angles into the wind and lumpy seas I could feel every wave we crossed, but there was no smacking or bottoming out. Most obvious was the complete elimination of spine jarring landings – – even after some good sized air time. Ya gotta love it!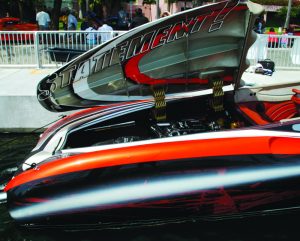 Downwind, the ride was even smoother, providing the opportunity to "go for a buck". In seas that would normally call for restricted operation the Statement easily topped 100. Factory records show the boat to have been tested on friendlier waters at over 130 mph. One question everyone asked me was, "Does the floating cockpit cause you to lose the feel of the boat when driving?" The answer is 'no'. You sit deep in seats that not only wrap around you from the side, but with the lay back design, they support your body longitudinally. As the boat encountered rough seas, the cockpit moves up and down with no yaw or roll motion, so your sensitivities are not as affected as they would be if the boat were to thump your body on wave impact. If just the seats were suspended, the wheel would move up and down with every wave. Not so with the Statement system where all controls and instrumentation stays positioned exactly the same, relative to your body position. Also, the total up and down movement is actually quite small so there is no 'bouncing' sensation.
The secret to this floating cockpit can be told, because the system is fully patented. The full interior of the cockpit – floor, seats, helm and instrumentation, is all part and parcel of what moves up and down. This full section rides on an aluminum framework set into the side of the hull and suspended by a pneumatic air-cushion shock absorbing system. Below the floor is a cross suspension system and below that a series of 8" diameter air bag doughnuts. As you impact a wave, the cockpit unit compresses to take up the shock. Resistance to this movement increases as the unit compresses closer to the 3" movement limit.
Should the shock be so strong that the cockpit unit bottoms-out, it runs into the air bags, which provide the final step in eliminating impact shock. At this point the cockpit compression is completed and in such a manner as to greatly improve ride comfort. As the unit rises following compression, hydraulic rams control the upward motion to keep it from jumping up too quickly, like a recoiling spring. Once it has reached the top of its travel limit, the floating cockpit is ready to dissipate the impact of the next wave. Discussing the details of this all new boat with owners Todd Werner and Nick Buis, as well as general manager and chief test pilot, Gene Weeks, I learned of several other features beside the floating cockpit that make Statement special. High quality materials, such as Vinylester resins with Kevlar glass and detailed construction techniques, such as heat shrink electrical connections, are evident everywhere. The double strake hull, with two deep steps, reduces wetted surface and hydrodynamic drag. The 'clean design' look is partially due to Statements' decision to conceal the rigging. For example, they added carbon fiber and Kevlar deck plates to the bottom of the engine compartment to conceal rigging and also provide a level working surface to stand on while in the bilge. Even the blowers are concealed, yet are designed to produce a higher than normal exhaust volume out the back of the boat. The heavy duty, multi faceted engine cover hinges and hydraulic lift system, work to provide three different planes of motion. First it raises the cover one inch and then it tilts the cover to vertical, and finally moves past ninety degrees to make engine removal easier.
With a retail price of $890,000, this show stopper is not for everyone, but buyers will be pleased to know that this price includes just about every option you can name. The appeal of such a pricing policy seems to be working because Statement already has several orders in the works.
Here's the bottom line: You want comfort with your speed? You want beauty with your brawn? Go ahead – Make a Statement!