The weather and racing made the Sarasota Powerboat Grand Prix the place to be.
Photos by Loren Morrissey
Powerboats and the Fourth of July in Sarasota, Fla., is as American as Mom and apple pie.
The 39th annual Sarasota Powerboat Grand Prix featured plenty of fireworks, especially in the Factory Stock 450 class race. The Sarasota race is the biggest of the year for P1 Offshore and it didn't disappoint with nearly 70 teams competing in the two-day event promoted by Race World Offshore.
Sarasota was the third stop of the American Power Boat Association's National Championship Series, drawing teams from around the country (and internationally) to compete in 13 classes.
While the six Class 1 boats were the main draw, it was the 450R Factory Stock that grabbed the headlines postrace weekend. More specifically, it was the battle between TS Motorsports/Marine Technology and Gladiator Canados.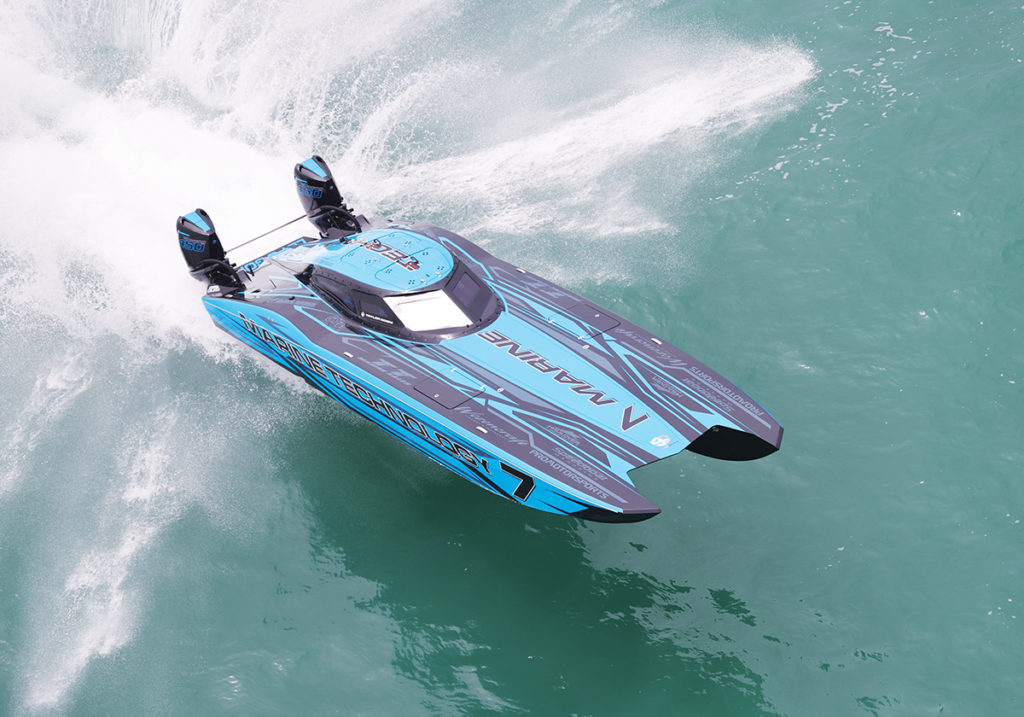 "Today's Super Stock battle was a dramatic way to celebrate our 700th race."
—Azam Rangoonwala, Powerboat P1 CEO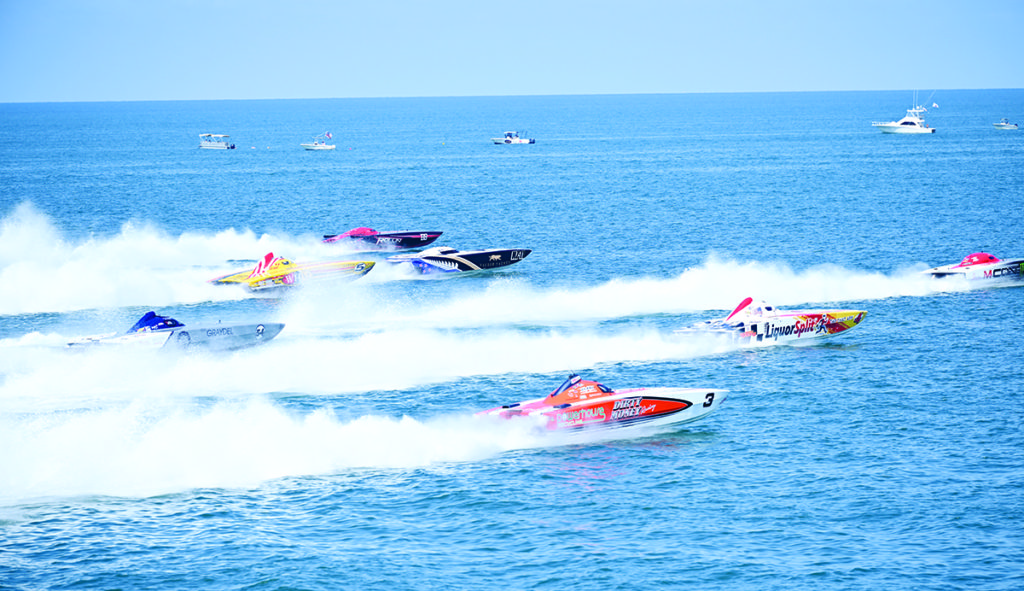 For fans watching from shore and on the livestream, it looked like driver Taylor Scism and throttleman Johnny Tomlinson had won the hard-fought race. When it came time to hand out the awards, Gladiator Canados was standing atop the podium and Team MTI was second.
Race officials had ruled the MTI catamaran had violated a 50-foot clearance rule when overtaking a competitor, moving the team into second. MTI President and team owner Randy Scism protested the ruling to the American Power Boat Association, which reviewed on-board footage and ruled there was no violation.
"We were as surprised as anyone by the initial ruling," Tomlinson said. "We were certain we left enough room. In the end they got it right."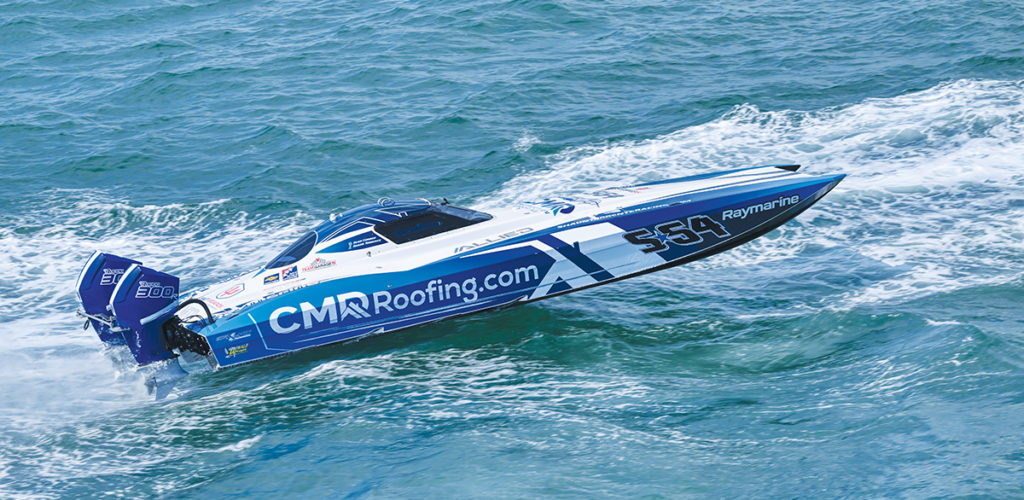 Finishing second in 450R Factory Stock was driver Logan Adan and throttleman Ricky Maldonado in Doug Wright/Wave & Wheels and third place to Ervin Grant and Michel Karsenti in Gladiator Canados. With wins at the season opener in Marathon, Fla., and Sarasota, and a second in Cocoa Beach, Fla., Taylor Scism and Tomlinson lead the 450R Factory Stock class at the season's midway point.
The racecourse was a six-mile loop that started and finished at Lido Beach. Compared to past years, the course in the Gulf of Mexico was relatively flat and calm, making it ideal for fast lap speeds.
222 Offshore Australia was the fastest on Saturday, earning the pole position for Sunday's Class 1 race. Darren Nicholson and Giovanni Carpitella made the most of the inside lane in their 47' Victory catamaran, holding off fast starts from dfYoung and XINSURANCE/Good Boy Vodka, which was making its first Class 1 appearance this season in a new 48' MTI catamaran.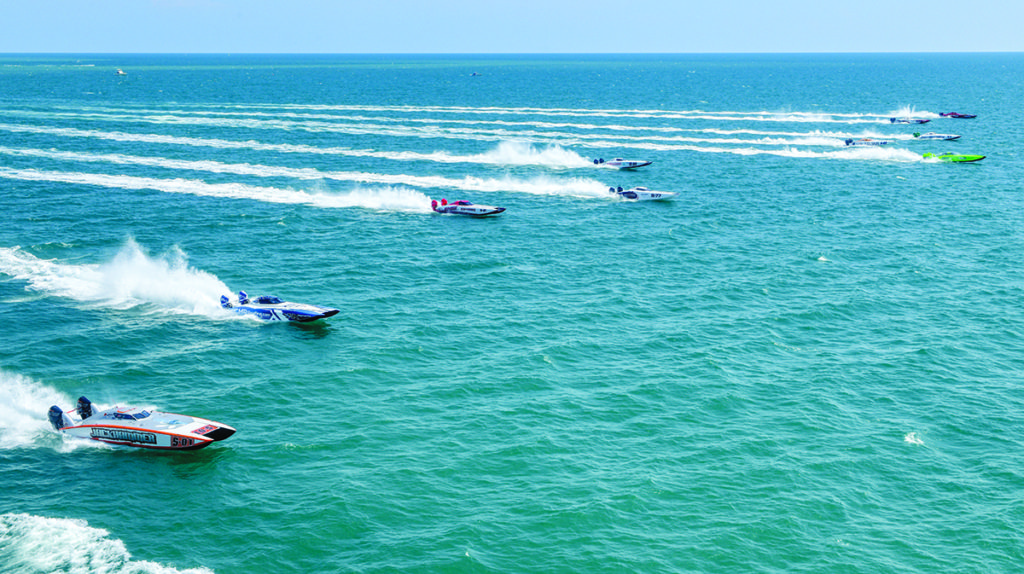 The Class 1 race in Sarasota has always been a battle of attrition and 2023's race was no different. 222 Offshore Australia while leading the 10-lap race watched as dfYoung dropped back with a problem to one of its Mercury Racing engines.
Then Pothole Heroes, driven by Travis Pastrana and Johnny Tomlinson throttling, fell off the pace and they were soon joined by Monster Energy/M CON that was also having engine problems. And the XINSURANCE/Good Boy Vodka catamaran left the race.
With just three boats left in the Class 1 field, 222 Offshore Australia led from start to finish with a time of 1 hour, 3 minutes, and 11 seconds. The Huski Ice Spritz/SVEA Racing team of Brit Lilly and Steve Curtis finished second and dfYoung's Hugh Fuller and Rich Wyatt were third. 
The third race of the APBA National Championship Series saw large fields for Super Cat and Super Stock, with both classes combining for 20 boats in Sarasota.
The 12-team Super Stock class featured offshore's busiest throttleman in Tomlinson. Thanks to the schedule makers, Tomlinson was able to throttle three boats during the Sarasota Powerboat Grand Prix. This time Tomlinson was in the 32-foot MTI CMR filling in for throttleman Shaun Torrente, who was tunnel-boat racing overseas. Sean Conner is CMR's driver and owner.