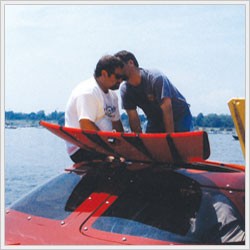 There can be a scary aspect to talking to a person who's well connected in a given motorsport about attempting to break a record because he might just come up with a proposal to go about doing it.
And then you have to honor your side of the agreement.
This happened recently when Brady Bunte, a sportfishing enthusiast who loves tackling big game in the waters near the Baja Peninsula, started talking with his friend and performance-boater Mark Wetterau about setting an endurance record from San Diego to Cabo San Lucas, Mexico.
"Once you get out there and have no support for such a long run and hoping for good weather, that's what makes it so interesting to try to do it," explained Conrad.
Conrad made some calls and got in touch with Bunte, who had originally planned to take at least a year planning the event. Then he saw what Conrad had put together in such a short time frame. "I think he was blown away when I came back to him with what we proposed," said Conrad.
The first call Conrad made was to another well-known practitioner of high speed on the water, Bob Russell. "He has the right equipment, the capability and desire to go do stuff like this," said Conrad. "He's always game."
To order a back issue call (800) 461-9128