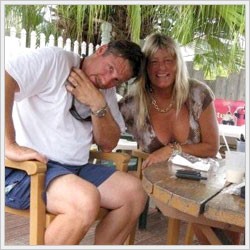 Most people put triple engines in a boat for the wow factor and for the speed gains, but Mark Fischer had his own reasons. A few years after he and his wife Eileen moved to Florida and built their first Nor-Tech 4300V stepped V-bottom, they decided to have the manufacturer power the boat with three engines.
The Fischers live in Key Largo, Fla., on the Adams Waterway and it's not uncommon for them to run over to the Bahamas or to Bimini on a whim. They also enter a number of poker runs around the country in their 2009 Nor-Tech 5000V, Eileen's Fifty, which is powered by three Nor-Tech 1000 hp engines.
His appreciation for a reliable boat was developed early for Fischer, now 44. He grew up in Bayshore, New York, on Long Island, where he spent all of his spare time boating. His father Martin had a 23' Hurricane fishing boat powered by a single stern drive and even though his mother Barbara got seasick, she went all the time.
"We went to the canyons, we went everywhere," said Fischer, who was an only child and started sharing the wheel with his father when the youngster was 9. His dad retired young from a successful television repair business and immersed himself in fishing. "For a period of about five years, we went fishing every day," Fischer recalled fondly. His father passed away, but his mother is still with us and lives in Boca Raton, Fla.
It wasn't long before Fischer found himself equally obsessed with the water. He played no sports, instead spending all his spare time boating on Long Island's Great South Bay, an area known for its rough seas and rapidly changing weather.
To order a back issue call (800) 461-9128