Photo Above by Tres Martin
Andy Imhof and Mitch Kramer worked together to build Maryland Offshore Performance into a thriving business.
The owner of Maryland Offshore Performance, Andy Imhof, and his general manager Mitch Kramer have been cranking out boat restoration jobs and updates at a record pace, piling up frequent flyer miles faster than a political candidate during a campaign year.
"We haven't seen each other in over a month," said Kramer.
The duo has been finishing projects in Lake of the Ozarks, the central Missouri lake that is fast becoming the heart of the high-performance boating world. The company may be based in Rockville, Md., but Imhof and Kramer travel wherever they need to go to get a job done.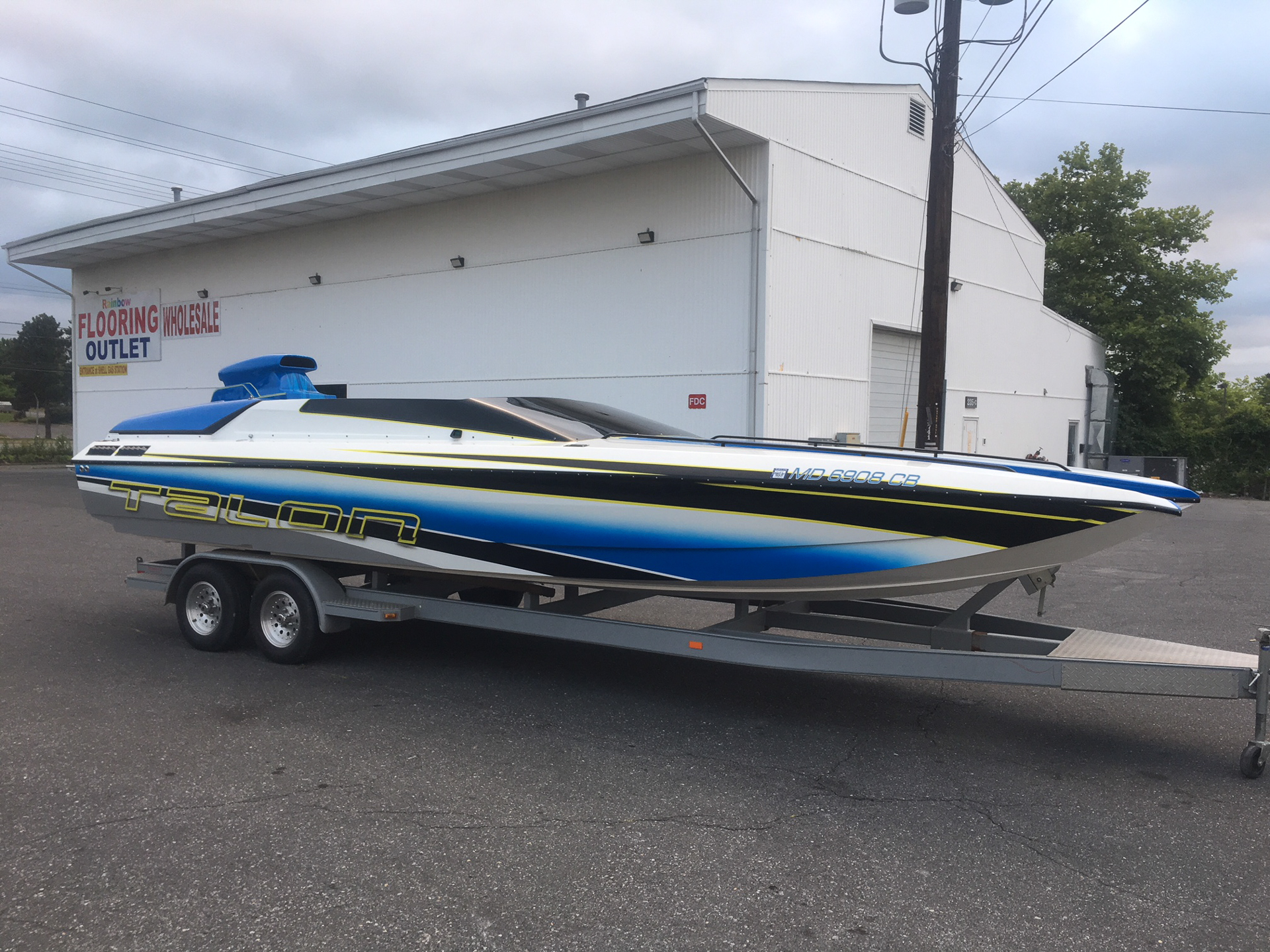 "We have customers from Lake Cumberland (Ken.,), LOTO and two or three other big projects," said Kramer. "Andy, unlike most owners is super involved. None of these jobs leaves here without him being a part of it."
The company has become one of the most respected in the industry and regularly partners with other well-known custom shops such as Waves and Wheels and Chris Dilling at Graphik EFX, who does custom paint jobs. At the Maryland Offshore Performance 10,000-square foot headquarters, the team does everything from interiors to fiberglass repair to custom rigging. "Somebody can drop off his boat and he don't have to take it to a bunch of shops," Kramer explained.
Kramer started working for Imhof about 20 years ago, doing whatever was needed in the shop. He went to the Marine Mechanics Institute to become a certified technician and worked his way up. Imhof had his start in performance boating through an uncle who raced outboard tunnel hulls in the Formula 1 class. Kramer had worked on bass boats and outboards and had done some custom stereo installations in cars and boats.
"I Introduced what I had on the table with the other boats and he had the performance boats," said Kramer. "What I'm really weak at, he's strong at and what he's weak at, I'm strong at."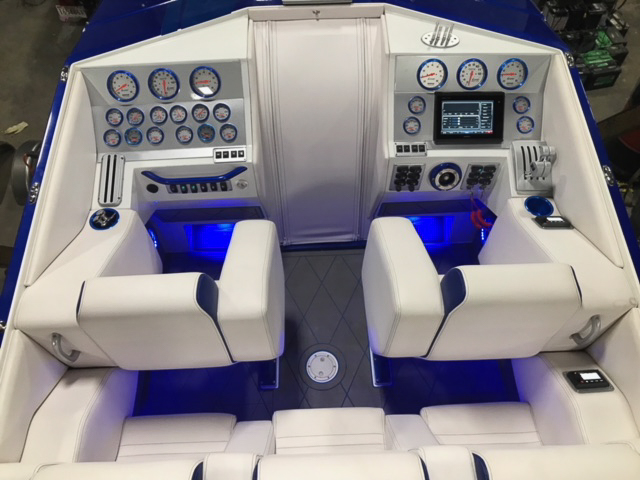 The list of boats that have gone through the facility is impressive with names like Skater, Outerlimits, Marine Technologies Inc., Black Thunder, Cigarette Racing Team and more. The first project that Imhof had Kramer tackle was a 36' Apache. Kramer re-did the interior, including the dash panels, the stereo, lighting and more, bringing it all up to date. A customer from California bought the boat and installed Paul Pfaff Racing engines.
Recently Kramer said that Maryland Offshore Performance worked with Waves N Wheels in LOTO on a boat installing new speakers, interior panels and SeaDek flooring panels and painting the dashes. "It was just a bunch of small stuff, but it turned out really nice," said Kramer.
For Scott Rider's Outerlimits 42 Legacy, the job was more extensive. Maryland Offshore Performance put on a new hatch, updated the motors and repainted the whole top of the boat.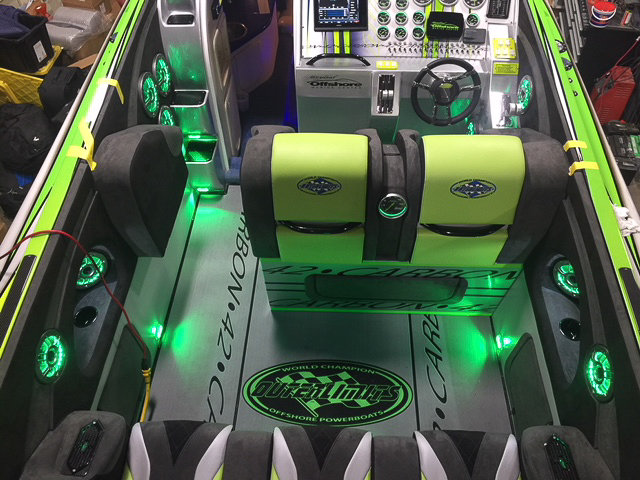 Recently, Mike Bollin bought an Outerlimits 39 GTX from and brought it to Maryland Offshore Performance to have it modernized. The company replaced the acrylic windscreens in the sit-down style boat and made it more current looking. The Mercury Racing HP850 SCis were upgraded to about 1,200 hp and in a nice example of meticulous attention to detail, even the driveshaft covers were painted to match the exterior graphics.
A few projects coming up include the 45' Skater that Reggie Fountain II used to race in the Open class in Superboat International Racing years ago. Maryland Offshore Performance is cutting off the top to make it into a pleasureboat. Other projects include a Cigarette 42' Tiger that Dilling is coming in to re-paint and a 40' MTI that's getting a fresh paint job.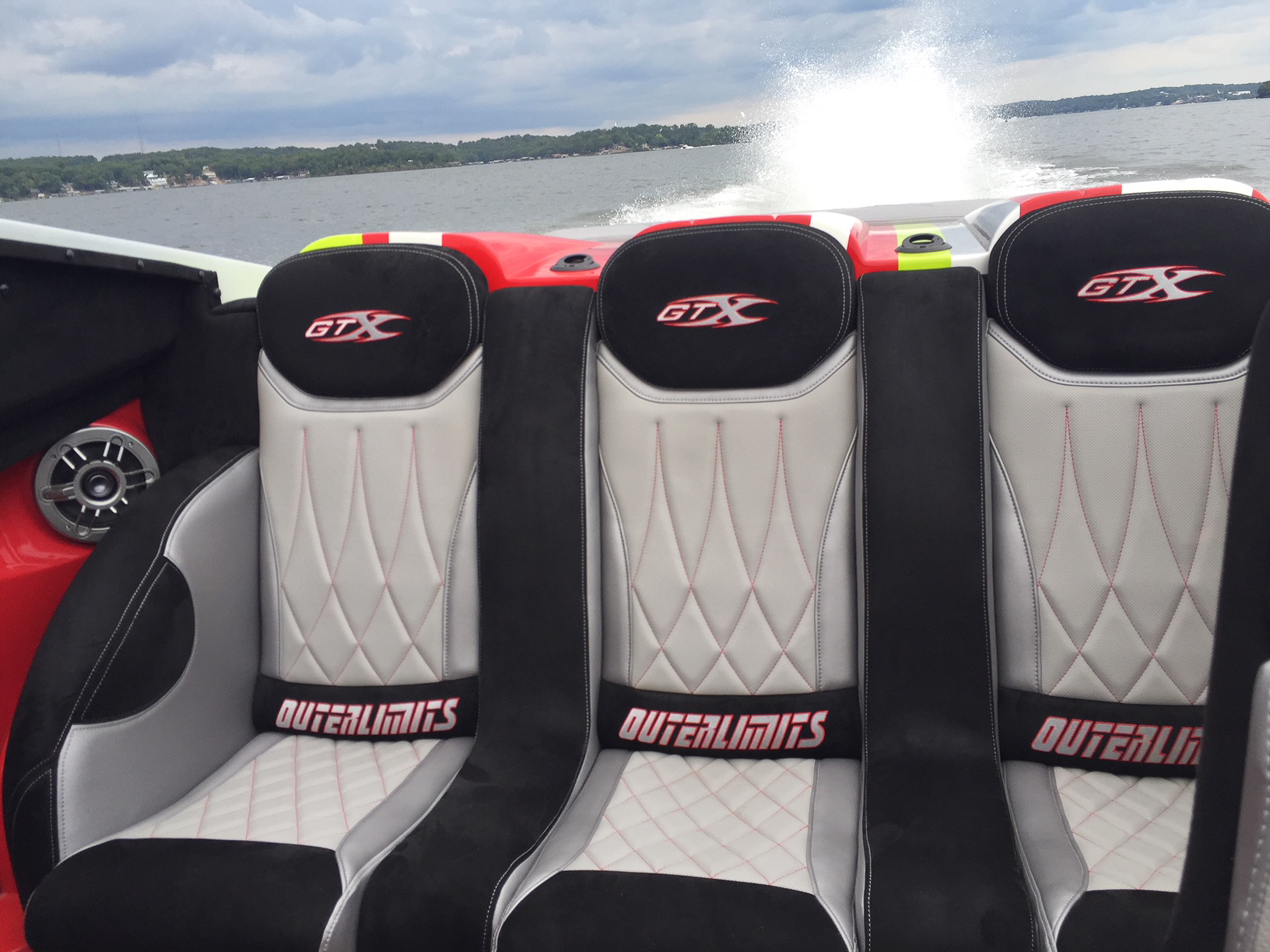 Regardless of the boat or the extent of the project, Kramer said that one thing remains constant with all Maryland Offshore Performance customers. "When the boat's done, we're not done with you," he said. "You're a lifelong customer."