Following an increase of sales and popularity of its products, Uflex relocated to Sarasota, FL, one of the busiest boating centers in North America that's also home to many of the top manufacturers in the boating world. With its continued development of introducing high quality products and maintaining resilient customer service, Uflex has maintained a strong position in the recreational marine industry and has established a strong OEM base to include Chris Craft, Intrepid, Contender, Yellowfin, Safe Boats, and Everglades to name just a few.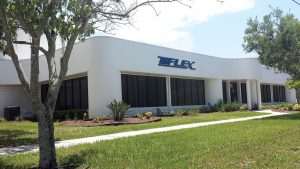 I had the recent opportunity to interview Vice-President and General Manager of Uflex, Bill Michel, a 20-year veteran of the company who has a passion for the performance and recreational boating industry, and its future. A visionary who has experienced the weak and strong economies in the last two decades, it was Michel and his expert team that has thrived forward with new product launches year-over-year, bringing the latest and greatest to the recreational – and commercial – boating segments. A finance grad from the University of Florida, Michel proudly acknowledges his relationship with past-mentor Gordon Houser – the marketing whiz behind Wellcraft Marine in the 1980s – he formed during his five-year tenure at the company working as promotional director.
It was at Wellcraft where he crafted his skill and knowledge after being involved with several offshore racing and recreational boating projects. These include the launch of the first-ever purpose built poker run boat, the infamous 43' Wellcraft Scarab "Smokin Joe," owned by "The Legend" Joe Horisk promoted extensively at poker run events. Michel even put his nerves of steel to the test racing offshore competitively in the Sarasota Offshore Grand Prix. Resorting to his past experience, and devising a forward-thinking team, what Michel and the members of Uflex envision, they create.
One of its recent leading edge products is the Uflex Power Mark II Electronic Control System that can convert any standard (mechanical) control to a fly-by-wire shift/throttle control. Using reliable and precise digital data transmission, single or dual functions are easily controlled and the abundance of options include connections of multiple controls up to four stations, dock-assist which offers driver's the opportunity to reduce the sensitivity of the throttle for easier dockside handling, and engine synchronization.
Every component and aspect of manufacturing is quality-controlled by expert technicians. Each project is signed-off and in the event a non-conforming product or system, the situation is quickly determined and not only corrected, but are closely analyzed to improve the product. Michel has an impressive system of checks and balances in place, which is demonstrated anywhere you survey the facility. During my tour of Uflex, I was presented with the company's new Joystick Controlled Leveling System featuring triple sealed electro-mechanical rams and 304 electropolished tabs. Push the control of how you want the boat to balance and how you want the boat to run and it simply responds.
"If someone runs a boat with trim tabs, with a traditional rocker switch, they have to go through the thought process of pushing the right button to make the boat behave the way you need it to," says Michel. "With our joystick system, the moment the boat lays to the starboard side, you simply push the joystick to port, and one tab goes up and one tab goes down simultaneously (in opposite directions) to level the boat very quickly."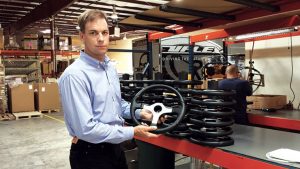 Michel continued to explain that what other companies refer to as Joystick control, they are referring to Joystick docking, without having to steer the boat in docking (or similar) situations. The system from Uflex is not a joystick in the area of docking, but rather for precise leveling of the trim tabs, offering convenience when balancing the attitude and running characteristics of the boat. Further on in the tour, Michel presented me with another unique system called the Formula One Trim System, an innovative paddle control concept adopted from the automotive racing market that's designed to be used to easily control the trim and tilt for outboards. "The Formula One Trim System is very unique," explained Michel. "The system is designed the way an automotive-style paddle shifter is set up and we applied it to the trim and tilt, trim tabs and/or jack plates. The big advantage is to control the engine or jack plate without ever having to take your hands off the wheel."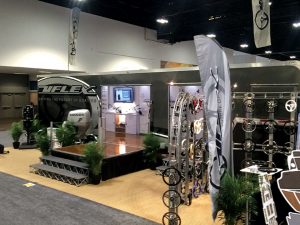 Visit any boat show and it becomes clear of the range of diverse steering control-related products that the company offers. It's also evident that the company has a solid foot print in the marine steering wheel market as they offer vast range of wheels in countless combinations. "We arguably have the widest selection of wheels on the market," said Michel.  "We offer everything from economy wheels to mid-range wheels to high-end wheels. Our view is, in many cases, when a customer is looking for a wheel the choice can be as individual as the owner of the boat. We can show ten different wheels to ten different people and each person would choose a different wheel to their liking."
Michel continued to explain that having a wide variety of steering wheels is big part of being in this segment of the business. "Ninety percent of the time people are at the helm when they use their boat. The importance of texture, rigidity, appearance, and comfort are all critical. So we put a lot of focus on that. We also put a lot of focus on being visionary as to what the next style of the wheel should be. The steering wheels, in our view, are fashionable. What is cool today may not be cool tomorrow, so we are always looking for the next hot thing is in terms of materials and design. In terms of our steering systems, we also always try to stay ahead of horsepower and torque, and creating new systems in anticipation of higher use. What performance is to one person is different to another.  In the end, however, everybody wants their boat to steer well and steer easy. They also want it to be a good value." PRA