When Alexi Sahagian was a young boy, he did what a lot of kids do. He made things out of clay. Instead of dinosaurs or army men, he used clay to make a model based on a diesel engine from one of his father's work trucks, a turbocharged Detroit Diesel 6V 71. Years later, as the president of Boostpower USA, Sahagian brought a high-performance boat engine to life based on that clay model.
It's called the Boostpower USA Compound Monster and the 650-cubic-inch 2,400 hp engine has twin turbochargers and twin superchargers. Sahagian built one for his 21' Schiada pleasure boat and one for a customer in New Zealand. The engine was even featured in Hot Rod magazine. A tribute to its versatility, there are YouTube videos of Sahagian towing his children on a tube with the motor. It makes that incredible power on convenient pump gas and is well mannered.
"Every year we build an exotic something because we can and it's great marketing," said the 42-year-old Sahagian. "Our engines are for the extreme guy who wants to stare at them in his boat or car or use them to go racing."
The 2014 model year was no exception. Sahagian's company, Boostpower USA, which is based in Newbury Park, CA, developed an 800-cubic-inch fire-breathing monster that's available as a naturally aspirated engine, supercharged, twin turbocharger, or in compounded figurations. The naturally-aspirated version makes 1,325 hp on pump gas while the twin turbo version provides in excess of 3,500 hp. The supercharged engine is rated at 2200 hp and the twin turbo engine version is in excess of 3000 hp.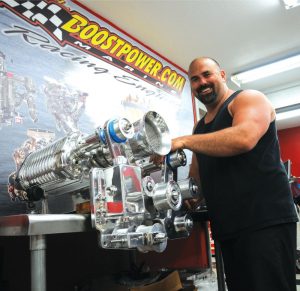 The engine starts life as a billet block of aluminum that is machined to Boostpower specifications. The block has ridges across the lifter valley for maximum strength and durability for an aluminum block. It also has dual priority oiling galleys so there's more than one oil feeding source for the bearings. All the main caps are splayed ductile steel with oversized studs.
Sahagian explained that the block is slotted for oversized lifters to slow down the speed at which the lifters rotate to make the engine more durable. If the engine is spinning 8000 rpm, the lifters are running 4000 rpm, making the lifter more reliable. The block also has lifter valley ventilation ports at the rear of the block that help balance the crankcase pressures for the dry sump oiling system, which is a five- or six-stage package depending on the application. When the engine is running, it has four stages of scavenging, one stage of valley scavenging, and of course, the pressure stage.
There's also a one direct oiling system to help the piston rings seal and the crankshaft is designed with extreme sharp edges, and designed counterweights to reduce oil blow by when the engine is running. The crankshaft is formed out of EN30B steel and it is REM finished so oil won't stick to it. For supercharged applications, the crankshaft has a double keyway. Oversized pistons are custom fabricated out of 2618 aluminum alloy for Boostpower by proprietary vendors.
From the oil pan to the wedge-design cylinder heads, the 800-cid engine is the same bottom end regardless of whether it's supercharged, turbo or naturally-aspirated. Boostpower has developed a new Hemi cylinder head that will be used on the big engine in the future. The problem the company is running in to now is that the engine is super hard on drives because of the torque it creates.
The 800-cid engine is a far cry from when Sahagian started Boostpower USA when he was a teenager, working primarily on automotive engines and some exotic marine motors. Hank Sahagian, Alexi's father, and his brother both had ski race boats and were members of the National Water Ski Racing Association and the Lake Arrowhead Water Ski Club. Alexi grew up ski racing and won numerous championships until he had a 95-mph crash at Lake Mead when he was 20 years old. Because of a nagging knee injury from the accident, he transitioned away from skiing and started observing for his father and for well-known ski racers like Lee Squier and Lee Spindler, who founded Schiada Boats. Today, Boostpower USA builds a full line of high-performance marine engines as well as custom power plants and offers full rigging services.
Alexi went to Agoura High School and raced drag cars as a teenager. He had 1986 and 1989 Camaros that he bracket-raced at LA County Raceway and he maintained the cars himself. He had a business license mainly so he could purchase parts at a better price. When he was drag racing, Sahagian formed a friendship with performance-engine guru John Lingenfelter. "He took a liking to me when I was a kid," said Sahagian. Lingenfelter sponsored the Camaros with parts, which helped get his performance products noticed on the West Coast.
A self-admitted computer nerd, Sahagian put that skill to use developing a knack for working with fuel injection systems.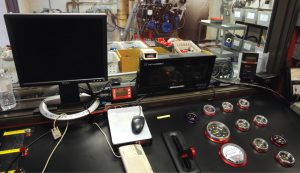 "We're the specialists with EFI," said Sahagian. He said that Boostpower USA works on 10 or 15 Electronic Control Units (ECUs) a day. One thing that the company has developed is a computer program that lets Sahagian get on the computer in California and tune a motor anywhere in the world as long as it has the link to the company's software.
When it comes to custom engines, Boostpower USA takes the term seriously, building its own intercoolers, superchargers and turbochargers. For its EFI systems, Boostpower USA works with Advanced Engine Management from Hawthorne, Calif., and when it comes to the new control box that Boostpower USA and AEM have developed, Sahagian said, "It will be one box that as a master tuner, I would want to have."
One interesting element of Boostpower USA's business that few people know about is that Sahagian estimates that 80 percent of the company's income comes from overseas. He started out buying used engines and accessories and shipping them to international clients in Russia and Japan. "I was buying Northstar engines out of junkyards and shipping them to Russia and Japan," he said. His mother speaks 11 languages and he has family in Europe and over time, he has become a vital resource for performance boaters in Australia, New Zealand and the Middle East.
"We're like their secret find. They need an injector hat for a Motec EFI system and no offense to my competitors but they may (or may not) be diversified to handle a project of that magnitude." Boostpower USA has a facility in Fort Lauderdale, Fla., that is used strictly as a shipping hub for overseas parcels.
Sahagian said Boostpower USA used to build 10 or 15 engines per month at the company's 30,000 square-foot facility and now the company is down to about six per month. Boostpower has a line of standard engines, but more than 80 percent get built with some kind of custom wrinkle. "They want the Boostpower 900, but they want this, that and the other," said Sahagian.
He said that the biggest misconception that people have about Boostpower USA is that because of all the technology the company provides, its engines and services cost more than the competition. "They think we're way more money than other guys and frankly we can beat them all," he said.
In 2000, Boostpower USA sold its automotive engine business and Sahagian had to sign a no-compete agreement. Now he's thinking of getting back into car engines because there aren't any companies within a 50-mile radius of Newbury Park doing basic upgrades. "People are either doing super cars or they're doing basic mechanical services like oil changes," said Sahagian. "If you want to upgrade the cam in your Mustang, who are you going to go to?" If you go to Boostpower USA, you're going to get more than you expected. PRA