Dave's Custom Boats recently delivered this 170-mph M35 Widebody to a happy customer.
While other manufacturers have been relying on center console models to keep their companies afloat, DCB Performance Boats (www.dcbracing.com) of El Cajon, Calif., has stayed true to its roots, building luxurious high-performance catamarans for discerning customers.
One of the latest deliveries was a 2016 DCB M35 Widebody catamaran powered by twin Mercury Racing 1350s with M8 drives. Estimated top speed for the boat is 170 mph plus and the retail price as equipped is $789,950. The M35 Widebody measures 35'4" LOA with a beam of 9'7" and an estimated weight of 9,250 pounds. Standard fuel capacity is 180 gallons and owners can opt for twin 105-gallon tanks as an option.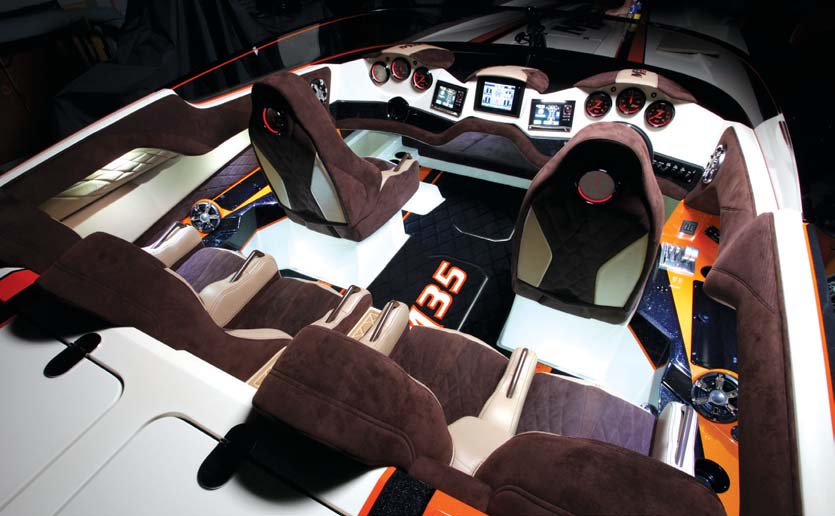 Utilizing the latest construction techniques, DCB Racing manufactures each boat on an individual basis. The boats are built with a proprietary blend of bi-and tri-directional fiberglass, foam core, carbon fiber, Kevlar and Penske board wetted out with vinylester resin. Each boat out of the DCB Racing facility is built with Vacuum Infused Resin, which uses negative pressure to pull out air while impregnating the laminate with the appropriate amount of resin. The result is complete saturation for the strongest, lightest amount of material bond possible. When the hull and deck are finished, they are bonded together and the joint is finished so that it does not need to be capped by a rubrail.
Rigging on all DCB Racing boats is immaculate with most hoses and electrical wires hidden from view.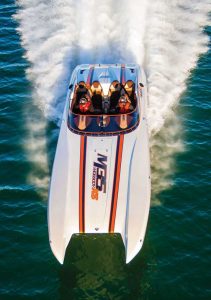 The 1350s are installed on through-bolted racing mounts and the engine compartment is finished in shimmering gelcoat and has LED lighting.
In the cockpit the M35 has four individual buckets aft with a molded nonskid step up to the sunlounge between the center seats. In the cockpit, the carpet and Alcantara upholstery are custom CNC diamond patterns emblazoned with electro-welded DCB logos for a ghosted appearance.
Forward, the driver and co-pilot travel in high-backed bucket seats. In this particular DCB M35, the owner asked for analog gauges in the dash and in the back of the forward seats for a nostalgic look. Most new boats leave the factory with digital screens that monitor multiple functions.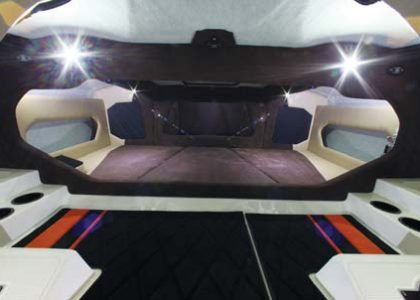 Belowdecks, the M35 has a cabin with a berth and outboard storage areas forward and aft, there are facing lounges and access to the helm rigging. But if we had to guess, most people interested in the M35 will be using the cabin for storage, not overnighting. And when they head out on the water, they'll be going fast.