Image Above Courtesy of Shoot 2 Thrill Pix.
Joe Celello has been racing offshore powerboats and participating in poker runs for many years. He's driven for some well-known teams and earned his share of checkered flags, but it was a last-minute phone call that gave the 51-year-old from Fort Lauderdale in the best chance to win his first championship.
Multi-time title winning throttleman Gary Ballough needed a driver for the Offshore Powerboat Association's world championships in Englewood Beach, Fla., and he called Celello to ask if he wanted to take the wheel.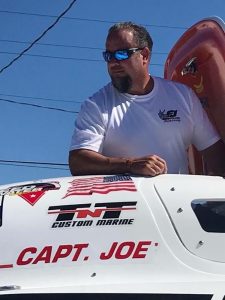 "I've known Gary since 1995 and I've always raced against him," said Celello. Ballough's usual driver, Jimmie Harrison, who also sponsors the boat through his company FJ Propeller, wasn't available, so Celello agreed to drive.
Celello and Ballough work together in another capacity, running boats for a Miami-based charter service called The Raceboat Experience, which is part of a high-roller website called www.millionairesconcierge.com. They take customers for rides in high-performance catamarans. Ballough uses an outboard-powered former Doug Wright racing catamaran and Celello recently sold his 36' Spectre cat powered by twin stern rives.
At Englewood, the experienced duo was up against familiar foes, the new 32' Doug Wright, Shadow Pirate, which is owned by Nick Scafidi, and Ryan Beckley's 30' Skater, Cape Haze Marina. Shadow Pirate won the Super Boat International Super Stock class world championship a couple of weeks prior in Key West, Fla., with FJ Propeller finishing second and Beckley's boat, which ran under a different sponsor in third.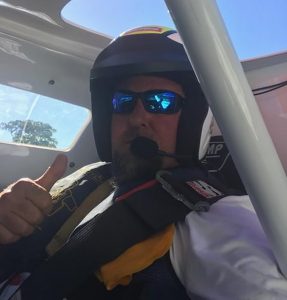 While the SBI races are separated by a day, the OPA competition takes place on consecutive days, in this case, Saturday and Sunday, November 18-19. In the first day of action, the conditions were smooth and Shadow Pirate used its speed edge to capture the checkered flag. On Day Two, Ballough's experience in rough water and attrition made the difference. FJ Propeller took the top honors after Shadow Pirate had a mechanical problem. "It was really rough," said Celello. "Gary is just so knowledgeable. I always raced against him and he's smarter than he is aggressive."
In the final tally for the Super Stock class, FJ Propeller took the 2017 world championship followed by Cape Haze Marina and Shadow Pirate held on for third.
When describing what it's like to run in the outboard-powered Super Stock class, Celello said, "It's really a drag race from the corner to the next corner. You want to keep that exit speed up."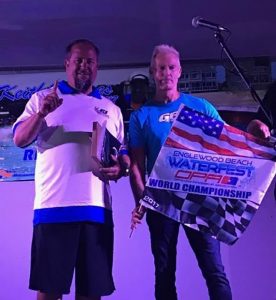 He started in offshore racing with the late Billy Ford, who ran a 35' Motion in the triple-outboard Pro Stock class. Celello would haul the boat to Mercury's Lake X and test it with the technicians. Following his stint with Ford's team, Celello met Bruce Grout, who raced a few different Cobra catamarans sponsored by Budweiser.
In addition to racing, Celello has a Master Captain's and Florida state yacht broker's licenses. Last weekend he participated in the Fort Myers Offshore Powerboat club's poker run and he said he usually participates in about for our five events per year. In 2017, he ran at events in Sarasota and Jacksonville, Fla., and he went to the Tickfaw 200 run. On the brokerage side, he recently sold the MTI catamaran, Mojo, that appeared in the recent Miami Vice movie and he has partnered with Troy Hannon of Supreme Marine to form Supreme Marine Sales. And thanks to a list-minute phone call, Celello can now add world champion to his resume.