Sunsation Powerboats is building its biggest center console yet, the 39CCX.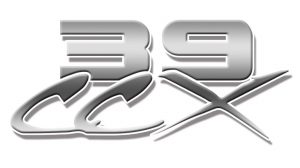 Building on the undeniable popularity of its performance center-console boats, Sunsation Powerboats is taking things to the next level with its 39CCX, the company's largest center console to date. The CCX stands for Center Console Extreme and the new model features a spacious cabin, luxury amenities and the performance and handling that enthusiasts have come to expect from the Algonac, Mich.-based performance-boat manufacturer.
"The 39CCX is a concept that we've been working on for the past two years," said company President, Wayne Schaldenbrand. One thing that he wanted to do with the new model is to make items that have been popular options such as a side door in the stern and a bow thruster standard equipment on the new model. "We're going to standardize the boat because most buyers get them anyway," he explained. "It streamlines things and it helps the resale." The door and the thruster are actually in the boat's mold so each one will be built with these items.
The 39CCX measures 39' with a 10.5'' beam. Sunsation's proven SVT2 ventilated hull design has been optimized to the boat's additional width, length, and center of gravity. Like Sunsation's 32' center console, the 39CCX's stepped bottom that was developed by Tres Martin, owner of Tres Martin's Performance Boat Driving School.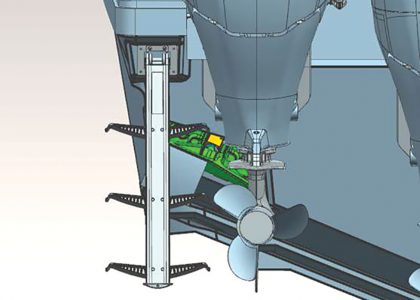 "We are building this boat from the bottom up," said Wayne Schaldenbrand. "With the 39CCX's additional displacement, every aspect of the design is digitally modeled to achieve optimal hydro and aerodynamic characteristics to ensure that we maintain the same superior performance and handling as with our 32 and 34CCX models."
Not surprisingly, moving up to a bigger model was a natural evolution. "Shortly after we launched the first 34CCX we began getting feedback from our customers on how great the boat was and numerous inquiries about our future plans for additional size options," said Sunsation vice president Joe Schaldenbrand. "The next year, we developed the 32CCX, which has become extremely popular with many of our lake and bay customers across the country. We're now seeing a growing demand for what we term "mini-cruisers", center consoles in the 39' to 50' range."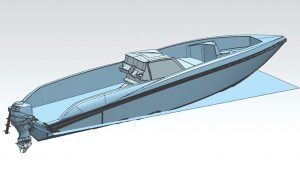 No matter how great a boat rides or looks, if no one sees it, a manufacturer will have a tough time selling it. That's where having strong dealers comes in handy. One of the most successful markets for Sunsation's line of CCX center consoles has proven to be Lake of the Ozarks, Mo., and Performance Boat Center, of Osage Beach, is the exclusive Sunsation dealer for that region. Their first 32CCX made its debut at the 2015 Spring In-Water Boat Show and the partnership has flourished ever since.
"By the end of our first fiscal year with Sunsation, we had sold more than a dozen 32 and 34CCXs combined," said Performance Boat Center co-owner Brett Manire. "Sunsation has become the all-star brand of our lineup. Like Wayne and Joe at the factory, my partner Mark Waddington and I listen to our customers.  A large segment has expressed interest in a CCX model larger than the 34.  We knew that the Sunsation team was already in the development stage for a 39-foot center console and have partnered with them to build the all new 39CCX."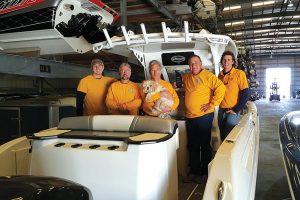 Sunsation's largest dealer in Florida, Captain's Choice Boats, of Ft. Walton Beach, has advocated for a larger CCX model for the past two years. "The 32 and 34CCXs are very popular here on the Gulf. They're ideal for cruising the bays and intracoastal areas and handle extremely well in the big waters further out," said Mitch Kaplan, owner of Captain's Choice Boats. "We're seeing a growing interest among our customers for a larger Sunsation CCX model and, interestingly, a lot of the requests are coming from current Sunsation owners. We're excited about the launch of the new 39CCX and look forward to introducing it to this market, where it will fit exceptionally well. I'm always amazed at the customer loyalty to the Sunsation brand. Joe and Wayne are definitely doing something right."
The Sunsation 39 CCX is scheduled for release in early spring of 2018, with a price point similar to other boats in its class, such as the Nor-Tech 390 and Cigarette GTS. The 39CCX will feature various Mercury power options, ranging up to quad Verado 400Rs. When asked about the projected top speed of the boat, Joe Schaldenbrand answered, "Well…. faster than the competition."