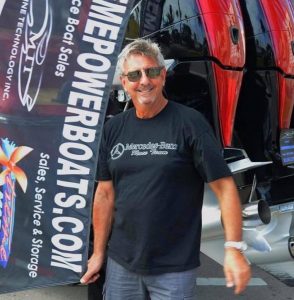 If you talk to anyone in the South Florida performance-boating industry about Larry Goldman, you will hear only positive comments. He would go out of his way to help someone even if they weren't a customer. He always had a smile on his face.
There was a simple reason why. "He always wanted to make powerboating look good," said longtime friend and in-boat partner Gino Gargiulo.
Unfortunately, Goldman passed away suddenly at a Fort Lauderdale hospital following a stroke on Saturday May 27. He was 57 years old and is survived by his wife Jodi and children Jake and Jilian. A celebration of his life is scheduled for Sunday, June 4, at 6 p.m. at Haulover Marine Center in Miami.
Goldman and his business, Xtreme Powerboats, had recently moved into Haulover Marine Center and things were on the upswing. His sales and brokerage business were doing well and so was his service. The facility has been hosting poker runs for the Florida Powerboat Club, a group that Goldman had been supporting since its earliest days. "This was his big break. He finally made it," Gargiulo said. "I couldn't have been happier for him."
John Louis is the general manager at Haulover Marine Center and he got to know Goldman well, working with him daily. "He helped everybody," said Louis. "If somebody was stuck or broke down, it wouldn't even be his customer. He would help them."
There was one thing that was even more important that boats to Goldman. "He loved his family," said Louis. "They were his life."
While Goldman is so fondly remembered for his graciousness, all his friends also laughed when it came to one gripe they had. "The thing that pissed off everyone is that you could never get him on the phone," laughed Louis. Gargiulo had an explanation. "He loved telling stories and if he was in the middle of telling a story, he wasn't picking up his phone and that's all there was to it," said Gargiulo.
Goldman got his start in the performance boat industry as a dockhand at Turnberry Isle Marina. The facility was one of the first to be home to high-performance offshore boats and offshore racing legend Richie Powers remembered when a scared Goldman was told he needed to move a Cigarette for service. "He ended up getting it there and the rest is history," said Powers. "He became one of the guys with the fine touch."
From his time at Turnberry, Goldman became known as a hard worker and he set up and raced many offshore boats including the 47' Apache, Tweet Revenge, the 35' Motion and 40' Skater under the Team Pepsi banner with Joey Padovano, with whom Goldman won numerous championships, and the Lube Job boats with Gargiulo.
One of Goldman's most interesting races turned out to be against Gargiulo and throttleman Mike Stancombe in Gargiulo's Lube Jobs Motion catamaran in a race in Florida. Stancombe's father George wound up driving against his son with Goldman throttling in the same class. Goldman's crew had set up Gargiulo's boat and when the boats arrived at the first turn, he found out that his seat hadn't been bolted down. Mike Stancombe asked his driver if he wanted to stop and Gargiulo said to keep going. "Gino and I won and Larry and dad had to watch from the sidelines because they broke," recalled Mike Stancombe. "Every time I talked to Larry, we said we need to get back out there and do it again."
Through the years, Goldman had been the sole proponent for Motion catamarans and recently had developed a strong clientele and business rapport with Marine Technologies Inc., selling many new and used catamarans and center consoles for the Wentzville, Mo.-based manufacturer. Goldman handled all the deals for Gargiulo's boats.
Padovano probably knew Goldman longer than most after the two started racing together in the early 1990s. They ate lunch together frequently during their racing days and Padovano said he was at the hospital when Goldman passed. "He was a good soul and he's going to be an angel," said Padovano. "The morning after Larry passed, I saw a beautiful sunrise come up and I believe it was Larry saying, 'Cheer up Joey, it's going to be alright.'"
Bill Taylor of Poker Runs America says "Larry was always there to help any of the Poker Runners and he and Gino together supported and sponsored many of the Poker Runs America events for years, including the Fort Meyers poker run, the Sarasota season opener and closer, the Platinum Poker Run in Stuart Florida where over $17,000 was presented to the humane society of Broward County, the Miami Poker Run, where over $20,000 of the proceeds went to the Miami Federal Law Enforcement Association benefiting the families who lost their parents in the line of duty on the streets of Miami.