Lou Smith was sitting in his Baja on the South Lake Tahoe shore watching Kansas City's Chief's tight end Travis Kelce hit a chip shot on the nearby Edgewood Tahoe Golf Course.
Smith had a front-row seat in July to the American Century Championship, a golf tournament that featured 93 of the biggest names in professional sports and entertainment (current and retired). The event included three of his passions—boating, golf and professional football.
"In the last hour I've seen Patrick Mahomes, Charles Barkley and Aaron Rodgers all from my boat," Smith said. "I've texted my buddies and told them who I've seen, and they don't believe me. I'm not sure I believe myself, either."
Smith had one of the hundreds of boats anchored off the 17th and 18th holes outside Edgewood Tahoe. The crowd and the boats are one of the main attractions for the celebrity golf tournament aired nationally by NBC Sports.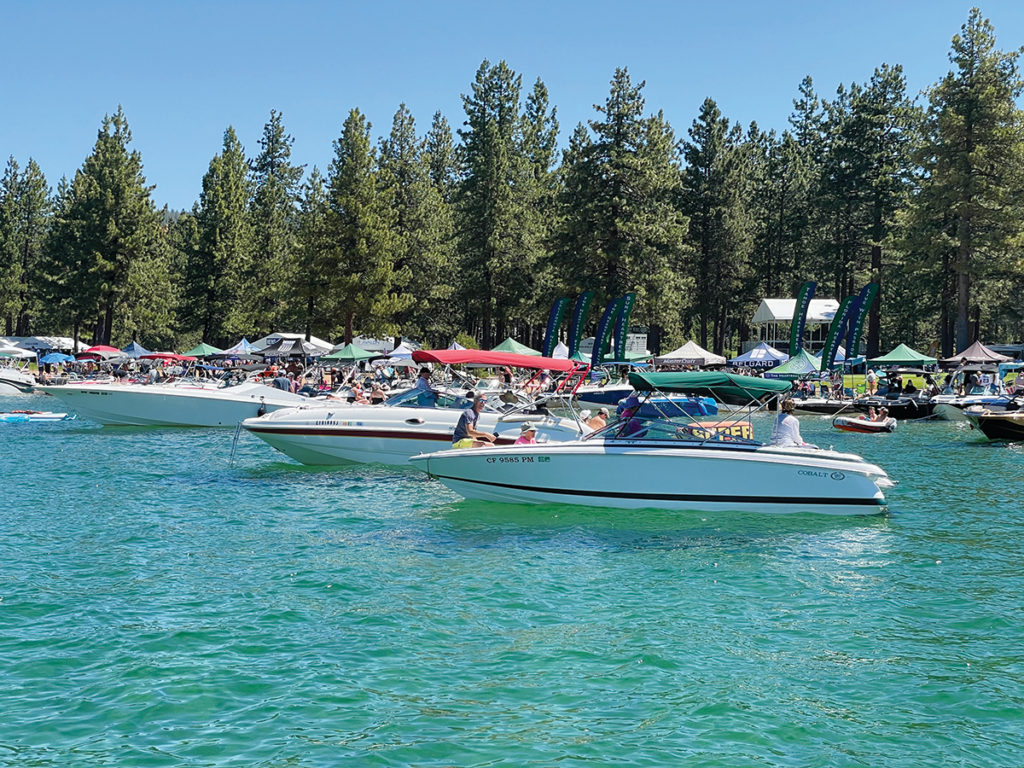 Discover Boating, a campaign by the National Marine Manufacturers Association (NMMA) to raise awareness, took notice too and signed a multiyear agreement to sponsor the American Century Championship. While it might seem fans of boating and golfing are dissimilar, there is a lot of crossover, said Kevin M. Williams, vice president of marketing for the NMMA.
"When I started to think about golfing and boating, there's a natural marriage there," Williams said. "Golfers love to boat, boaters love to golf. What better place than Lake Tahoe where you basically have the best of both worlds."
MasterCraft Boats has long been a sponsor of hole 12, giving away a new boat if a celebrity or athlete sinks a hole-in-one on the par 3 hole. The response MasterCraft saw from its sponsorship encouraged Discover Boating to sponsor the signature 17th waterfront hole.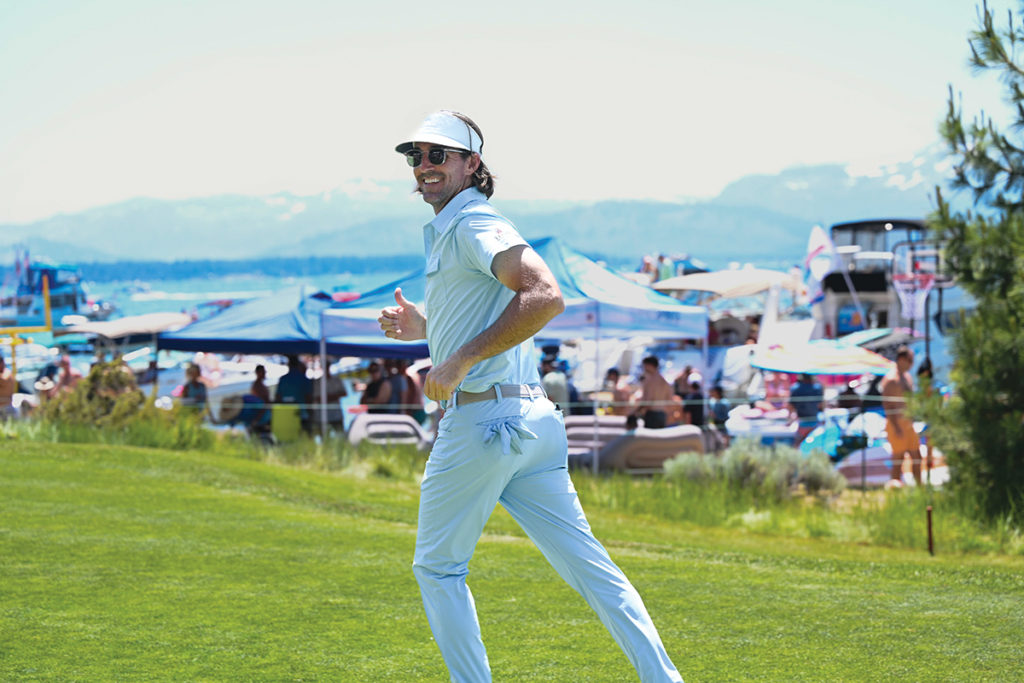 The hole is arguably the biggest draw of golf tournament, featuring music and a basketball hoop where NBA stars such as Steph Curry take shots with the lake, boats and snow-covered mountains in the background. Fans tossed footballs with NFL quarterbacks Josh Allen and Aaron Rodgers, and even comedian Ray Romano grabbed a microphone to entertain the thousands of fans who lined the golf hole.
For most of the record 77,000 fans attending the American Century Championship, the golf was secondary. It was about being part of the experience and a chance to see their favorite celebrity or athlete. 
"It's not your hard-core golf audience that are here or viewing on television," Williams said. "I saw an opportunity for us to reach a broader audience versus the hard-core guy and girl who are watching golf on Sunday afternoon when it's 90 degrees outside."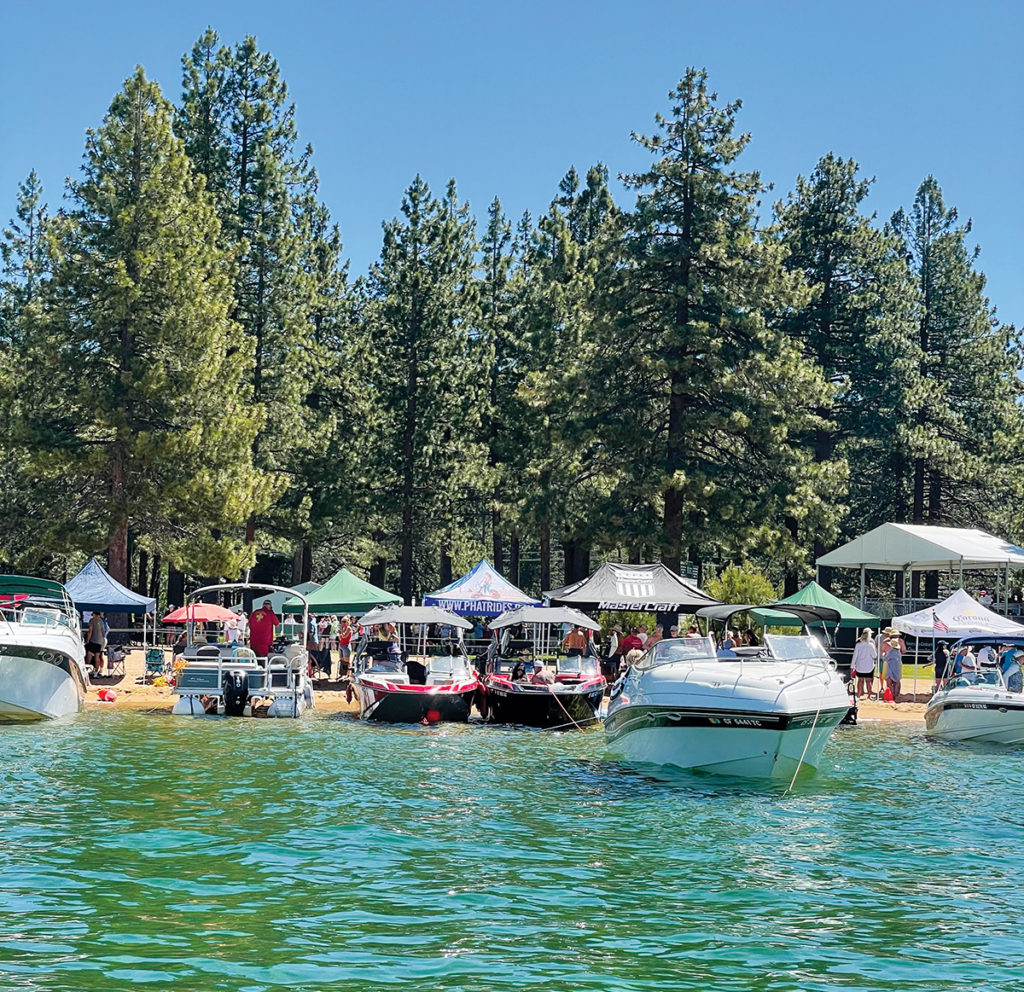 Corey Foster beached his Donzi 22' Classic to watch Friday's opening round near hole 18. The golf tournament is free to watch from the water, but Foster bought a ticket so he could go onto the golf course. Foster, who has a place in Lake Tahoe, has attended the American Century Championship three times and came to watch Kansas City Chiefs tight end Travis Kelce.
"As you can see, it's just a party," Foster said. "We'll do a drive-by to kind of check it out and pull the boat up. We'll walk the beach a little bit, go in a little bit, hang out and get a drink. It's awesome."
Attending the American Century Championship by water does require some planning. Boats must be inspected for the quagga mussel before they can go into Lake Tahoe and carbureted two-stroke engines are banned from the lake.
Whether watching from a boat or walking the 18-hole course, the fans saw a great tournament that included future Hall of Famer Steph Curry sinking a hole-in-one and winning his first American Century Championship.
More than $7 million has been raised for Lake Tahoe area charities since the made-for-TV event started in 1990.