Top Tomato, the 40' Skater owned by Salvatore Sciandra, was just one of the latest projects completed this year by Tommy Hofstetter of Chief Performance. And, with speeds in excess of 150 mph, the New Jersery-based poker runner is more than pleased with his latest purchase of power.
Re-powered with Chief's 1350 hp Turbo-Charged engines – hooked to Mercury Racing Number Six drives – Sciandra explained that one of the key benefits of the engines is Chief's exclusive Electronic Engine Management System, which allows precise and real time monitoring of vital engine data.
"We went with Chief engines after doing a lot of research," explained Sciandra. "The Electronic Engine Management System from Chief was something that we really wanted. We knew Tommy had a lot of experience with turbos and we also liked the engine management system. That, together, made the sale. It works really well."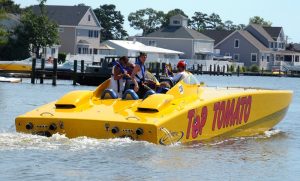 Hofstetter explained the system has three key benefits to include the displaying (at the helm) of the operating statistics of the engines, real time operating alarms (including knock, hot oil temp, hot air temp, hot water temp, low water psi, low oil psi, low fuel psi, low voltage, and low intercooler water psi), and ECU sensor alarms. It's also sunlight readable and waterproof.
"Basically the system simplifies the monitoring of the engines, repairs and maintenance," says Hofstetter. It's also a very easy installation package. The engine comes with the original-style motor mounts and the size of the package fits the engine compartments of all boats. You can re-power your boat easily without having to re-rig it as the dash requires a single wire that runs up from the engine (s). So, you just run that in the boat, install the dash board, put the engines in and basically it's done."
In addition to the engines, Sciandra also went with new graphics, new drives, and a new transmission.
"It's a very safe and fast boat," said Sciandra. "If I want to run 40 mph with my grandkids I can. Or, if my son wants to run top speed at a poker run, the boat can do that too, very easily. It's also great in rough water. The snottier it is out there, the faster it wants to go. I am very happy with it."
Sciandra's Skater was just one of a handful of go-fast models that Chief Performance has powered recently with its 1350s turbo-charged engines. The other models include Bill Pyburn's 388 Skater "Pure Platinum", a pair of Nor-Techs in Europe, and a Fountain.
For more details on Chief Performance, its engines and the Electronic Engine Management System visit www.chiefperformance.com