It was bound to happen. It was just a matter of when. Don Onken's 51' Mystic catamaran – America Ethanol – earned the coveted Top Gun title after hitting an impressive speed of 208 mph during the 27th Annual Lake of the Ozarks Shootout and Poker Run in Sunrise Beach, MO, this past weekend.
The top number comes after driver Myrick Coil and throttleman John Cosker blasted along the one-mile stretch in conditions consisting of light winds in Onken's 51' Mystic, powered by four 1,700 hp engines, producing approximately 7000 hp. Onken goes down in the LOTO Top Gun history books with the likes of Sheikh Hassan, Bill Tomlinson, David Scott, John Tomlinson, Dave Callan and Bob Morgan, to name but a few. Poker Runs America congratulates Don, as well John and Myrick for their great efforts at the event.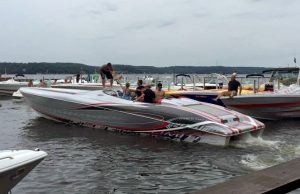 "LOTO went really well for us and it was very rewarding for Don," explained John Cosker, owner of Mystic Powerboats. "They worked hard at it and came a long way with their engine tuning. The boat really lit up. I have done a lot of LOTO runs over 200 mph and that was really the smoothest."
While 208 mph was the number to beat as of Saturday, it just wasn't in the cards for the other competitors. However, it was anything but dull. For instance, Kenny Mungle in his 32' Skater Gone Again was the next top speed below American Ethanol with a 188 mph run, followed by performance-guru Gary Smith who hit 184 mph with his Skater, Predator. Bob Bull and Randy Scism also made it in the higher speed bracket after running 183 mph in their 52' MTI, while Bob's wife, Debbie, (who also ran with Scism) hit 180 mph in a 52' MTI.
For all the details and top speeds from the weekend's shootout
visit www.shootoutresults.com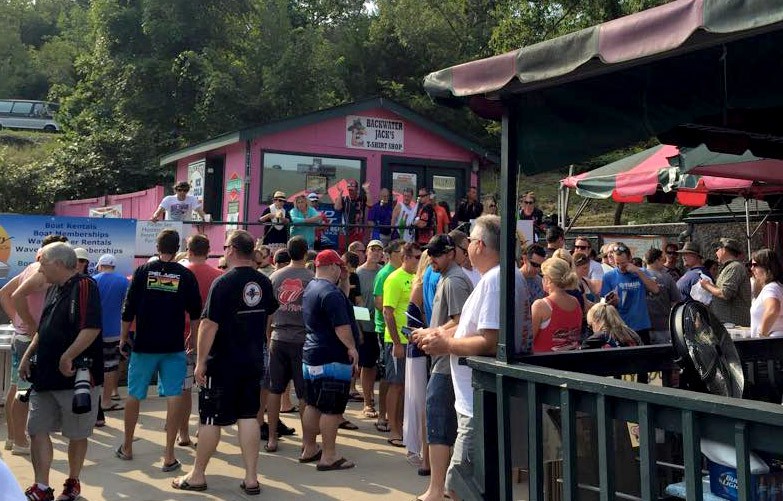 For more details of the event visit www.lakeoftheozarksshootout.org