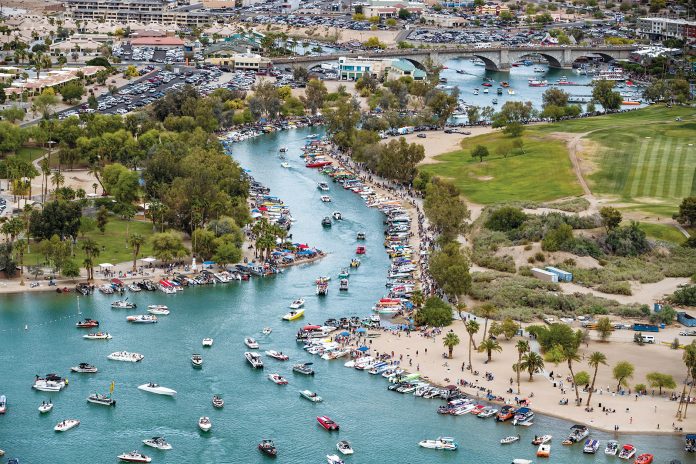 The West's largest poker run and shootout has new ownership with familiar faces taking the reins of the April event.
The Desert Storm Poker Run, which takes place in Lake Havasu City, Ariz., was purchased by real estate agent and entrepreneur Steve Ticknor and local event promoter Jim Russell. Russell has been involved in the event both as a partner and contractor for more than a decade.
The deal was completed in December 2022 with owners Christina and Jim Nichols Jr. The poker run was started 25 years ago by Nichols' father, Jim Sr.
"We have a fair amount of experience and great support from Christina and Jimmy, as well as Jim Sr., who created it," Russell said. "We're making a few changes, but essentially the main elements are very much in place."
Desert Storm annually attracts more than 200 performance boats and this year's event, April 19-23, is expected to draw similar numbers. In addition to the poker run, Desert Storm includes a street party on McCulloch Boulevard and a shootout that takes place after the poker run. The new owners are bringing in race director Ross Wallach of RPM Racing Enterprises to organize and grow the shootout.
The biggest change attendees will notice is a large VIP tent at Windsor Beach State Park where the welcome party, awards dinner and other events will take place for participants. The London Bridge Resort remains as the host hotel, Russell said.
Russell, who has produced more than 150 events through his company DSM Events, started and operates the Lake Havasu City Boat Show that takes place the weekend prior to Desert Storm.
"We're looking at expanding the boat show because currently it's a sellout for this year," Russell said. "We're looking to expand it into the adjoining Windsor, so it will be bigger and better than ever. And during the boat show, because of that new VIP tent, Desert Storm will be in business."
Since the acquisition, the new ownership has a multiyear title sponsorship with Anderson PowerSports and Kicker Marine Audio is returning as a sponsor. Shugrue's Restaurant & Bar is joining as the title sponsor of the shootout.
Russell's partner Ticknor is working with several nonprofits in Lake Havasu to get more community involvement.
While the acquisition included Desert Storm and the Monster Bash in October, the new owners are putting the October poker run on hold for at least this year.
"Our plans are all centered around building and reinforcing Desert Storm," Russell said. "We're taking the Shugrue's Shootout to the next level of professionalism and that's well deserved."
The new website for the Desert Storm is www.desertstormlhc.com