With an anticipated, strong attendance, the 2015 Monster Bash Poker Run presented by Teague Custom Marine will undoubtedly raise the excitement level for performance enthusiasts with high performance thrills and chills in Lake Havasu City, AZ.
The festivities move into high gear as early as Thursday, October 15 with a welcome party at West Coast Drives, followed by Friday's 11:00 a.m. lunch run to Havasu Springs. Official registration for the event begins Friday October 16 at the Nautical Beachfront Resort with music and refreshments.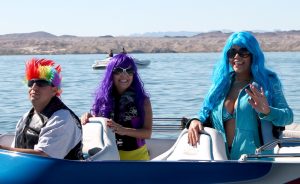 The next day, on Saturday October 17, arrival sign in commences at the Nautical Beachfront Resort from 7:00 to 9:30 a.m. with a mandatory driver's meeting from 8:30 to 9:00 a.m. before the start of the run at 10:00 a.m.
This year, the run entails five stations around Lake Havasu to include Havasu Springs Station, Steam Boat Cove Station, Chemehuevi Station, Havasu Station and Thompson Bay Station. For added convenience, there are no staged or group starts and the stations are open for card pick up between 10 a.m. to 12:00 p.m.
Lunch is scheduled from 11:30 a.m. to 1:30 p.m. at Pirate Cove and the deadline for the card turn-in is between 3:30 p.m. to 5:30 p.m. at the Nautical Beachfront Resort.
Rounding out the event is the annual Costume Cocktail Part at 7:00 p.m. at the Nautical Beachfront Resort, followed by the announcement of the awards and special raffles.
Visit Lake Racer's website for all the details and event information.