Image Above Courtesy of Tommy Gun Images
For the past dozen years, the Desert Storm Poker Run has grown into one of the most popular performance boating events around the country.
Desert Storm draws the cream of the crop of boats, including some of the fastest in the world. While the speed and spectacle of the run make it a surefire hit with the locals in the host city of Lake Havasu City, Ariz., event owners Jim Nicholas and Jim Russell have always had a different goal.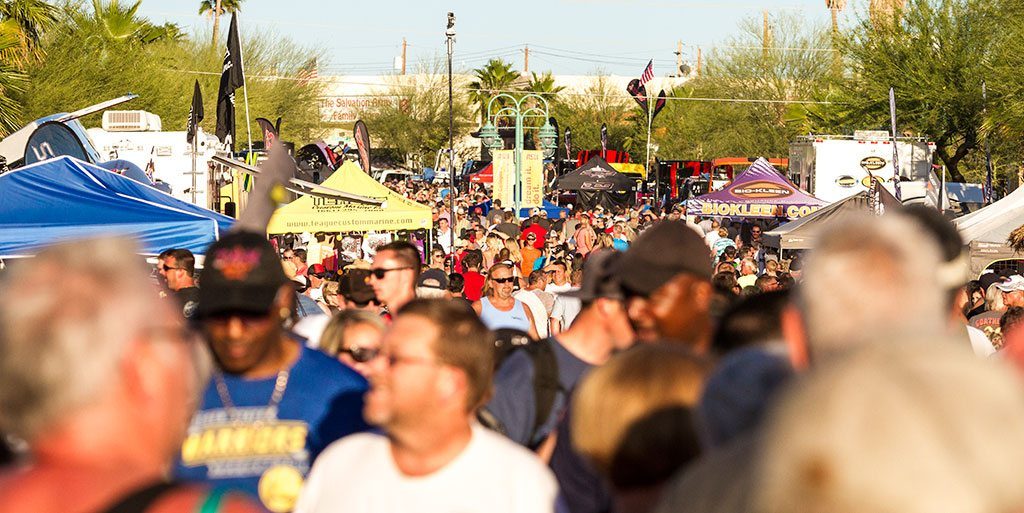 "My major goal for Desert Storm is to give back to the Havasu community because they get overwhelmed by the performance-boating community," said Nichols. He explained that so many of the local businesses are either seasonal or dependent on the performance-boating community that it's important that the high rollers who own the big exotic vessels make the annual pilgrimage to the Arizona desert for the run.
"Desert Storm fills the restaurants with high rollers who spend money and tip well," said Nichols. It's one of the reasons why the Shugrue's family of restaurants is a major sponsor of the event. The title sponsor is Spectre Powerboats, which is owned by Chris Ivey, who calls Tucson, Ariz., home. Teague Custom Marine continues to support the week of festivities as do IMCO Marine and a host of other sponsors.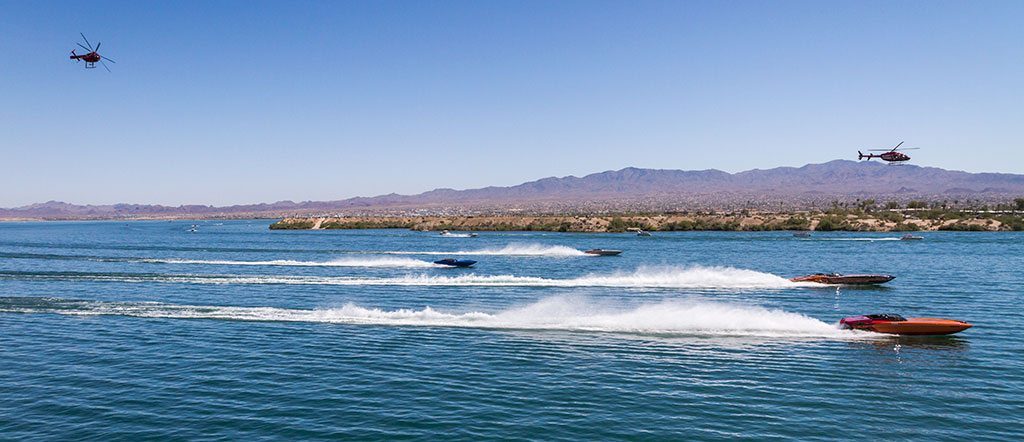 Another huge draw for the locals of Havasu City is the annual street party that's part of Desert Storm week. McCulloch Blvd., the primary roadway through the city, shuts down and there are many boats, engines and accessories on display. The event is open to all and many Lake Havasu City residents appreciate the opportunity to see the boats up close and personal.
The week starts on Tuesday with a meet and greet luncheon at Pirate Cove Resort in Park Moab, where you can drive, boat or fly. On Wednesday, the third annual "Kruisin' for Kids" makes underprivileged and special needs children the stars of the day. Volunteers take the kids for rides in their poker run boats. This year, the poker run teamed up with primary charities New Horizons and Mile Marker Therapy, raising more than $25,000 for good causes.
As mentioned above, the street party took place Thursday and the 2017 Desert Storm Poker Run took to the waters of Lake Havasu on Friday. Just under 150 boats and their drivers had excellent conditions and the event went off without incident. At the Saturday night awards, the card hand winners donated their winnings to the 03XX Foundation. Unfortunately, this year's event wound up on a slight downer because the annual shootout to determine the fastest boat at Desert Storm was canceled due to weather.