It's often been said that when you find a job you truly like, you should make every effort to turn that passion into your life's work. Not many people get to actually chase that dream, but Doug Slingsby is one of fortunate few.
When Slingsby was a young man growing up in Freeport in the Bahamas Bahamas, his father owned the first 32' Hustler powerboat ever built. His father disappeared in the Bermuda Triangle and Doug wound up with the boat. The younger Slingsby wanted to restore the boat and, in the mid to late 1980s, one of the best known graphics and detailing shops in the performance boat game was Grafik EFX, which was owned by renowned artist Chris Dilling.
Instead of simply dropping off his boat, Slingsby asked Dilling if he could work alongside him, learning the trade. "Right when I met him, I said, 'This is what I want to do,'" said Slingsby. "He trained me and I collaborated with him on a number of projects."
Initially, Slingsby, who is from Cookstown, Ontario, Canada, found himself in a shop that Dilling had in Florida, eventually taking over the facility. Slingsby built a following quickly and was soon being commissioned to paint boats and upgrade their graphics at facilities around the country.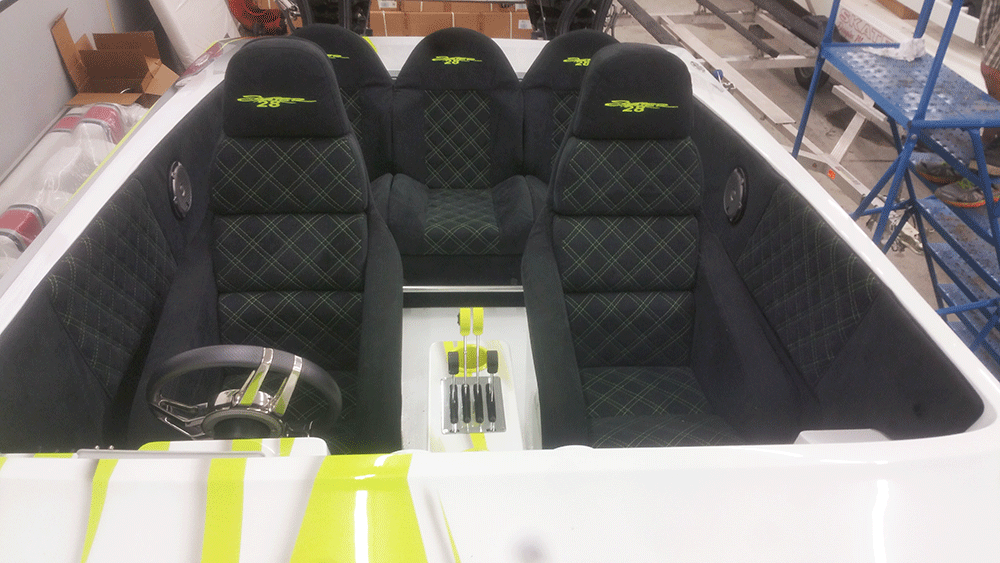 "I would travel to where the boat was," said Slingsby. "They'd have a spot to paint the boat and I'd spend a month there."
He worked closely with Billy Moore who was the team manager and throttlemen for a few offshore racing teams including Nichols Concrete in the Super Cat class and the Spirit of Brazil. Slingsby also raced a couple of times in the Pro Stock class with Rick Felsen in his 32' Skater, High Risk. "Whenever I've painted anything with Billy, he wound up being my helper," said Slingsby.

Eventually, the economic down turn hit Florida hard and Slingsby made his way back home to Canada. He had an 8-year-old daughter named Sarah and Slingsby found out she had retinal blastoma, a form of cancer. She lost her left eye and fought through treatments, but today, she is 16 and cancer-free. Sarah hasn't let it slow her down. She rides motocross, jumps horses and has her own boat.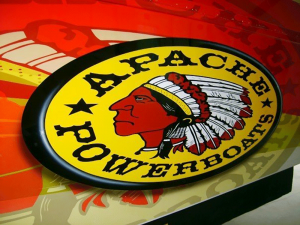 The Slinger Motorsports shop in Cookstown occupies just under 8,000 square feet in multiple buildings. Today the facility can handle a complete boat restoration including paint, interiors, even engine work. Slingsby hired mechanic Glen Duroche to do outboard and stern drive service. In addition to repair and restoring boats, Slinger Motorsports builds a 13' catamaran.
Having the ability to do everything in-house is important because it makes it easier for the customer. Some of the boats currently in the shop include a 1976 Cigarette wide-body, a 1978 Cigarette 28' open cockpit being restored for popular Canadian performance-boater Cole Leibel, a 1979 35' Cigarette Mistress and a 24' Switzer among others. In addition to boats, Slinger Motorsports paints and deals 18-wheel haulers.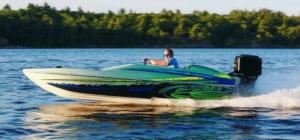 One type of boat that Slinger Motorsports has become known for is outboard-powered catamarans. "I've always loved the cats ever since I rode in a 24' Skater," said Slingsby. He's had particularly good luck with Spectre 30' cats and is known as, "the unofficial used Spectre dealer."
He ran one of those boats in the 1000 Islands Poker Run last summer, enjoying the exposure that one of the biggest events of the year can bring and, of course, simply having fun while working.