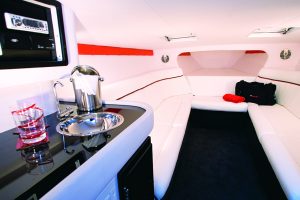 Donzi Marine manufactures nearly 500 boats a year. From its Classic Series and fast offshore center console ZF models to its exciting new ZRs, these are the boats performance enthusiasts dream of.
With 45 years of boat building experience, a large, experienced design team, and countless world and national championship titles to their credit, a new model from Donzi is something you don't want to miss. For the past year and a half, Donzi has kept its promise to deliver an "offshore revolution," launching eleven new models since 2005. When I was offered their latest 43 ZR for a sea trial, I jumped at the chance. The 43 ZR's helm is designed for single driver operation. Livorsi controls are mounted to starboard and a box directly ahead houses the trim and tab rocker switches with mechanical slide indicators. Behind the fixed aluminum wheel is everything you need to operate this large offshore including 16 Livorsi gauges, 18 toggle switches, a full screen Lowrance GPS/chart plotter, breaker switches, stereo remote and Ritchie compass, all in a clean ergonomic layout.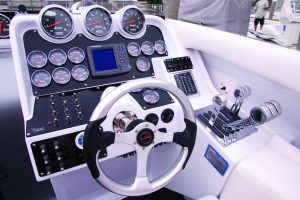 The cockpit is 78" wide and includes snap-in carpeting, making it spacious and comfortable. The forward seats are drop-lip bolster buckets, fully padded to wrap and protect those fortunate enough to sit in them. Three body-fitting passenger buckets have drop seat capability, permitting riders to stand and still be protected by the soft padding incorporated in the seat sides. To further ensure safety, special, heavy-duty grab handles, designed by Donzi, are positioned between the seats.
A 4" high Lexan windscreen provides protection without detracting from the 43 ZR's clean lines. Leading from the cockpit to the foredeck are four large, molded-in steps, just left of the polished, stainless steel, framed cabin door. A two-foot long stainless hand rail running beside these steps further exhibits Donzi's experience in designing offshore boats. Directly ahead of the front passenger bolster is a lockable glove box and an insulated icebox.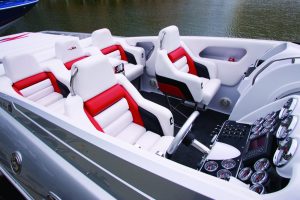 When we designed the ZRs we took so much into consideration," says Donzi's vice president of marketing Josh Stickles. "We designed a very accommodating layout with plenty of storage, comfort, and obviously a lot of sex appeal."
The 43 ZR is available with a wide range of engine options, from exotic staggered twins to triples. To find out how this impressive package performed, we began the sea trials. Again, Donzi has incorporated a little added safety with a unique "keyless ignition" feature. The engine key and battery switches are located under the rear seat. Once in the "on" position, go to the helm, flip on an ignition toggle switch, then hit the starter button.
Underway, the first thing that impressed me was the sound – or lack of it. Donzi has come up with a unique muffler system, which is designed to produce a tough tone without the ear-splitting decibel levels you hear on some boats. The mechanics are relatively simple. The two outside engines have an expanding muffler. As exhaust pressure builds, the mufflers open to reduce back-pressure, while the center engine exhausts through a set of Teague ST 450 pipes. The result is a low rumbling sound at slow speeds that gets louder as the speed increases, but it stays well within acceptable decibel levels. Behind the exhaust tone you can hear a "Whump – Whump" sound. It's a very civilized system. People know you are coming, but you don't blow them off the dock.
At 2,200 rpm, we were just on plane and the Lowrance GPS was recording 22 mph. Another 800 rpm put us up to 50 mph. The short Lexan wind deflector proved very effective and visibility over the top is 100 percent.
When you drive a 43-foot boat carrying full amenities, you expect it to feel heavy. There are some exceptions, but many of the large offshore boats can feel more like a cruiser than a racer. Now, this Donzi weighed in at 12,000 pounds, so it's no lightweight. But the combination of intelligent design and professional rigging resulted in boat that's nimble, yet stable, and easy to maneuver, yet solid. Despite Donzi's heavy involvement with racing and the fact that the 43 ZR's running surface features nearly identical geometry to their race boats, you don't have to be an ex-racer to safely and comfortably drive this boat to the maximum speed.
At a comfortable 61 mph, the 525s turned an easy 3,500 rpm. Pushing the throttles, we did some tight turns and cruised over larger boat wakes, which was no challenge for the 43 –the ride was totally dry. The gauges are easy to read and information was available where you expect it.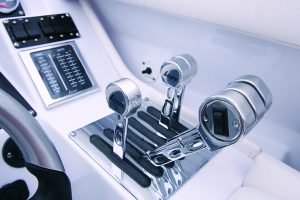 One of the Donzi hull design features is a 14-degree pad at the transom. A pad allows you to trim the boat up without quirky characteristics. Generally, the higher you trim, the faster you go. Despite flat water, we turned slightly more than 97 mph at 5,350 rpm and at the same time noted the telltale indicated the boat had achieved 99 mph the day before. Confidence comes quickly with the forgiving characteristics of the 43 ZR, even at full speed.
Looking to nit-pick, I would say the standard helm is filled with instruments for the three engines, with little space to install additional electronics. Also, I found the front seats to be mounted a little high. There's plenty of gunnel height, so it would be simple to order the seats a couple of inches lower and still see over the windscreen.
Back at the dock, we relaxed in the Donzi 43 ZR cabin. A large settee will seat five from the cockpit plus a few guests. A lightweight, galley module is small, yet functional and includes a compact refrigerator. The V-berth has a length of seven feet and large enough to be practical.
The enclosed head compartment offers a freshwater stainless sink with shower and electric toilet, along with a mirror and 110V shore outlet. On the downside, there's no provision for outside ventilation and the headroom at 47" is a little low. But, a full head like this can be much appreciated at the dock.
One of the exciting aspects about the 43 ZR is the number of technical features. Here are a few of them. The racing running surface, aerodynamic design, near-perfect balance, and weight-saving lamination processes assures owners of high-end performance. Vinylester resin is used throughout the build and the 43's composite glass-encapsulated stringer system boasts a full-length centerline keel stringer, something typically found only on race boats. For even greater hull strength, lightweight Kevlar laminate with vacuum-infused coring is applied to critical stress points. The hull and deck are joined using a chemical fusion adhesive and the top of the stringers are mated to the cockpit floor, creating a unified bond between the hull and deck. Beneath the gelcoat is lightweight Kevlar laminate with vacuum-infused coring for strength and an optimum resin-to-glass ratio. The hull and deck are also permanently joined using chemical adhesive and resins. Each wiring harness installed in Donzi models is engineered for a specific boat, in accordance with the options ordered. All wiring systems are color-coded for easy identification and routed through conduits, which are secured in place with cushioned aluminum clamps. Connections are soldered and sealed with neoprene and heat shrink tubing to reduce corrosion. All deck hardware is thru-bolted using backing plates and aircraft locking nuts.
A standard center-mounted, Lowrance Electronics GPS Navigation system is at the heart of the 43's panel. Some other impressive standards include high intensity, flush-mounted navigation lights, marine-grade polypropylene carpeting, solid Lexan twin hatches, 316L stainless steel fasteners, rot-proof upholstery, and a Fortress aluminum anchor to save weight. The engine mounts are also backed, bolted and bonded while a quiet ride is provided by a new variable muffler system. Each of these items simply underline Donzi's penchant for incorporating the latest in technology.
But the 43 ZR is more than just high-tech and speed. The company understands boaters also appreciate the practical items that make the sport more enjoyable. In the new 43, storage abounds with under settee lockers, compartments below the V-berth, a double section glove box, separate cupboards, aft seat storage and recessed pockets in the gunnels. They also clearly appreciate the need for passenger security in an offshore boat by including grab handles and individual footrests. However, Donzi goes one step further by featuring the handles where they complement style and are out of harms way. A good example of this is the full-length centerline deck rail recessed in the foredeck. There are no rough edges on this boat that can scratch your hands and the inside of the storage bins and hanging lockers are completely finished. Donzi insists on utilizing the best available materials and workmanship. Only the finest quality multi-axial fiberglass is hand-laid by experienced laminators. Cabinets are actually modules that are glassed in to the hull sides, stringers and deck, effectively tying the boat together amidships, which further contributes to the structural stability of the boat. The little things have been well thought out as well. As you enter the cabin, a hanging locker to starboard has a removable ceiling panel for easy access to the helm wiring. The toilet paper roll in the head has a cover over top to prevent it from getting wet when people are taking a shower.
The list of items for practical boating goes on. A dedicated bow locker with anchor clips, push button breakers for all twelve-volt connections, oversized sea strainers by Latham, twin deck hatches, and floor level cockpit lights are just a few of the thoughtful appointments. As a final step in practical boat building, every single Donzi performance model goes to Sarasota Bay for a detailed sea trial. Of course, no offshore boat would be worth it's salt if it didn't have a little flair. To personalize each boat, 12 standard graphic patterns in a wild selection of colors are available. Additionally, many buyers opt for their own custom paint. Custom graphics are applied using a PPG paint system with a colored base coat, followed by multiple layers of durable clear coat.
The 43 ZR is just one of many new high performance models from Donzi. Those who may find this model's price somewhat rich to their taste may want to check out the other ZRs, which now include 27', 35' and 38' models. All have been introduced in the past year and offer similar features, styling, and of course handling. The suggested retail price for this 43 ZR as tested is $420,000. When you consider the features, quality and performance, it seems like a bargain. Isn't this what every person is looking for in an offshore performance boat?