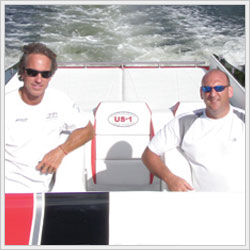 When Dr. Robert Rosenberg, AKA "Dr. Bob," purchased a 1991 US1 38' Cougar in 2007, the OB/GYN had plans that went way beyond your typical aesthetic redesign. Not only was the Chicago-native set on refurbishing the Cougar to his exact specifications, he was embarking on a long-time pursuit of creating what he thought was "his" perfect performance boat.
Cougar Powerboats, based out of Hampshire, England, is perhaps not your typical mainstream performance craft. A rare breed in North American waters, Cougar Powerboats are built with flawless precision capable of delivering an outstanding ride and solid performance, enabling them to easily stand out in the crowd. When Rosenberg first set his eyes on a Cougar on the Chicago River in the mid-1980s, he was fascinated.
"One day I was aboard my family's Sea Ray when I first saw a Cougar. It was very unusually-shaped for its time and just flew by everybody – the sound of its engines were deafening," recalls Rosenberg.
Keeping a close eye on the model throughout the years (and with a little luck) it eventually went up for sale in 2007. With very little use, Rosenberg recognized an opportunity. He went to take look at it and purchased it on the spot. With a boat that was in exceptional shape, he set his course to have the Cougar redesigned to his exact specifications.
To order a back issue call (800) 461-9128