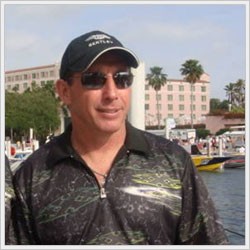 When Jim Wiley took his new Nor-Tech 44 Roadster, XXX, out for a ride to test his new Cobra Power 1200-hp engines, he hit a speed of 137 mph and decided not to push things. He had four people on board and didn't feel the time was right to wind up a brand-new cat. He has a high-performance private plane, a Cirrus SR22 that is equipped with a parachute so that if there is an incident, he'll stand a much better chance of walking away from the aftermath.
Seeing a pattern here? Wiley might like to go fast, but he always takes a conservative approach to stepping up in speed.
"You do it measured," said the 53-year-old entrepreneur from St. Petersburg, FL. "You make sure you're good, the boat's good and the conditions are right and then you give it hell. It's the way I've always approached it."
You can tell by looking at whatever boat he's operating — Wiley currently owns five — that he takes all aspects of performance on the water seriously. The vessels are meticulously maintained and in perfect operating order. He stores them at Statement Marine in St. Petersburg where the staff helps Wiley maintain his boats.
To order a back issue call (800) 461-9128