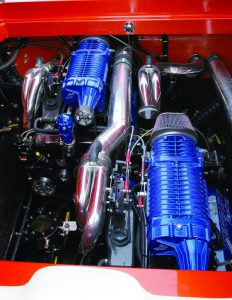 The knockout gorgeous 38 Lightning you see pictured here was custom built for Randy Hartman of Lake Cumberland Marine specifically to win the 2007 "Boat of the Year Award." Custom painted in a spectacular combination of almost a burnt orange with accents of gold and green by T.A.O.D. of Elkhart, IN, there is virtually no finishing detail left untouched throughout the boat.
These finishing details become readily apparent with the custom upholstery throughout the cockpit and cabin. From the comfortably contoured rear bench seat with handy cup holders built into rubberized entry step plates, to the supportive, electric helm and passenger bolsters, to the sumptuous, inviting facing lounges in the cabin, understated elegance is everywhere. Unlike some others, these loungers invite you to spend some time with more than adequate headroom, and the V-berth is enormous for a boat of this length, and again with headroom to spare. Warm wood-tone cabinetry enhances the galley while minor finishing details in the enclosed head compartment were yet to be completed. The new look sliding curved smoked plexi door makes cabin entry and exit so much easier.
The foredeck features a built-in anchor locker, two hatches, and a full-length grab rail down each side. But where you want to spend most of your time admiring this boat is in the engine compartment. Equipped with a pair of staggered Mercury Racing 700 SCi supercharged engines with NXT-1 #6 Speedmasters, there is a ton of room back there to jump right in and inspect to your heart's content.
It is very interesting to note that these drives are not your off-the-shelf NXT's. Rather Fountain worked directly with Mercury to develop these drives specifically to match the running characteristics of Fountain hulls. The result utilizes the NXT gimbal and transmission with #6 upper and lower gearcases. Out on the water, the 38 runs smooth and level and virtually no trimming at all is required.
To order a back issue call (800) 461-9128 or sign in to read entire article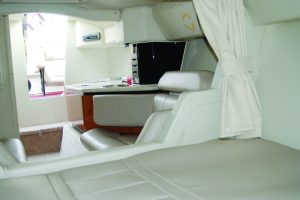 The hull color scheme extends throughout the engine compartment, accented with lots of shiny chrome or stainless detailing such as Fountain's own sea strainers and even a "Fountain" embossed cover plate over the port engine's drive shaft extension. All plumbing, hoses, and wiring harnesses are properly secured and routed and access to all vital servicing items is a breeze. A little more lighting back here would aid any after dark servicing however.
Reggie himself went out with me on the test ride on the Pamlico River next to the Washington, NC Fountain factory. Reggie still plays a vital role in the design and testing of every single boat. He is obviously very proud of this one and gave me full value of what it could do in terms of acceleration and low and high-speed handling. It is definitely one of the sweetest Fountains I have ever been in and it reacted like a slot car on rails. Top speed near 114 mph was literally hands off, rock solid, and totally stable in a light chop with a fairly strong current. In conclusion, this boat does not jump out at you with the loud graphics often seen on high performance boats, but rather attracts you with its more subtle approach resulting in one of the classiest looking packages out there. If looks and performance are criteria for the "Boat of the Year Award," then this Fountain should be there in spades.