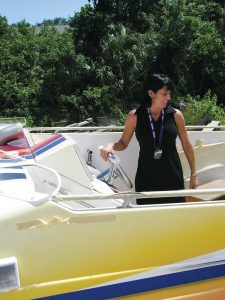 Similar to Lindsey Wagner's character of Jamie Summers on the hit TV series The Bionic Woman in the 1970s, Mindi Doller is admired for her fine qualities, acts of kindness and leadership. Since the passing of her late husband Ron W. Doller 15 years ago, she has molded Doller Offshore Marine into a top-notch marine parts, rigging and new and used boat sales business with a client list spanning the globe. Her bionic nature aside, it was not an easy journey for Doller, yet her reputation in the world of offshore speaks for itself.
It was during Christmas in 1980 that marked Doller's turning point. The most memorable present over the holidays wasn't a Tiffany necklace or a hot black 700-series Beamer– it was a new beginning when she decided to uproot from the frigid climate of East Longmeadow, MA. and venture towards a new – and warmer – horizon.
Heading southbound on I-95 in Washington, D.C., Doller tossed a coin to decide her fate and answer the question of "Should I live in Florida or Arizona?" Landing tail-side up, Florida won and Fort Lauderdale – a.k.a. the Venice of America – became home sweet home.
Supporting herself by working two jobs pouring Captain Morgan and Cokes bartending and primping South Florida ladies as a beauty technician helped pay for Doller's personal training and American College of Sports Medicine clinical certification program. With degree in hand, the posh Williams Island Resort in the Aventura area of North Miami hired her immediately.
Leading cardio-set trainings for clients along the Williams Island marina waterfront, she would stare endlessly at a backdrop of floating performance boats while thinking, "wow, what an amazing lifestyle."
Reality would soon reinvent itself for Mindi and she moved a step closer to that amazing lifestyle after meeting Ron Doller through a mutual friend at a happy-hour hot-spot, The Bimini Boatyard.
Originally an Ohio soybean farmer who retired to the Sunshine State, Ron in his free time would pedal his bike up and down N.E. 188th Street's historic Thunderboat Row.
One afternoon he asked a simple question to a larger-than-life gentleman he spotted stepping out of a tinted-window sportster. "Hey, can I wash your car for you?" Don Aronow, the "fastest man in town" replied back, "yes."
Personality-wise, Ron was a unique character and it didn't take long for him to move from his car-cleaning service to lending a hand to highroller Jerry Jacoby at Cigarette Racing and Hawk Marine Power. Easily seduced into the glamorous life of fast boats, he then opened his own Fort Apache facility. Once established, Ron was also instrumental in helping to assemble the Doller Marine Special race team, which grabbed top honors during the 1989 Great Race from Trinidad to Tobago.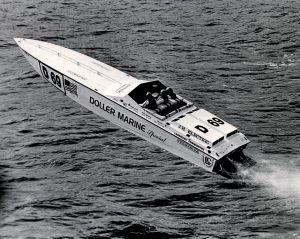 Since Ron was well-established in the high performance boating industry when he met Doller, during their second meet-up he gave her a little taste of horsepower during her maiden voyage in a 38' Cigarette Top Gun splashed in Sonny Crockett shades of teal and pastel pink. Hooked on power boating and on Ron, the duo exchanged wedding vows while ringing in the New Year for 1995'.
Tragedy then struck three years later when Ron was diagnosed with advanced-stage Kidney cancer, which spread into his lungs. Given six-months to live, he passed away at 56. Phil Lipschutz, his closest friend and owner of North Miami's Lip-Ship Performance added,"His ashes were spread on the start finish line of the Miami Offshore Grand Prix. I used a Cigarette 38' Top-Gun with Number 6 Drives and 900 hp engines. Ron's boat of choice, his all time favorite."
Faced with an enormous challenge after Ron's passing, Doller found herself taking possession of a business not in her field.
"Industry people sat around waiting for me to fall on my face," says Doller. "Many were discrediting Doller Offshore Marine. I had to prove we were a serious player in the market and implement positive changes. After all, I had 13 employees depending on a paycheck."
Mindi acknowledges she couldn't have done it without her supportive staff including General Manager Mac Morris who has been her "rock from the start and continues to help keep the balance."
Carl Kiekhaefer's own drive specialist, John Klumpjan still remains on-board, as do other dedicated employees including Bob Preston, Dana Becker and Ozzie Leon. "I am also grateful to Phil Lipschutz who signed us up as a branch office of his business, until I secured a broker's license."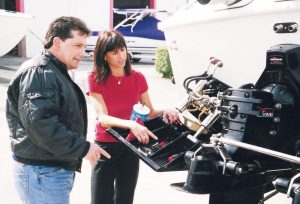 "My first priority was learning the administrative and marketing operations," says Doller. "I then picked up the trickier technical expertise over time."
Having initially lost a handful of the flashy A-list crowd that Ron did business with, Doller and her crew needed to bounce back and invent new ways to bring in revenue. Branching out into cruiser territory, launching an online shopping website and devoting greater attention to brokering boats all contributed to keeping the doors to Doller Offshore Marine open.
Today, the 15,000 square-foot Hollywood, FL. headquarters is a premier Mercury/MerCruiser dealer, as well as a certified sales and service center for Konrad Marine, Ilmor Marine, Livorsi Marine, Latham Marine, Custom Marine Incorporated (CMI) and Sunsation Powerboats. In preparing for the uncertainty of boat financing and soft high-performance boat sales, Doller continues to streamline the business and wears many hats at once.
"I have always admired how Mindi Doller stood up to all those who said she couldn't do it," Marilyn DeMartini, one of the leading PR authorities in the world of speed and physical fitness specialist, says. "She proved herself in the male-dominated marine industry by taking the reins of her late husband's business and keeping it alive. What she didn't know, she learned and surrounded herself with experienced people who could help her get and keep the business going and growing. She is still going strong, so she must be doing something right."
In 2009, Doller took on another role as a Sunsation Powerboats dealer. "I saw owners Joe and Wayne Schaldenbrand at the Florida Powerboat Club's Key West poker run. Their high quality, innovative boats blew me away. As did the family-run company's commitment to customer service.
"Floridians have a ton of choices when it comes to buying a boat, but many have not yet discovered Sunsation. I wanted to get them on the map."
Taking the speedboat world by storm, Sunsation Powerboats and Doller Offshore Marine have made headlines as the 34CCXF's little sister was unveiled at the 2014 Miami International Boat Show. Tucked into slip 229 of the Marriot's Sea Isle Marina, the 29CCX becomes the next generation to conquer the center console niche. Designed to accommodate a wide variety of activities and offered at a competitive entry-level price, the dazzling fiberglass beauty is powered by 150 hp FourStroke Mercury outboards with upgrades available up to twin 250 Verados.
Shop talk aside, the recently turned 55-year old is also a fitness buff with more defined muscle tone than an Argentinean polo player. Doller starts her day sliding into a pair of New Balance trainers at an hour when I'm still out from the night before.
A favorite U2 playlist is selected and Bono's Where the Streets Have No Name comes blaring through her exercise room speakers. Mindi's initial workout of the day has begun. Not stopping there, she continues to educate others on the benefits of fitness and instructs three spinning classes a week at the Wellness Center in Broward Health Medical Center.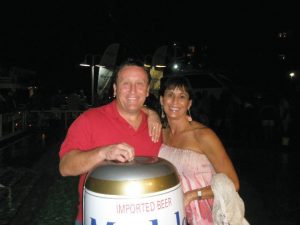 Exercise has not only kept her fit but has also given her a second chance at love. Out on a pre-sunrise jaunt close to her house is where she first met attorney and fellow fitness lover, Richard Petryk, who shared the same idea for an early jog that given morning.
New running companions at first, the couple now continues to share their passion and even adhere to a Sunday morning ritual where each starts running on a separate route and ends when they meet in the middle at a local neighborhood park. Polo, their Pomeranian-Border Collie accompanies the duo each weekend, while their two felines Cici and Beatrice hold down the fort at home.
When not living life in the fast lane on land or sea, Mindi's love for cooking keeps her in the kitchen. When on her best behavior she enjoys whipping up fresh kale combinations and when it's time to let loose, she adds some Italian specialties to the menu, never forgetting to add a chilled glass of her favorite Pinot Noir to complete the dish.
The Power of Mindi Doller personally and professionally is impressive, bionic by nature and proven to be iconic in the marine industry and beyond. If Ron was looking down on her, he would be proud of where Doller Offshore Marine stands today and the respect Mindi fought to gain for herself and the company. PRA