If you want to keep your boat's engines running right, ValvTect's Marine Fuel additives are a good place to start.
You're a poker-run enthusiast. You trailer around the country, attending the biggest and best events with your high-performance marine machine. To save money, you fill your boat's fuel tanks at land-based gas stations that only offer ethanol blended gasoline instead of topping off at marinas. This is ususally due to the overwhelming price per gallon caused by the marinas higher cost to install storage tanks, pumps and insurance to sell on the water.
"Many quality marina operators now sell ValvTect Marine Gasoline that contains ValvTect Marine Ethanol Gasoline Treatment specially formulated to prevent fuel related problems including those caused by ethanol," said Jerry Nessenson, founder and president of ValvTect Petroleum Products in Northbrook, Illinois, located just outside of Chicago. "Boaters buying ethanol blended gasoline at gas stations, or "automotive gasoline" at non-ValvTect Marinas should treat the fuel with an ethanol treatment to keep the fuel stabile, help prevent phase separation and most importantly prevent corrosion" he said.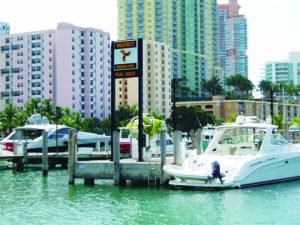 Nessenson has been boating for 35 years. He now cruises on a 60' Sea Ray and it's his love of boating that makes him want to provide higher quality marine-grade fuels (both gasoline and diesel) and fuel additives for recreational boaters through his company.
"Boaters don't have the tolerance or the money to justify having a negative boating experience," said Nessenson. "One of the things we've tried to do is eliminate fuel related problems and help boaters have a more enjoyable experience."
While the marine business makes up a small percentage of ValvTect's overall business, it's still an important slice of the pie for Nessenson. He has served on several boards and committees in the petroleum and marine industries, including the Association of Marina Industries, the trade association that represents U.S. and international marinas and the National Marine Manufacture's Association.
ValvTect's primary business comes from working with fuel distributors, large fleets, engine manufacturers and refiners with fuel additives that improve fuel quality and engine performance among others. The company is the largest supplier of fuel additives in the country to major trucking fleets working with such well known corporations as FedEx, Ryder trucks and many more. Finally, ValvTect produces private label fuel additives for many engine manufacturers and other aftermarket fuel additive marketers both in and out of the marine industry.
What sets ValvTect's products apart from many other fuel additive providers is that ValvTect Marine Fuels and fuel additives are made up of detergents, corrosion inhibitors, octane improvers and other chemicals that are approved by both refiners and engine manufacturers.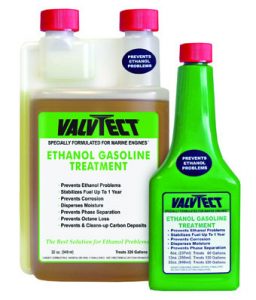 To combat the effects of ethanol, ValvTect offers marina owners its ValvTect Marine Gasoline that is formulated with ValvTect's Ethanol Gasoline additive when it is delivered in bulk to more than 600 marinas around the nation, including the Brewer group of boatyards throughout the Northeast and the Skipper Buds chain in the Great Lakes. If you want to buy the same treatment in a bottle for your boat, it's called ValvTect Ethanol Gasoline Treatment and it'll cost you $10.99 for an eight-ounce bottle that treats 60 gallons that is available at West Marine and marine dealers nationwide. ValvTect introduced the ValvTect brand of marine fuels in 2005 and today, is one of the leading brands of fuel in the marine industry.
A quality marine fuel and fuel additive will have several key components, Nessenson explained. As a boat engine isn't used daily, ValvTect adds an ingredient that neutralizes the ethanol in today's E10 fuel to stabilize it, making the gasoline "fresh" and usable for up to a year. The second key element is moisture dispersant that helps keep the water and alcohol in the fuel from phase-separating and working their way into the combustion chamber, where they can cause major problems. The third component is a detergent that cleans up and removes harmful deposits in the fuel injection system and combustion chamber. "When you clean up injector, carburetor and combustion chamber deposits, you improve fuel efficiency, performance and fuel economy," said Nessenson. "Perhaps the most important is a corrosion inhibitor that prevents corrosion of components in the fuel system" he said.
"Marine engines really require a different fuel than automotive engines." Nessenson said. "What makes the ValvTect Marine Gasoline additive different from other fuel additives intended to combat ethanol is that it was developed to meet marine engine builders and gasoline refiners specifications and pass an ASTM test for stability, corrosion and moisture dispersancy. "ValvTect Ethanol Gasoline Treatment contains the chemistry that is accepted, required and approved by every engine manufacturer and refinery," Nessenson explained. "Many other fuel additives do not and engine manufacturers have reported engine failures actually caused by certain fuel additives that do not pass ASTM tests".
He continued, saying that gasoline that comes out of refineries already has stabilizer in it for automotive applications that will keep a fuel fresh for maybe a month. Using it's chemically-engineered formula, ValvTect boosts the amount of stabilizer, detergent, moisture control additive and extra corrosion inhibitor. These help keep ValvTect Marine Gasoline fresh and avoids corrosion for up to a year.
GOT BOOST?
Another ValvTect product that should interest the poker run crowd is ValvTect Octane Boost ($19.99 for 32 ounces treats
up to 140 gallons). Nessenson explained that the product works in two ways to improve performance and fuel economy. It has a magnesium-based octane improver called MMT that will boost octane by two numbers (for example 91 to 93) and a detergent to clean out deposits from carburetors, fuel injectors and combustion chambers. When these deposits are removed they actually reduce the octane requirement of the engine that allows the engine to run cleaner, develop more power and use less fuel. "Other than lead or alcohol, MMT is the only product that's been proven to improve octane," said Nessenson. "If an additive's ingredients list doesn't include MMT it's not a true octane booster.
"The perfect application for ValvTect Octane Boost is the high-performance boater who has the boat at marinas with 87 or 89 and needs 91 or 93 Octane," Nessenson explained. He added that simply adding an octane booster to an engine with standard 8:1 compression ratio will not help improve performance, however cleaning up injector and combustion chamber deposits will produce improved performance and fuel economy. Typically an engine with a compression ratio higher than 8:1 will require higher-octane fuel.
Nessenson had a word of warning when it comes to additives that make claims that sound too good to be true. He would prefer that you use ValvTect products to treat your fuel and engine, but Nessenson stressed that all boat owners should do their due diligence before buying any fuel additive. If you're not sure which one to buy, he recommends purchasing products that are the same brand as your engine because they are designed to work best in that application.
So the next time you're deciding on which gas to put in your boat, you might want to consider waiting until the boat is in the water and finding a marina that sells fuel ValvTect Marine Gasoline or use ValvTect's Marine Fuel Additives. It's a worthwhile investment. By Eric Colby