Let's cut straight to the chase: Does Hustler's latest offshore rig live up to its name? Indubitably. Indeed, this 39-plus foot, multi-stepped water boiler, appropriately known as the 39 Rockit, will undoubtedly deliver the goods – both in performance, fuel economy and comfort.
Let us explain. In developing this particular boat, Hustler took a new 39-foot Vee, borne of the company's popular 388, then stretched it and made 35-plus changes. Once satisfied, a decision was made to place twin staggered 6.7 L Cummins diesel engines under the hatch, bolted to NXT1 drives swinging five-blade 18" X 36" Mercury Racing cleavers. Sound like an interesting recipe? It is.
When all was said and done, the 39 Rockit splashed off Long Island's Peconic Bay and a top speed of 88 mph was recorded. That's quick for any boat in its size and horsepower range. Putting out somewhere between 525 and 550 hp, we were told one could count on 5,000 hours of engine running time, presumably maintained according to Cummins specs and schedules.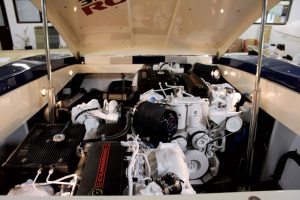 Best yet, it politely sips fuel. No gulping necessary. Mercury's SmartCraft/VesselView data indicated that the Rockit's hull planes and runs flat as a pancake at 1610 rpm or 23 mph. At that speed, only 15 gph was being consumed. At 1950 rpm, the boat ran a steady 36 mph, again being stingy on fuel, burning just 17 gph.
While you can, of course, run all day at speeds like this and not have to reach for your wallet, performance drivers generally like to go a bit quicker. At 50 mph/2210 rpm, we scooted down the bay using 21.6 gph, then bumped it up to 60 mph at 2560 rpm. Again, a good number: 30 gph.
Play hard and fuel will be consumed, but again, at significantly lower rates than similar boats powered by premium-gasoline engines. The highest number I saw was 50 gph being used at 86 mph/3370 rpm.
Seeing is believing. Until I actually drove the Rockit, and was in the boat to witness first-hand how much fuel was being saved, I had difficulty putting my head around a diesel-powered high performance boat. Although I've read articles about them in the past and felt they were a strong alternative, I hadn't really considered their overall value.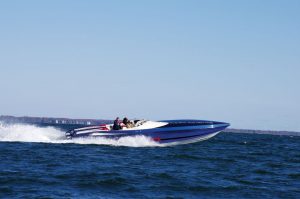 Now, I get why so many people are switching to diesel-powered cars. Diesels have loads of torque, have gotten quieter over the years and last a long, long time. Clearly they, along with other alternative technologies, are gaining popularity within the motorsports community. I'm thinking there are plenty of buyers with a vision for the future who are now, or soon will be, interested in combinations like this.
More on the engines and ride later, but first some facts about the boat itself. The 39 Rockit is one of few models in Hustler's line that has its deck and cockpit incorporated into one solid piece. By eliminating extra parts, the boat becomes stronger, quieter and can be built lighter than boats constructed using multiple molds.
Joe LoGiudice, President of Global Marine Power Inc., is keen on driving new manufacturing processes at Hustler. Quality is emphasized at every level, with care and consideration placed on doing the job right the first time. For example, there are 16 models in total and every template is numbered, tagged and identified by the material to be used. Being organized is Hustler's strength.
The very best products are used in construction – from sandpapers for paint finishing to high-end composites. When a cleat is attached to the deck, it's not going to pull loose. The same goes for fiberglass cabinet frames, seating attachments and other high-stress parts that require strong bonds. Like the 388 Reloaded (previously reported on in PRA Vol. 16 No. 4), The 39's stringers run ¾ of an inch into the transom to prevent them from shifting.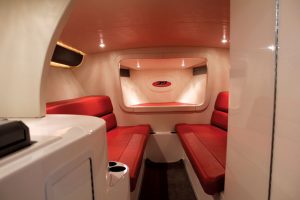 Paul LoGiudice is responsible for sales and marketing. His tech and creative background serves Hustler well, given he concentrates on customization. When visiting the Hustler headquarters in Calverton, NY, every employee I came across was forward thinking and proud of their work. It's a mindset that makes the difference, not simply in overall build quality, but in service levels expected by their customers.
As performance boaters know, speed and handling are not the only factors that make a good boat great. How comfortable one is, and how well the interior measures up, is critical to enjoying a ride. Hustler's design team did well.
From the driver's seat, one can easily focus on the Rockit's tiered dash with wrap-around sets of Livorsi instruments, switches, circuit breaker panel, dash mounted stereo remote and the ever-important SmartCraft system.
While the entire cockpit looks crisp, 
current and contemporary, Hustler's seating arrangement rates top marks for safety, security and ergonomic support. Five bolsters, two independent fronts and a three-passenger aft seat, mean business. Those seated in the back will thoroughly enjoy their ride. Grab handles are appropriately placed, which at the speeds we saw are appreciated.
Hustler uses Anti Shock III cockpit upholstery throughout, meant to withstand punishment from people and the elements, yet luxurious to look at and sit on. The aft head rests, port and starboard, blend back into the engine's smartly upholstered hatch cover. Thoughtfully, the hatch was designed with a solid walkway down the centre for access to the swim platform.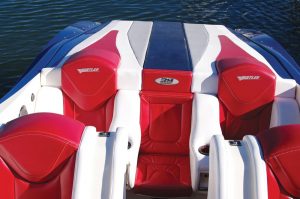 Now back to the ride. The hull has multiple steps – four shingles and two deeper primaries. Where they are placed was painstakingly researched and tested until the hull ultimately performed as it was meant to. Given dozens of suitable power options, The Rockit was designed to run rock-solid at well past the century mark.
While Mercury Racing's twin 700 SCi engines with NST1 Drives are noted as standard equipment on the 39, Hustler's decision to install Cummins QSB 6.7 L Turbo Diesels made for an intriguing test. Cummins introduced a high-pressure "common-rail" fuel injection system with hardened components that actually allows them to run on alternative fuels such as kerosene. Lighter than ever given a reduced amount of metal, the QSB's also feature a new air filter system – gone are the days of smokey, noisy or smelly diesels.
Thanks to Hustler's familiarity with boat and engines, we were able to maximize our time on the water. Before I slipped behind the wheel, Joe explained that when I throttled up, it would take a few seconds for the pressure to build, at which point boost would kick in and away we'd go. That it did.
There was a dial on the dash that allowed Joe to manipulate the load settings. At one point, I saw 98 percent pressure and 99 percent load – and our speed was rapidly climbing. Maxing out at 86 mph on our up-wind run, the boat eventually saw 88 mph.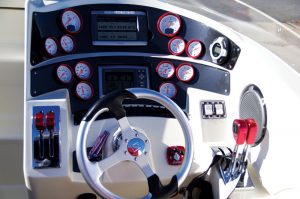 Boost pressure and temperature are critical to overall performance and Hustler discovered that by placing water pick-ups a little lower, the temperature dropped from 200 to 170 degrees. They also added tubular aerators over the propellers that helped the boat plane faster.
Out of the hole in 7.3 seconds, we hit 30 mph in 10.6 seconds and 50 mph in 11 seconds. The acceleration numbers at speed were more impressive. Running along at 50 mph, tabbed all of the way up, the 39 sped to 70 mph in 8.6 seconds – Nice.
Slicing and dicing its way through some good-sized swells and Peconic Bay's wind-induced chop, this flat-riding hull performed like a champion. It's fun to drive, tracks straight and carves smooth, stress-free turns.