Once upon a time, a 100+ mile an hour vee-bottom with factory supplied power was virtually unheard of. But that's changed. Hull design has made some remarkable advancements and the technology that's available in today's over-the-counter-direct from-the-factory high performance marine engine and propulsion system packages is nothing short of astounding – a prime example…Nordic's 39 Poker Run.
According to Nordic GM and long-time designer/tooling guru Thane Tiemer, the relatively new 39 Nordic was a little over a year in the making. A start-from-scratch development project that wanted to accomplish some things like improved handling at higher speeds, better overall operating efficiency throughout the entire RPM range and some clever on-board creature comforts not heretofore seen in a performance vee-bottom. According to Tiemer, "If you look closely at the bottom of the 39, you'll see that it is an entirely new concept in vee hull technology done right here at Nordic's Lake Havasu factory.
It should be noted that the Nordic 39 Poker Run is a one-hundred percent composite hull, without a stick, twig, board, plank or sheet of wood used in the construction. "It's also a vinyl ester resin boat," commented Tiemer, "which makes it stronger and more rigid, able to hold a more consistent bottom configuration, especially when running at high speed in rough water. That's an important benefit in helping to achieve our goal of a better performing hull. We targeted a legitimate 100 mph boat with 700SCi Mercs and we exceeded that by a good five miles an hour."
After running the new 39 Poker Run through its paces on Lake Havasu, we can attest to that claim. The intended 105 mph top end was a breeze and the rock-steady ride was a welcome change from other 100- mile an hour rides we've experienced in other less well-mannered vee-bottoms.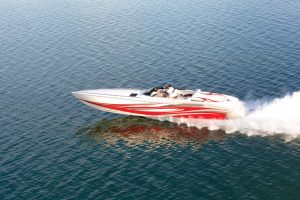 As Tiemer mentioned earlier, the Merc ury Racing 700SCi packages were clearly in mind as the optimum power choice when this model was in the conceptual stages. Recently, Mercury Racing is now offering the 700 package with an NXT6 SSM drive configuration that mates the NXT with Merc's venerable high performance workhorse, the SSM number Six drive with dry sump lubrication. The genius of this package is the fact that the NXT6 with drive and transmission takes up no more engine compartment space than a standard Bravo One engine/ drive combo.
In order to achieve the desired balance and CG (center of gravity) Nordic wanted for this 39, the twin 700SCis are mounted in a staggered offset configuration. This allows the drive units to be positioned as close together as possible and nearest to the centerline (keel) of the hull, the best placement for overall performance and stability, especially at speeds over 80 mph. To additionally enhance the trimability of the boat, Nordic also opted to install a pair of Kiekhaefer 380 model K-Planes with Livorsi LED trim indicator panel at the helm.
Driving Nordic's 39 Poker Run is a blast. With 1400 horsepower under the engine hatch and a set of Merc Racing's finest five-blade stainless steel cleaver props (17" diameter x 37" pitch) and a 1.50:1 gear ratio in the drives, what else would you expect. At off-plane speeds around the marina, easy maneuverability and nice straight tracking (no wandering) in the no-wake zones are very welcome. Rolling up on to plane from slow speed is surprisingly effortless. No need to hammer the throttle sticks as it's better to tuck the drives a little, give a small degree of negative angle to the trim tabs and apply the power with discretion. Bowrise is minimal and visibility is good considering there's a lot of forward deck out in front of you.
Most of the time, boating is a mid-range throttle activity, and for this 39 Poker Run, mid-range can still be pretty fast. It's most comfortable range is impressively quite wide. Anywhere from 30 mph up to 80 mph is a joy ride. It's flat, smooth and steady. Any hint of vee-bottom chine-walk is totally absence. And steering responsiveness is flawless, as demonstrated by its ability to carve solid turns to the left and right at all reasonable speeds.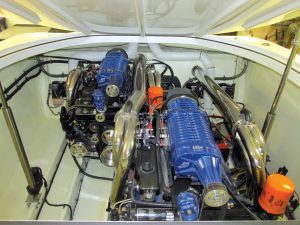 It's quite evident that Nordic's 39 doesn't run like the conventional vee-bottoms of old. Rather than needing significant amounts of positive drive trim to push the stern down and lift the bow for reduced wetted hull surface for more speed, the 39 is at its best with a nearly neutral drive angle which maximizes propulsion thrust at planning speeds.
Up on the top end, it doesn't take a math whiz to calculate that Nordic nailed-it in the efficiency department. Running right close to engine redline (5200 rpm) with the gear and prop combo, speed was just a fraction over the 105 mph mark. That equates to approximately a 13 percent prop slip factor, which is remarkable for a 39-footer and an 11,000-pound payload.
As easy as it is to become mesmerized by the 39's performance, it's evident that Nordic never overlooks the comfort and quality factors on the inside. Nordic's in-house interior team is always on their game when it comes to the fit and finish of their interiors, especially their upholstery.
From a driver's perspective, Nordic's 39 has the immediate look and feel of pure performance. The helm is a panorama of Livorsi instrumentation interfacing with Mercury's new Vessel View 4/SmartCraft digital real-time engine monitoring system.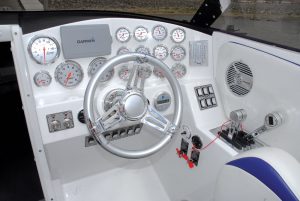 One particularly unique interior feature of the 39 Poker Run is the cabin entry door. Instead of a more traditional pocket or sliding door for cabin privacy, Tiemer came upon an innovative solution that is not only more functional with a dual purpose, but attractive as well.
We all know that person-access to the long bow of a performance vee-bottom for docking and anchoring is a headache. To solve that, Nordic molds steps into the fiberglass cabin door with handy grab rails attached to port and starboard bulkheads. Simply walk-up and you're on the bow.
But the innovation doesn't stop there. Instead of the door sliding out of the way to open, it falls forward on hinges at the base into the spacious forward cabin becoming a walk-down set of stairs thus eliminating the long step or jump into the cabin floor below. Then, once inside the cabin, the door/stairs can be closed to its full upright and out-of-the-way position. According to Nordic, this is one of the 39's most popular selling features.
In comparing Nordic's 39 to other vee-bottoms in that similar size range, this is a boat that stacks up well in virtually every category, and at the top of the list in many. Maybe a 105 mph vee-bottom sportboat isn't everybody's cup of tea, but there's every reason to suspect that less powerful engine package options will deliver just as much enjoyment. PRA
Contact: Nordic Boats
Factory: 770 N. Lake Havasu Avenue,
Lake Havasu City, AZ 86403
(928) 855-7420 or 1-800-279-5398
www.nordicboatsusa.com