If there are two things that haven't changed in the world of offshore boating its performance and good looks. For the poker run crowd this is especially true, and it's easy to get the fever. Ron Potter of Potter Performance Engines, Inc., an engine builder based in Sarasota, FL., has always delivered the speed, designing and building high-performance engines for the who's who of the go-fast community.
In a time when many poker runners are concentrating efforts on refurbishing their current boat models, or purchasing pre-owned models and making necessary modifications, Potter and his team have taken their skill set to a new level, breathing new life into these models.

Case in point is a just-completed 1992 Cigarette Top Gun, which was stripped bow to stern, port to starboard, and refurbished to the point where it looks as if it just rolled off Skip Braver's factory floor.
This is not Potter's first refurbishing project to an existing boat model. He completed an extensive project on Tom Gouzies' 43' Nor-Tech catamaran last year and is recognizing a growing trend among performance boaters. This is something he takes seriously, and leaves no stone unturned.
"We didn't really pursue this type of business, it came to us," Potter told Poker Runs America. "The industry has had a lot of changes. One of those changes is more people are keeping the boats they have or are buying older boats. Now, people want to send us their boat so we can work on the whole boat, not just the engines."
Potter explained that when a boat is in his shop for an engine rebuild or upgrade, the customer will often ask his team to fix gashes, chips or nicks in the gel coat, and do graphics work. Customers often ask if they have the skills and the people to do more extensive modifications. Without question, they do.
"We work with a lot of companies here that do soda blasting, sand blasting, anodizing, CNC fabrication, custom wood work, upholstery and paint, with us overseeing the design and control of the project," said Potter. "These are companies that know their game, and they know the caliber of customers we work with. We also do sophisticated powder coating that includes metallics with clear coats."
The Start of the Project…
The 1992 Cigarette Top Gun project was something Potter began a year ago with a long-time friend and client, Jim Peters of Sarasota. Peters, who owned a 26' Scarab, dreamed of one day owning a real offshore performance boat like the ones he watched racing as a boy in the Florida keys.
After a year of discussing possibilities, Peters and Potter decided to join forces and purchase a 38' Cigarette Top Gun, an all-Kevlar Lip-Ship edition. While the Top Gun was dated with "Miami-Vice" pink and teal graphics, and a matching interior with shag carpeting, the good news was the Mercury 525 hp SC carbureted engines with CMI sport tube exhausts were in perfect shape with low hours, and the hull was mint. The hull was inspected by expert boat surveyor, Chuck Wagner, formerly of Donzi Marine.
"Jim and I had many long discussions regarding what kind of boat to buy. I suggested an old school 38' Cigarette Top Gun, as the model is proven and has been around for many years," says Potter. "They ride phenomenal, they are safe and built like granite. It's a proven boat with a conventional bottom and very stable. It's not the fastest boat out there, but it will certainly keep up with the pack."
A "fixer" by any means, the only major problem the Top Gun had was a spongy floor due to the use (and the rotting) of plywood, commonly used in boats in the early 1990s. "That was really the only big issue. As it was out dated, we decided to make this a really special, modern old school Top Gun," said Potter.
Sanding and Re-fiberglassing…
The boat was then placed on blocks and the first step for Potter and his team was gutting the cabin and cockpit, pulling up all the upholstery, taking out the dash, plus all the electronics, and every piece of hardware. Potter explained that many older boats are not perfectly straight, so priority was to sand down the sides and re-fiberglass the low spots in the hull. The next step was to fair the hull with five-foot long file boards, making a true, straight line. Next, the deck and hull were epoxy-primed, then hand-boarded to a very smooth finish. The hull bottom was also sanded and buffed to perfection. Now with a perfect platform to work with, Potter took on the interior, taking out all the plywood in the cockpit, cabin, the dash, and engine compartment.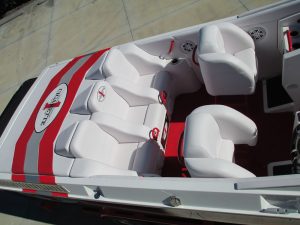 "The entire interior was backed with plywood," says Potter. "We removed more than 400 pounds of the stuff, as well as fasteners and other materials. We also removed the cockpit floor, which took out probably 100 to 125 pounds of weight. We then replaced it with modern foam core material. It took six guys to take the cockpit floor out. It only took two to put it back in."
Replacing with PVC Materials…
Utilizing the expertise of PPI Interiors, the plywood was replaced with modern PVC materials for the seat bases in the cabin, aft bench in the cockpit and dash. Rather than using conventional screws, the PVC material was inserted with modern, hidden fasteners, which Potter calls a suspended ceiling system. This system pulls the material taunt into concealed tracks for a tight, secure fit. The cabin was adorned with a charcoal carbon fiber headliner, white carbon fiber high-grade marine upholstery on the lounges, red snap-in carpeting and red and white LED lighting. Further ambience was provided by nine-foot LED strip lighting underneath the ledges of the lounge bases.
Redesigning the Cockpit…
"We completely redesigned the cockpit," said Potter. "The original aft bench was a standard sit-down bench seat that was very low. You couldn't even see over the dash. So we redesigned a whole new back seat, and PPI took my idea and turned it around to make it work. We then went with varying density of foams, creating a comfortable, safe three-man sit down aft bolster. We also raised the seat back head rest eight inches. When we did that, we incorporated tapered wedges onto the upholstered engine hatch cover, so people sunbathing are provided with head rests."
Adding Livorsi Products…
"Carbon fiber is strong, but becomes brittle and chips over time where screws or fasteners are applied," said Potter. "We went with all new Livorsi products including the wheel, gauges, and shift and throttle controls. Even the drink holders throughout are Livorsi." Remote stereo controls to the port side were added, along with a set of 5200 series Garmin GPS systems for the driver and passenger. Potter's electrical technician designed the dash panels to plug into the main boat wiring as modules, so each dash is separately wired with a sixteen pin Deutsch connector, providing easy installation and to simplify upgrades.
Solo Painting adds striking Graphics…
To complement the cabin, the exterior was custom designed. The striking graphics on the hull, which was painted to the waterline using PPG urethane paints and completed by Solo Painting, included black hull sides with silver and red accent striping running from the bow to the stern with the same paint scheme up along the engine hatch.
The original Cigarette swim platform was preserved starting with extensive sand blasting, and incorporating eight layers of powder coats, sanding in between the coats. All of the original factory cleats were restored by blasting them and refinishing with a three-step powder coating, complete with a silver metallic clear coat.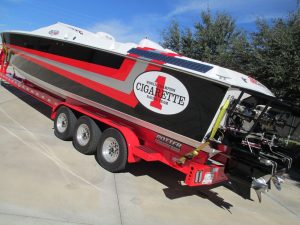 The Cigarette and Top Gun logos throughout the model came from Potter's own color concepts, and they even designed a version of the Lip-Ship edition logo (located just outside of the faring), indicating that it's a Kevlar model. More impressive exterior appointments include replacing the plastic air vents with a one-piece stainless steel vent, finished on a water jet system with holes that emulate a 50-caliber machine gun bullet.
Modern Livorsi LED navigation lights were fitted in the bow. The sound system consists of components from JL Audio and there's even a Clarion pro audio head unit with remote controls on the port dash. Every nut, bolt, washer and screw was replaced with new.
In the power department, the twin Mercury Racing 525 hp SC engines were mated to rebuilt XR Mercury Racing drives, spinning Mercury lab-finished 30-inch props. After a year of sanding, buffing, and ripping out and replacing components and materials, it was time for sea trials.
Speeds Top 80 mph!
"The boat ran phenomenal. When we purchased the boat it ran 74 mph. Without changing anything, other than all the work we did, we took the boat back to the water and it ran 80 mph, over and over, regardless if there were four or two people on board."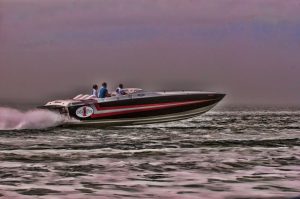 When asked what Potter and Peters will do with the Top Gun now that it's completed, the answer was simple. "We are going to enjoy it," laughed Potter.
Currently, Potter and his team are working on refurbishing a Don Aronow 21' Cigarette from the early 1970s to its original appearance.
"We will be taking that right down to the fiberglass, with new paint, interior, engines, drives, electrical, wiring – everything to make it look like it was back in the day – with original styling and colors. We have been doing a lot of boats for people over the last couple of years and it now seems to steam roll, as more and more boats are coming in."
Whether it's a classic performance legend, or a contemporary powerhouse that needs slight modifications, Potter and his team take on the task to provide more comfort, speed, and functionality for the performance boating community.
To learn more about Potter Performance Engines, Inc., visit www.potterperformance.com or call 941-758-5942.