As a successful industrial and commercial sheet metal and fabrication contractor, Brian Lundy is a stickler for details and precision. That's why he owns a second Dave's Custom Boats' high-performance catamaran and why he takes running safely quite seriously whenever he's on the water.
"You really need to understand the water and your surroundings at 150 mph," said the 51-year-old Lundy who has been participating in poker runs for about 15 years. "You have the speed, you have the power, you just need to understand when it's available."
Talk to Lundy long enough and you'll realize that this is a guy who is smart about performance boating. He and his wife Janet have been poker running longer than most people have been boating and just two years ago, the couple was inducted into the Poker Runs America Hall of Fame.
The two (they are a team at any poker run event) purchased a Dave's Custom Boats M35 wide-body catamaran powered by Mercury Racing 1100s with Dry Sump Six Drives and took delivery of the boat at the Desert Storm Poker Run in Lake Havasu City, AZ. last April.
"The finish work of the DCBs is second to none," said Lundy. "Dave (Hemmingson of DCB) is a detail guy and the details in the engine compartment and the stitching on the interior stand out."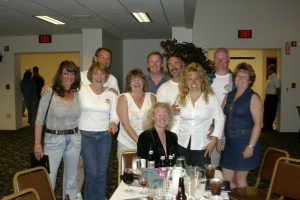 As mentioned earlier, the red M35 is the second DCB the Lundys have owned. The first was an F26 built by the El Cajon, CA–based manufacturer powered by twin Mercury 300X outboards also delivered at the Desert Storm Poker Run a few years ago. They used the F26 on Charleston Lake in Landsdowne, Ontario, Canada, where they own a home. It's about a half hour north of Brockville, which is the lunch stop for the 1000 Islands Poker Run.
"The 26 was one of the most enjoyable boats I've ever driven in my life," said Lundy. That boat's handling through all the speed ranges prompted Lundy to look into and eventually trade it in towards the M35.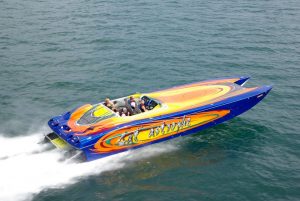 "The 35 is the best handling boat I've run," he said. While he was out at Lake Havasu, Lundy also took a ride in an M41 and since he likes to trade up every two years, you can probably guess what Lundy will be looking at in 2016.
The M35 is a far cry from the 20' Larson runabout the Lundys started with more than 20 years ago. Neither Brian nor Janet had grown up around boats. They are both from the Brockville area and met playing fast-pitch softball. Brian competed in the sport and had four sisters who played on a rival team against Janet who also still holds a number of local track and field records. Brian admits that he showed up at games to watch Janet run the bases. He pursued her and eventually won her over and the two have been together ever since. In addition to being a teammate on the water, Janet is an integral part of B Lundy Mechanical, handling the dispatching duties and running the office.
Softball and boats aren't the only activities the Lundys enjoy. During the winter, they ride snowmobiles and Brian has owned Harley Davidson motorcycles for more than 30 years. Janet recently took delivery of a 2014 Corvette that Brian is hoping she will paint the same color as the M35. Brian also said he would welcome the chance to give offshore racing a try.
The couple bought a cottage on Charleston Lake and kept the Larson there, learning the nuances of boat handling. Their children, Kyle, 28, and Jessica, 26, grew up on the water. Kyle works for the family business and is a frequent part of the poker run crew, while Jessica now lives in Toronto and travels frequently for her job, preventing her from attending as many events.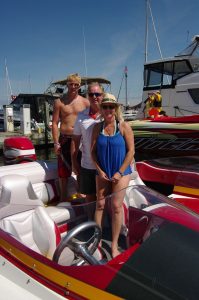 Eventually, the Lundys moved off the lake and quickly found out that their Larson was not enough boat to handle on the St. Lawrence River, so like so many performance veterans, they started with a Baja 252 Islander. They watched a couple of poker runs and thought they looked like fun so they entered the Alexandria Bay event.
"That's when we realized our boat was a little too small for that kind of stuff," Brian laughed, but after that first poker run, the Lundys were hooked. They moved up from the Baja to a Formula 312 Fas3TECH.
Establishing his two-year program, Lundy then bought a Cigarette 36' Gladiator in 2004 and two years later, he bought his first catamaran, a Spectre. That model was followed by a Nor-Tech 36 Super Cat powered by twin Nor-Tech 1100 hp engines, which was replaced by a Nor-Tech 43' Super Cat powered by Mercury Racing 1075s. Since the M35 is too much boat for Charleston Lake, he's thinking of having DCB build him a bowrider version of an M29 with milder power such as a pair of Mercury Racing 520s.
"One of the biggest reasons we enjoy poker runs is because of the people you meet through the events," said Lundy. "They're usually business people who are there just trying to blow off the steam."
Brian also mentioned that he's become close friends with a number of poker runners including Kenny Jensen, Peter and Raymond Roberts of Double R Performance and Jay Cook.
Brian realizes that he is fortunate to have found someone who shares his enthusiasm for poker run events. When they're participating in a run, Janet plays a key role, helping to navigate and keep an eye out for other boats. Kyle does the same, watching astern for any activity that would warrant him mentioning it to Brian. Kyle is looking at getting his own boat and possibly keeping it in Florida for the family to enjoy down there. He'll start with a performance V-bottom in the 38' to 40' range. Brian and Janet try to get to Florida to go boating with friends at least once a month.
Among the family's favorite events are the Alexandria Bay and 1000 Islands Poker Runs since they take place on their home waters. Brian said he also enjoys the more casual gatherings including the Fort Myers Fun Run in Fort Myers, FL., which is an annual event organized by fellow Canadian Bob "The Builder" Barnhart. Brian has also enjoyed running from Miami to Key West and likes the run from Fort Myers to Marco Island. The Lundys have won the poker hand at the Alexandria Bay, Casino Du Hull and Lake Ontario runs, but Brian said winning is not the reason why he participates.
For 2014, the Lundys plan to attend six to eight events in Canada, including three with Poker Runs America and up to four or five in the spring of 2015 in Florida. When asked if he could single out a favorite moment of the last 15 years, Lundy said there have been too many good moments, but there have been a couple of scary instances that provided a quick reminder that you should always respect the water.
The first was during the Alexandria Bay Poker Run. When the boats arrive at the American side, there is a 40-mph speed limit and with all the boats churning up huge waves, Lundy's Formula fell into a hole and rode on its rubrail before Lundy could right it. Another time in Georgian Bay, he was behind a sister hull to his 36' Nor-Tech Super Cat when that boat suddenly took flight. "All of a sudden we could see the bottom of his hull," said Lundy. "Then we saw it. A Carver cruiser had carved an 8' hole and we fell into it, but the 36 Nor-Tech handled it superbly."
He said that he doesn't worry about wakes from the larger freighters on the St. Lawrence, but does get concerned when he sees a large cruiser cross the water in the distance. "I was right behind Bill Tomlinson (owner of the 50' turbine-powered Mystic, My Way) when he spun out," said Lundy of the accident that took place on the St. Lawrence two years ago. "I saw that cruiser wave coming when he hit it." Lundy pulled back on the throttles and eased his boat through the waves producing a much safer outcome for his passengers. And that's precisely how Brian Lundy likes it. PRA