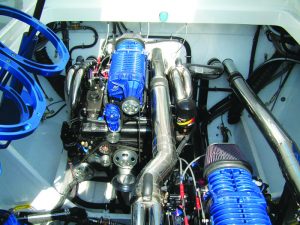 In New Orleans, La., in 1990, one of Reggie Fountain's biggest milestone achievements in offshore racing came when Fountain and longtime navigator Joey Detore used a 47' V-bottom to defeat actors Chuck Norris, Don Johnson and Kurt Russell in their more powerful, high-tech one-design racing catamarans with his V-bottom.
That boat was the predecessor of the boat that I was about to set foot in last February at the Miami Boat Show. The 2007 version of the 47' Lightning might look more modern and have more accommodations, but the spirit of Reggie's red, white and blue Number 76 still remains in the performance.
 Like all of the boats in the Washington, N.C., manufacturer's sportboat line, the 47' Lightning has benefited from the company's involvement in racing. Its twin-step Super Ventilated Positive Lift bottom is has been proven on the offshore circuit as evidenced by the 45' racing version's running more than 170 mph to set a V-bottom kilo-speed record. In addition to the twin steps, the boat has two pairs of lifting strakes (the inner set ends at the first step), a keel pad and a notched transom.
The power in my test boat was a testament to a Fountain marketing credo, more miles per gallon per dollar spent. The boat was powered by a pair of Mercury Racing's relatively new 700 SCi's. They were hooked up to a set of the also new NXT1 (New Xtra Torque) drives and transmissions, which were spinning a set of 38" six-blade props. With a full load of fuel, the boat ran a top speed of 86.2 mph at 5200 rpm with outstanding fuel economy. A combined total of 1,400 hp is not much comparatively and for this power package to push the boat to these speeds shows the efficiency of the bottom design and weight conscious construction.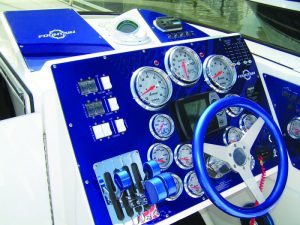 In Miami, I met up with Wayne Wollard, a long time friend of Reggie, and a loyal Fountain owner. In the marina, we turned a few heads as we fired up the Mercury 700's. It should be noted that the NXT1 drives don't allow for exhaust discharge, therefore muffler systems such as Silent Choice were not fitted on our test boat. Apparently Fountain is addressing this issue, particularly since noise levels associated with performance boats are a growing concern. That being said, at idle, the sound levels in the cockpit were a reasonable 84 DbA.
After idling out to Miami's Government Cut, we headed for some clear water and climbed on plane in 4.9 seconds. The double stepped hull worked effortlessly through the sloppy chop that we encountered and we cruised comfortably at 51.8 mph at 3000 rpm. Advancing the throttles, the mid range acceleration was sharp at 4000 rpm, I registered 72.1 mph on my handheld GPS. At WOT, we hit the aforementioned top speed of 86.2 mph at 5200 rpm. We were fully loaded with fuel, including the center fuel tank that was inadvertently filled up. This tank would not be normally used in a twin-engine setup. Wayne noted that on previous runs, and with 40 gallons of fuel in the side tanks, he reached the 9-mph mark.
Taking a closer look at the power, the engine is based on a CNC machined 502 cubic inch cylinder block that features a factory installed closed cooling system. According to Mercury, the engine features a new camshaft design and combined with a taller intercooler, increased supercharger boost, and improved fuel calibrations. All these key ingredients result in a consistent 700 crankshaft horsepower.
Rigging in the 47' Lightning's engine compartment was nothing short of flawless. Trim pumps were mounted in a convenient location for easy access, and you'll even find a set of handy fender holders. The engines were mounted in a staggered formation with the port engine forward of the starboard engine. This configuration allows the drives to be mounted closer together, which reduces drag and it moves the center of gravity further forward—two key elements to help increase performance.
For the ultimate combination of strength and light weight, the hull and deck of the 47' Lightning are comprised of a hand laid composite manufactured with multi-directional fiberglass, high density coring, and Interplastic vinylester resin. For added strength, the hull-to-deck joint is laminated, thru-bolted and sealed together with a heavy-duty marine sealant/adhesive. It's capped with a white plastic rubrail to protect the graphics against dings at the docks.
Belowdecks, the 47' Lighting's layout is somewhat typical for a V-bottom hull of this size. I found a V-berth forward with a privacy curtain. Moving aft, there is a large U-shaped bench seat that is accented with rope lighting. To port, you'll find a compact, yet functional galley area complete with hot and cold on demand water, a sink, a two burner stove, and a Norcold refrigerator. There is ample storage space and also in this area you'll find handy access to the main electrical panel, Kenwood sound system CD changer, and controls for the generator and reverse cycle heat/air conditioning. Although the generator and air conditioning are options, most of the 47' Lightnings are rigged with this equipment. Off to starboard, there is a head fitted with electric flush toilet, complete with holding tank and dockside pump out.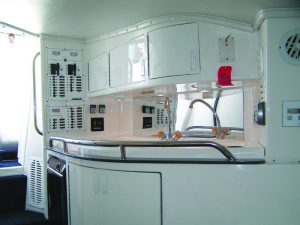 Back out in the cockpit, our test boat was laid out with four standup bolsters and a rear bench. If you prefer, it can also be configured with six bolsters, which also incorporates a set of convenient steps that lead up to the rear sunpad over the engine compartment. Other cockpit features include carpeting with embroidered Fountain logo, beverage holders, convenient handholds, and storage compartments in the cockpit sides.
Forward, the port dash features a large glove box, 12-volt receptacle, handhold, and toggle switch for the adjustable seat bottom. Front and center, you'll also find a Livorsi tattletale GPS speedometer.
 To starboard at the helm, the dash sported a set of Livorsi Monster Series gauges with chrome bezel accents. The Livorsi engine controls are mounted to the left of the steering wheels, and just above, and within easy reach, are the rocker switches for drives, tabs, helm seat, and engine hatches. A Racing Edition of the Mercury SmartCraft System View is centrally mounted ahead of the steering wheel. An Azimuth digital compass, Kenwood Commander stereo controls, and bilge pump switches are mounted on the upper tier of the dash, and on the cockpit side, you'll find fuel gauges, and toggle switches for the 12V systems.
As I stood there in the bolster, getting ready to take the wheel, I imagined I was Reggie Fountain 27 years ago dominating the fleet in New Orleans. The racing spirit is alive and well in the 47' Lightning.