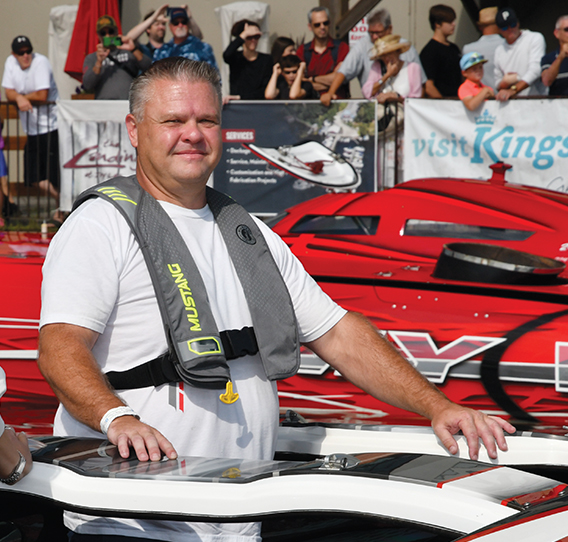 Aurora, Ontario 
Kris Jeppesen remembers doing his first poker runs in 1987, joining his father for events on Lake Ontario and Lake Simcoe. The family was active doing poker runs for about 10 years and as the kids got older, priorities shifted.
Now with his own family, Jeppesen is back participating in poker runs in Canada and the United States. The family, including his wife Amanda and children Olivia and Logan, do about eight events a year, making for a busy summer and beyond.
"I got the bug a couple of years ago to get back into it," said Jeppesen, who owns Nordic Auto Group in Ontario, Canada. "We've always been boating, but we've been doing family boating."
Whether its attending poker runs, the Lake of the Ozarks Shootout or the Key West World Championship, the Jeppesens always attend as a family. 
"They (the kids) love the social aspect as well the fast boats," he said. "They're boaters themselves, both of my kids and into the motorsports as well as that's our family business."
When it comes to participating in poker runs, Jeppesen has a couple of choices. They typically run either an Outerlimits SV-43 with twin Mercury Racing 1075SCi engines or 36' Cigarette Gladiator. In addition, Jeppesen owns a 40' Nor-Tech Roadster with twin 1,350-hp outboards. The family boat is 37' Axopar.
"It's hard to say if I have a favorite (boat)," he said. "I love the Outerlimits because it feels like a muscle car, an old-school muscle car to me. The Nor-Tech is extremely fast on the top-end, and also a great boat. It's a 170-mph boat and is one of the fastest boats in Canada."
As the teenage kids get older, Jeppesen said they plan to expand their boating season beyond the typical May-October where they live in Aurora, Ontario, about an hour north of Toronto.
"The goal is now to start doing some more winter boating in Florida," Jeppesen said. "That's the next step."