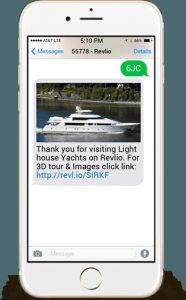 According to Show Management, the simple-to-use, self-service mobile solution can be activated by simply texting the code "FLIBS15" to 55778 to begin receiving reminders about special events, seminars, ticket discounts, specials in cocktail bars, parking, and much more.
"Revlio provides us with a flexible and expedient way to relay short messages to attendees and exhibitors so they know about last-minute changes or specials," said Brett Keating, vice president of marketing for Show Management.
Exhibitors also can benefit from the new program by setting up custom interest codes for the boats or products they will have on display, allowing guests to text those specific codes to phone number 55778, which then generates an automatic confirmation message asking if they want to be contacted by a manufacturer representative to set up an appointment.
"The dedicated text messaging allows for an expeditious response at times when exhibitor displays might become crowded, offering show-goers another way to break through the lines and get straight to the person who can answer questions about a boat or product of interest," Keating said. "Qualified leads are gold to every sales person, especially at a boat show."
For more information on how to sign up and create a custom Revlio campaign during FLIBS visit www.revlio.com/shows. For all the details on the 2015 56th Annual Fort Lauderdale International Boat Show visit ShowManagement.com.