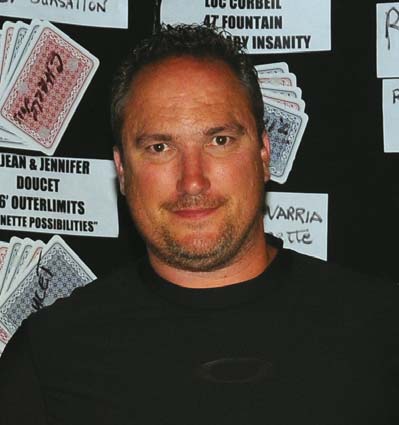 While many players may know Jean-Luc Sigouin by his mammoth 55' MTI "Oh My Gosh" that he has run in recent years, he most likely wasn't missed on the poker run circuit in 2014 as he ran a stylish 42' Outerlimits Legacy, powered by twin 850 SCi Mercury Racing engines with Number Six drives that's capable of producing speeds of up to 115 mph.
"I like to switch boats a lot and this was a special year for me," said Sigouin. "The past four years I was running catamarans, including an MTI, a Nor-Tech 43' and a Nor-Tech 36. Now I have an Outerlimits. In the past I have also owned a few Fountains and Bajas."Regardless of what Sigouin is running, it's not uncommon to see him with his mechanic, Jean-Francois Vanier and friends enjoying the Alexandria Bay Hall of Fame Poker Run in Alexandria Bay, NY, 1000 Islands Poker Run in Kingston, ON, Canada, or the Hawkesbury Poker Run, in Hawkesbury, ON, Canada.
"I usually run three events every year," says Sigouin. "I like the Hawkesbury event as it's very close to my house and easy to get to plus I know the river and the whole area. What I like about poker runs is the socializing and connecting with the business people at events."
According to Sigouin, he is also steadily busy on land in the winter operating his business Sig-Nature Snow Removal, which he explains is the largest snow removal company in the province of Quebec.
---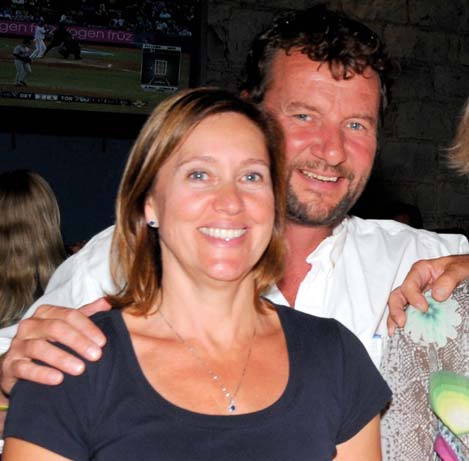 Very rarely do players win first place at their first poker run but Chris and Jennifer Grant of Toronto, ON, were certainly the exception as they took the top spot at their first-ever poker run during the 2014 1000 Islands Poker Run in Kingston, ON.
Running a 42' Fountain Lightning, powered by a set of 600 SCi Mercury Racing engines with Bravo XR drives, the Grants were ecstatic with their victory after playing a straight. They also plan to be back at the 2015 1000 Islands event in full force.
"I've always loved Fountain Powerboats," says Grant. "I got out of boating for about 16 years, until I refurbished my grandfather's 1960 Grew three years ago. However, I found it to be too small. I then thought it would be great to get a Fountain."
Grant explained he started surfing the Internet and found a model he liked at Pier 57. "We then fished for a price, and lo' and behold, we were the owners of a Fountain Lightning."
Capable of hitting speeds in the low 90's, the Grants enjoy the majority of their boating in the Southern Ontario region, on Lake Simcoe and Lake Ontario. They also run in the scenic Kawarthas Lake region, located two hours north east of Toronto.
When Grant isn't running the Fountain, Chris serves as President for Graydel Limited., a commercial construction company in The Greater Toronto Area, (GTA) while another business venture for the Grants includes a partnership in DVP Storage also located in the GTA.
---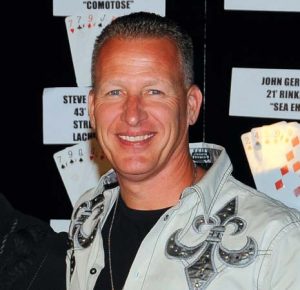 We caught up with Johnny O'Loughlin at our 2014 1000 Islands Poker Run this past August and as he has operated a handful of performance platforms over the years, his current 48' MTI "Terminator" is perhaps one his most impressive to date, running a pair of 1350 hp Mercury Racing engines that are capable of accomplishing speeds upwards of 170 mph. O'Loughlin purchased the MTI from former owner Albert Haynesworth through David Woods at Pier 57.
No stranger to poker runs, O'Loughlin has been a regular at our events over the years running familiar models such as a 37' Outerlimits, Lets Rock, a 42' Outerlimits GTX, All Fired Up, a 42' MTI, Justice is Coming, a 48' Outerlimits Catamaran Justice, and a 40' MTI Red Eye Express. As O'Loughlin has plenty of seat time in a variety of go-fast models, he still plays it safe and runs cautiously, throttling up with the adage in mind of "it's not how fast you go, but how well you go fast." O'Loughlin is also fan of bigger water and enjoys the challenge of running through four-to five foot waves – something his current MTI is very capable of accomplishing.
While he is very content on running his current cat, he still feels that Outerlimits are the toughest vee bottom models and very capable of taking on the rough stuff.
Along side O'Loughlin at many events are a series of friends, as well as his right-hand-man and performance guru Jim McIntyre of Falcon High Performance Marine Center in Quogue, NY.