Eleven years ago, in the middle of a sleepless night, Erik Christiansen had an epiphany. About six months earlier, when he resigned from Mercury Marine to go work at Harley Davidson, the president of Mercury Racing, Fred Kiekhaefer, pulled aside Christiansen and said, "When you realize the grass isn't greener on the pavement, you can give me a call."
The very next morning, Christiansen called Kiekhaefer.
"I think he was a bit shocked," laughed Christiansen during a recent phone interview. Following a friendly chat (and never one to beat around the bush) Kiekhaefer said, "Why don't you come up this afternoon?"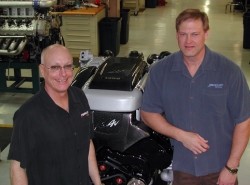 Christiansen agreed and made the hour drive from his home near Milwaukee to Mercury Racing headquarters in Fond du Lac, WI. After the two met, Christiansen returned to the Mercury fold as engineering manager for the racing division.
That was in 2002. Fast forward to January 2, 2013, Christiansen, 44, took over the helm of Mercury Racing as General Manager after Kiekhaefer, 65, stepped down as president of the most famous name in marine performance propulsion to assume a consultant's role. For the first time in 73 years there was no one named Kiekhaefer at a Mercury Marine facility.
"I think I did a great job in prepping Erik to be my successor and communicating that, so now it's time," said Kiekhaefer.
After living in Fond du Lac since 1985, Kiekhaefer and his wife Carol recently moved to Colorado where Carol was starting a new job with the Barbara Davis Center (BDC) to do research work on diabetes. The BDC is one of the largest diabetes institutes in the world.
For Kiekhaefer, his departure from the full-time world at Mercury is a partial conclusion to a storied career. After literally growing up at Mercury Marine, the company his father Carl had founded, Fred earned an undergraduate degree in physics from Ripon College in Ripon, WI., and a master's degree with a focus on internal combustion engine design at the University of Wisconsin-Madison. He also earned a marketing degree at Northwestern University. After Carl left Mercury and started Kiekhaefer Aeromarine, Fred worked at his father's company during the summers. Years later, Kiekhaefer temporarily took over at Kiekhaefer Aeromarine when Carl was recovering from bypass surgery. "Then Carl forgot all the promises he made to me so I went to Fischer Imaging," recalled Fred.
Fischer Imaging was a medical diagnostics company and Kiekhaefer took the processes and documentation procedures he had learned in the marine industry and applied them to medical equipment. After a couple of years improving Fischer Imaging's processes, a recruiter came calling and soon after, Kiekhaefer became a consultant in management advisory services at Price Waterhouse.
"The thing I really enjoyed about consulting was they spent a lot of time with you to improve your skills and make you a better consultant," said Kiekhaefer.
He was working in Chicago and he was a rising star in the consulting world. When his father passed away, one of the investors at Kiekhaefer Aeromarine called Fred. Before the estate could be liquidated, Fred acquired the assets from the estate with a couple of minority shareholders and took over as president of the family business in October 1983. Carl was famous for innovation, but not business acumen. "He was on a cash-burn rate that I couldn't sustain," explained Fred. "I think we probably had a couple of weeks."
Realizing he was responsible for the livelihood of about 50 people, Kiekhaefer took on contract machine work for Mercury, Outboard Marine Corporation (OMC) and and Volvo Penta. He also realized that the company had some products he could bring to market quickly and generate revenue. Kiekhaefer Aeromarine and Mercury both had heavy-duty trim tabs in their product lines, however Fred realized that recreational boaters also needed a high-quality heavy-duty trim tab. He took the K-plane racing trim tabs, cut off the corner to provide clearance for propellers then added corrosion resistance. After the launch of the product, all the offshore performance boat manufacturers were clamoring for them.
"We ended up owning the market by virtue of making a better product," said Kiekhaefer.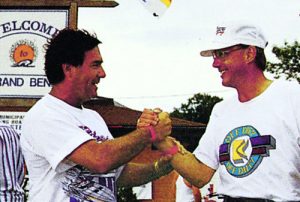 The same thing happened with Zero Effort controls and Kiekhaefer offshore propellers. The company made props to fit Arneson surface drives and MerCruiser products. Using proprietary processes and metallurgy refining, Kiekhaefer Aeromarine produced robust propellers with blades that would stay on even in surfacing applications. With the Zero Effort shift and throttle controls, Kiekhaefer took the best elements of pricy race boat equipment and developed an inexpensive versions for pleasure boats. They were an instant success.
With some financial stability, Kiekhaefer Aeromarine embarked on an undertaking that would forever change offshore performance – a sterndrive that could reliably handle horsepower numbers the industry had never seen before. In the early 1980s, after a failed financial agreement with a purported European distributor, Kiekhaefer talked to his local banker who lent him the funds in 1985 to start seriously working on the drive. Kiekhaefer Aeromarine was already building its own racing gear cases and Speedmaster lower units.
Larry Lohse and Tom Theisen, both of whom had worked for Carl, remained with Kiekhaefer Aeromarine to develop the new drive. The company tested its prototype on a 30' Scarab Panther and a 32' Midnight Express in Florida.
One of Kiekhaefer Aeromarine's customers in the area was the Drug Enforcement Agency (DEA). It had a policy of taking boats from smugglers and using them to chase the bad guys. But the criminals had also developed the perfect fake breakdown. They would wait for a Good Samaritan (who offered on-water assistance) to secure a towline between the boats and then steal the Good Samaritan's vessel. Kiekhaefer's test drivers knew this and were instructed to drive away as fast possible whenever another boat approached them.
In fact, one time, a suspecting DEA boat attempted to get close to a Kiekhaefer Aeromarine test boat and the officers weren't pleased when they could not intercept the boat after they blasted away at full throttle. Eventually, the DEA called for backup and cornered the boat. "Our drivers said 'I'm doing what my boss said your boss told him to do,'" recalled Kiekhaefer with a laugh.
When all the testing was done, the Stern Drive by Kiekhaefer Aeromarine was unveiled to customers by an invitation only event at a hotel next to the Miami International Boat Show in 1988. Customers took orders on a first-come first-serve basis. The first two drives went to Europe, another pair was sold to a customer in the U.S. but the boat on which they were installed was big and slow.
The first customer to use them effectively was Tom Gentry. He installed them on his 43' Scarab, Gentry Eagle, which was powered by three Gentry Turbo engines. Actor/racer Don Johnson leased the boat from Gentry for the offshore racing world championships in Key West, FL., and with throttleman Bill Sirois and navigator Gus Anastasi, finished second in all three races, claiming the world championship.
When Peter Markey's 41' Apache, Little Caesar's Pizza, gave Kiekhaefer Aeromarine a repeat title at the world championships in 1989, Mercury Marine came calling. After some negotiations, Kiekhaefer returned to the fold to run what was then called Mercury Performance Products in 1990.
"There were many people here who thought I shouldn't be here because I had been on the other side," Fred explained. The division then became known as Mercury Hi-Performance and then evolved into Mercury Racing.
From 1990 to the present, Mercury Racing has retained its position as the leader of the high-performance marine world and Kiekhaefer's never-ending goal of providing durable big power has served as the unofficial company motto. Whether it was improving the strength of the Bravo One to work with engines such as the HP500, HP525EFI or HP600 SCi or developing the first 1000 hp engine with a warranty, Kiekhaefer always strived to give his customers turnkey performance products.
"A boat is a system, the propulsion package is the thrust source, but it's a variable," he said.
If Kiekhaefer had any questions about how well Christiansen had learned his lessons, the following quote answers them. When asked about his approach to designing new engines, Christiansen said, "It has to be done as a system and that's why we've always tried to sell the whole package."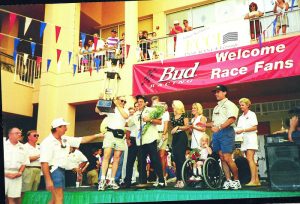 When Christiansen returned to Mercury Racing in 2002, he and Kiekhaefer quickly developed a friendship. During one of their many chats in subsequent years, Kiekhaefer asked Christiansen what he hoped to do with his future. "Someday I'd like to have your job," Christiansen said.
Kiekhaefer liked what he heard and decided to see just how hard Christiansen was willing to work toward this goal. Christiansen's engineering talents were unquestioned. He had a mechanical engineering degree from the Milwaukee School of Engineering and, prior to landing at Mercury, he had worked in small engines at companies including Tecumseh and Briggs & Stratton.
Christiansen hails from Wisconsin and grew up boating on small lakes with his family. He is married to his wife Christa and they have two daughters, Hana, 15 and Hope, 10. The family lives in Port Washington, WI., approximately an hour from Fond du Lac.
To broaden Christiansen's knowledge base, Kiekhaefer wanted him to get a master's degree in business. In Spring 2005, Christiansen explored enrolling at Northwestern University the following semester. Kiekhaefer had other ideas. "Fred said, 'No, now is good,'" remembered Christiansen, so he enrolled in the Spring. He finished his MBA in 2007 and was promoted to Director of Engineering at Mercury Racing in 2008.
Even with his new degree, Christiansen learned quickly that there were some things he could only learn from his mentor's hands-on experience. "I learned a lot from the mistakes that Fred made when he was running his own business," Christiansen explained. "The only way to get that kind of experience was to run his own company. It was a great perspective to hear what he learned."
After spending five years in the outboard department where he was instrumental in designing the Verado outboard, he moved to Mercury Racing and Christiansen's team developed the HP1075 SCi and HP850 SCi. He also worked with all the premier classes in offshore racing including Class 1, X-Cat, and the Open class in the United States. For a guy who had spent his teen years modifying the engines of every vehicle he owned including snowmobiles, cars, you name it, the move to the racing division was a natural one.
But it was his work on the quad cam four-valve 1350 that raised Christiansen's status as an engineering star. "I actually designed the engine when I was working on the Verado," Christiansen explained. "It was a lunchtime activity. I wanted to fix the things about the big block that we didn't like and keep the things we did."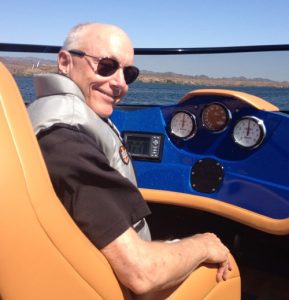 He said that the strength of a big-block engine is that the bottom end, including the crankshaft and related components, are solid. Conversely, the valve train on a high cubic-inch engine is a weak link on anything above about 750 hp. So, Christiansen improved the valve train with the quad-cam four-valve design. Hence the QC4 moniker Mercury uses to refer to the 1350 hp and 1100 hp models.
"If you're going to do something, do something to differentiate yourself," said Christiansen. The two reasons for switching from superchargers (that had been the mainstay of Mercury Racing's high output engines) to turbochargers was the latter burned cleaner and used less power to produce the big horsepower performance fans crave. Regarding future projects, Christiansen also learned from the master. He wasn't about to reveal anything about what we could expect to see unveiled at the 2013 Miami International Boat Show.
On his first day in the office after the New Year, Christiansen said that it was "weird" not seeing Kiekhaefer roaming the halls. "I'm going to miss not having him around here," said Christiansen. "On and off, he's been in this building since it was built."
Regarding his future, Kiekhaefer is excited. He'll still represent Mercury at industry events like the Miami International Boat Show. He leaves behind the day-to-day grind of running the business, but still has the opportunity to put his surplus of creative energy to good use. "I've got a lot of things in my head and a lot of things I want to do," he said. "As long as it's fun and I have the creative juices flowing, I'm going to keep trying to develop the ideas." And, along with Christiansen steering Mercury Racing to new levels, performance boaters will certainly see the benefits.