The King of Offshore is back teamed with his two sons, Wyatt and and Reggie III, with a new company called Fountain Performance Marine.
He is a legend. He is an icon. How do you stop a force of the champion who has a house full of trophies, has competed in more than 200 races (winning over 100 of them) and has established a career where he has sold more than 10,000 boats in the last decade? You don't. You just don't.
The force of Reggie Fountain is all happening again and continuing right on Highway 264 just outside of Greenville in Washington, North Carolina. Reggie and his new company, Fountain Performance Marine LLC., are in perfect trim and poised to service thousands of customers in the performance and recreational boating community. Joined by his two sons, Wyatt and Reggie III, along with key personnel like Ben Robertson and Joey Griffin, the new company was devised to provide a one-stop marine service center with a first-rate facility and unparalleled expertise.
I accepted Reggie's invitation mid-May to be the first member of the media to visit the new premises and bring back the news to boaters across the nation. Driving a few miles just outside of Washington, NC, it wasn't hard to miss the three buildings spread across four acres. Fenced in with security like Fort Knox, the three separate buildings provide up to 25,000 square feet of working space that make up the series of divisions.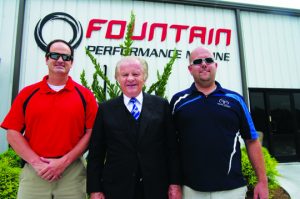 The main division, Fountain Performance Marine, offers an array of upgrading services – from fiberglass repair, bottom blueprinting, and custom fabrication to custom upholstery, canvas replacement, and graphics work. The facility can bring models up to current standards with the latest trends and technology – simply bring in your existing model and it will come out looking like new, refurbished, polished and ready to run for far less than the cost of a new boat. But the facility isn't just limited to owners of Fountain Powerboats. It's a full service facility ready to take on any boat from any manufacturer.
The second division consists of Fountain Custom Boats, which will, in the near future, offer three models including a 43' Vee-bottom, 40' catamaran, along with a 32' and 39' center console. Each model is designed, rigged and tested in-house and completely custom built to a customer's specifications. Combined with the knowledge of Reggie and Ben Robertson (a former champion racer), along with his expert team of riggers, drivers and designers, the result is a model using the latest in marine technology and the most efficient use of propellers, drives and engines available on the market.
The third division, which is perhaps the heartbeat of the facility, is Fountain Performance Engines, spearheaded by Joey Griffin of Griffin Engines, a veteran wrencher and perhaps the most accomplished engine builder in the Carolina's. He has been Reggie's main builder since the beginning. Griffin has built thousands of engines and is the driving force behind many world champions including Reggie and the famed David Woods of the Pier 57 Team.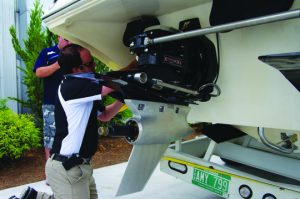 An authorized Mercury Outboard and Sterndrive facility, the engine division can take on any job for any boat that comes to call – from rebuilds, performance set-ups and repowers, to drive repairs (from the Bravo One's all the way up to the Number Six Speedmasters) and/or regular maintenance.
All three buildings, along with the engine facility, were purchased from Joey Griffin. Some of his top employees such as Ben, Wyatt and Reggie III are behind Reggie 100 percent. The experience of his staff is proven. They are all former champions and their experienced is based on raced-wins. Reggie Jr., Ben, Wyatt, and Reggie III have all won first place in more than 400 combined races against major competition.
Sitting down with Reggie, I asked him right up front: what does Fountain Performance Marine LLC, have to do with your original company, Fountain Powerboats. His answer was simple, "Absolutely nothing. "I left the company more than two years ago and have nothing to do with it now. As of today, I don't think they are building boats as it's shut down at this time. For most of the past year, Liberty and its lender, First Capitol Corporation, have been in a legal battle over debt and ownership."
He wanted to make it clear that no one is riding on his coat tails. The best employees are now with him. Any boats built after 2010 were definitely not manufactured or rigged by Reggie and his key players.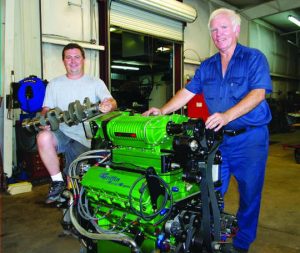 Reggie, in addition to Ben Robertson "will be building spec'd boats, one of a kind, completely custom sport boats and center consoles for the buyer who wants something really special."
Among the three divisions is a full brokerage department where Reggie will buy and sell used boats, or he will even sell a model for a customer, at the same location where Reggie set a world speed record with a two-way average time of 171.883 mph.
"It's real easy," says Reggie. "Bring in your boat, meet the Fountain family first-hand and even stay under the roof of my home, Club Fountain, and enjoy the premises on the shores of the Pamlico River."
According to Reggie, he will also provide driving tips and his door and services are open to all performance boaters regardless of the make or model they own. For all the guys Reggie has competed against in the past, he says he has no more secrets of building go-fast boats with his former competition. "We are now one big happy family. I look forward to working with everyone."
When I was with Reggie, I couldn't believe that, in the course of the day, three customers came off the highway, bringing their boats in for servicing and to be brought up to current standards.
"What better place is there to bring my Fountain and get free high-performance driving tips in all water conditions?" said Keith Wright of Vermont. "I originally came in for outdrive repair (tops and lowers) and at their recommendation, I ended getting a new custom water pump and strainer, a new IMCO drive completely set up (top and lowers) – all dialed in. I also purchased a new profile windshield to top it off."
The highly integrated service department is open seven days a week and service at Fountain Performance Marine is key. Reggie built one boat at a time in the beginning and has sold boats all over the world. He was the engineer that built Fountain Powerboats in Washington, NC, and he is still there today. Now, he and his key personnel, along with his two sons, are concentrating on custom-built boats and first-class service for their clients, one customer, and one model, at a time. www.fountainperformancemarine.com
SATISFIED BOATERS
"I brought in my 1975 Boston Whaler and they completely did my old boat over. They buffed and polished the hull, redid my boat (and even my truck) interior, polished the windshield, and refinished all the wood trim. The boat is 39 years old and able to run in excess of 50 mph. I am happy about this."
– Dr. Howard Holderness
"I am tired of spending my entire summer dialing in my boat after installing big power. It's now a lot easier and what better person is there than Reggie Fountain – the man who built my boat – to increase the power, dial in the props, play with the X-dimension, and get it running just right?"
– Keith Wright, Vermont
 "Saying thank-you just doesn't feel like it's enough to express my gratitude for all the effort, hard work, patience, dedication and hospitality that Fountain Performance Marine has afforded me. From the very first conversation that I had with Reggie III, my husband and I agreed that Fountain Performance Marine would be the only place to take our boat. It was clear that in order to correct the issues we were having, it had to go back to its roots and the legend that created it……I am so glad that we made the decision that we did."
– Charlene Brown, Prince Frederick, MD.