HI-SPEED CONNOISSEUR POKER RUNNER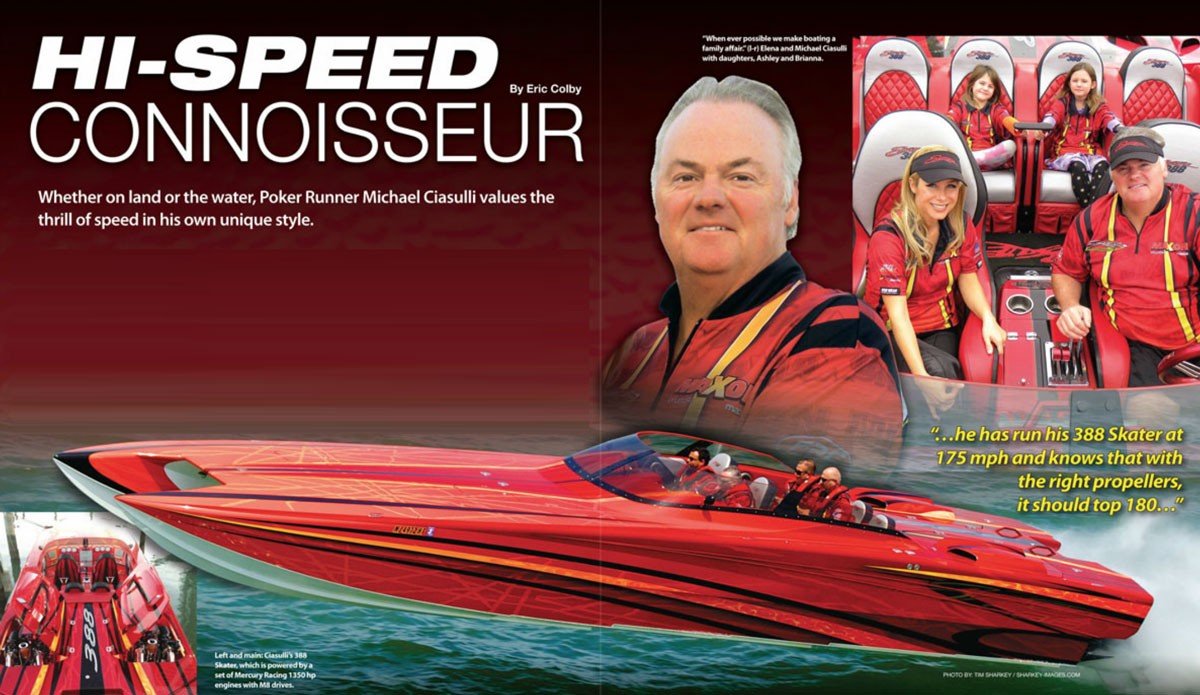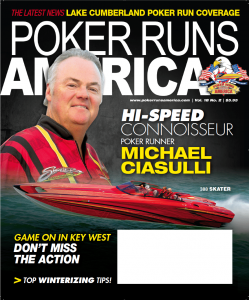 Michael Ciasulli won the 24 Hours of Daytona automobile race in a purpose-built Corvette. He has driven a Ferrari and a NASCAR Sprint Cup Car at such famous tracks as Watkins Glen, Road America and Virginia International Raceway. But when it comes to picking his favorite high-performance vehicle, Ciasulli doesn't hesitate. It's his Skater 388 catamaran powered by Mercury Racing 1350s with M8 drives.
"Every time I get out of that boat, I just pinch myself and say, 'Man that thing is so impressive and a thrill to drive,'" said the 57-year-old from Green Brook, NJ. "It's a marvel."
The owner of Maxon Auto Group in New Jersey bought his Skater in 2014. In a minor role reversal, Peter Hledin, president of Douglas Marine, which builds the boats in Douglas, Mich., gave the car dealer a deal he couldn't refuse.
"I loved the paint job and always wanted a 388 Skater." Ciasulli explained. "Peter was awesome to do business with. He and his team were very engaged with what I wanted in the boat and how I wanted to customize it."
Appearance Products of Grand Rapids, Mich., is the interior designer for Skater and company president Craig Ellis worked so well with Ciasulli that the two have become close friends.
Ciasulli has run the boat at 175 mph and he knows that with the right propellers, it should top 180. He participates in about six poker runs every year with his younger brother Chris Ciasulli, 45, or his next-door neighbor Anthony Corborsaro. His wife Elena has gone on some, but she currently has some issues with her back but still enjoys boating at low speeds. They have twin seven-year-old girls, Ashley and Brianna. Ashley is a little more cautious, but Brianna will take a 100- mph blast whenever dad offers.
Ciasulli and family live in Green Brook, N.J., and they have a summer home in Brick, N.J. This past summer, Ciasulli participated in the Atlantic City Poker Run and Mike Fiore Memorial Run in New Jersey, as well as The Rock the Bay Poker Run on Chesapeake Bay. This winter, the boat will head south so Ciasulli can attend the Key West Poker Run, the Miami Boat Show Poker Run and the winter run with the Florida Powerboat Club.
"It's a great lifestyle event," he said of the runs. "It's a lot of fun, the passengers and the people involved all enjoy it."
Ciasulli is a busy guy, so he hires someone else to worry about the logistics involved with attending a poker run. That person is Tom Healey and his business Marine Unlimited based in Toms River, N.J. that hauls the boat to the runs and have it ready to go when the owner arrives.
"Tom makes it very easy to participate in the events," said Ciasulli. "I know when it's there and I know it's going to be ready to go."
Growing up in the family business, Ciasulli learned the importance of hard work and delegating responsibilities. His father, Robert, owned more than 20 car dealerships in New Jersey and in the 1960s he built the largest General Motors facility in the nation, called Maxon Pontiac. Robert passed away in 1984 and Ciasulli's, mother Patricia, now 85, lives in Delray Beach, Fla.
Michael owns Maxon Auto Group, a Hyundai and Mazda dealership. When he was 26 years old, he was the youngest deal- er in the United States to start a Hyundai dealership.
"The Maxon name has been an important name in my life," Ciasulli said. "I try to align myself with it whenever I can." His boat's unofficial name is also Maxon.
Michael was one of six kids and the family had a summer home in Brick, so the five brothers, Bob, 73, Ron, 65, Tim, 60, Michael and Chris, 45, and one sister, Victoria, 42, spent their time on Kettle Creek in New Jersey water-skiing and riding personal watercraft.
Michael bought a Sleekcraft jetboat that he called "an extreme go-fast of its day." In the 1980s, big brother Tim bought a 30' Chris Cat with some big block engines that was more suited for the local waters.
While Tim was drawn to the water, Michael participated in downhill skiing and then got into motocross, which he raced from age 17 until he turned 21. The family owned a Yamaha dealership so he rode a YZ450 in competition. After one too many crashes and a resultant concussion, he decided to try something else.
When Tim bought a 33' Sutphen offshore raceboat, Michael navigated while crew chief Harry Wellman throttled. They ran Miss Maxon in the Modified class at the annual Benihana race in New Jersey and the brothers' best finish was a second at the annual world championships in Key West in the early 1980s.
"It was an opportunity for Tim and I to get involved in some- thing together," Michael said.
After their father passed away, Tim stayed with boat racing while Michael discovered auto racing. A friend raced go-karts with his son. Ciasulli tagged along when they went to a race and the friend asked Ciasulli if he wanted to drive in a heat race. In his first time ever racing a go-kart, Ciasulli won.
That was all it took. One of the family's dealerships sold Pontiacs so Ciasulli started in the Sportscar Club of America's Showroom Stock class in a Firebird Trans Am.
"You used to drive the car to the racetrack, race it and drive the car home," he said. He won the Northeast Road Racing Championship SCCA. Then he moved into a purpose-built Trans Am in the Kelly American Challenge that was sanctioned by the International Motor Sports Association. He won the award for the Most Improved Driver in 1986.
Ciasulli caught the attention of a professional racer named Irv Hoerr who owned a team sponsored by Oldsmobile. Hoerr picked Ciasulli to drive the team Cutlass in Trans Am from 1987 through 1989. "To not have to pay to race was pretty special," said Ciasulli.
He won Trans Am Rookie of the Year in 1988. "The actor Paul Newman was also one of my teamates when he raced and that was something very special," added Ciasulli.
He raced with Hoerr until 1989 when Oldsmobile pulled out of motorsports. Interest rates skyrocketed and the national economy declined. "It was time to put away the toys and go to work," said Ciasulli.
He had always been an exotic car enthu- siast and when business improved, Ciasulli bought a Ferrari Challenge car to race in the Ferrari Challenge series in 2000 and 2001. There was only one problem. "You know the old saying that rubbing is racing? I didn't have it in me to rub my Ferrari."
Then came the opportunity of a lifetime. Flis Motorsports needed a driver for its Corvette that raced in the Grand Am AGT class and Ciasulli got the shot. Driving three two-hour stints, he and co-drivers Andy Pilgrim, Doug Gode and Craig Conway won the 2002 24 Hours of Daytona. "That was the biggest win I've ever had," said Ciasulli.
The checkered flags continued at Fontana, CA. and at Homestead, FL. but the time and financial commitments were more than Ciasulli was comfortable with, he gave up his seat.
"When you're racing at a truly professional level, it becomes all consuming," explained Ciasulli."I just couldn't commit to it."
Instead he did some historic racing in a NexTel Cup-style car from 2003 to 2005.
He still owned the Ferrari and went to some club events and he spent some time working with young racers, which he found especially gratifying.
In 2005, Michael met Elena, who was an engraver for Tiffany & Co. Michael explained he took her to the race track with his Ferrari Challenge for some routine laps. He strapped her safely in the passenger seat and they had a really good time. She no longer works for Tiffany & Co but enjoys real-estate development, buying, restoring, and success- fully re-selling properties.
While a partner eventually bought into Michael's Ferrari and when they were at Watkins Glen, the partner crashed the car. "He tore it to pieces," Ciasulli said. "He wasn't hurt, Thank God, but the car got just annihilated."
That ended his time with race cars and Ciasulli bought a 33' Scarab with twin MerCruiser 496 engines. He took it to a poker run in Key West and enjoyed it enough that he upgraded to a 38' Cigarette with twin 700-hp Richie Zul engines that he owned for about three years.
He bought his first catamaran, a Nor-Tech 36, in 2010. It was pow- ered by Mercury Racing HP850 SCis and upgraded the motors to Mercury Racing 1075 hp engines. Then he sold the Nor-Tech to buy what he really wanted, the Skater 388.
He already has 100 hours on the boat and with Marine Unlimited taking care of everything, Ciasulli will undoubtedly be logging many more hours. For the most part, he runs pretty conservatively at the runs, having already gotten the need for high-speed competition out of his system.
"I know what my boat can do and so does everybody else," he said. "I don't think I have to prove anything to anyone."
Well spoken by a man who knows high-performance.