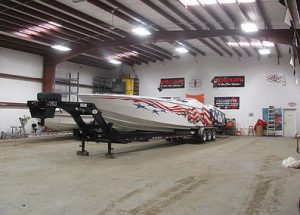 With the performance season now in full swing, Chris Cestaro and his team at Ocean Performance of Old Saybrook, CT, are moving forward concentrating on new and used boat sales, as well as an influx of refurbishing projects that are meeting the demands of the go fast community.
In addition to just completing a 38' Scarab with a re-power as well a new look – complete with a redesigned dash, gauges and electronics – a 38'Cigarette is also in the works, again with the addition of new motors featuring Mercury Racing's 700 SCi engines.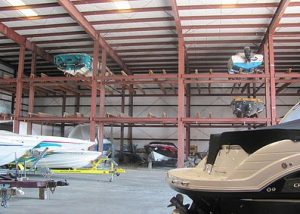 "A lot of our customers right now are looking for more speed and to update their current model," says Chris Cestaro, owner of Ocean Performance. "We have a pretty good inventory of drives and engines, with access to all of the Mercury Remanufacturing products, which we are now offering our customers. There's a new 540 motor that makes 440 hp that, with cam changes, can easily produce 500 hp. That motor has a two-year warranty as a 440 hp motor. There's also a 383 stroker motor that produces 300 hp with a three-year warranty. So people now have more options as they are able to buy a used hull, then re-power it with engines under a warranty at really good value."
With many new, interesting projects currently taking place at Ocean Performance, be sure to check back for updates and in the very next issue of Poker Runs America.