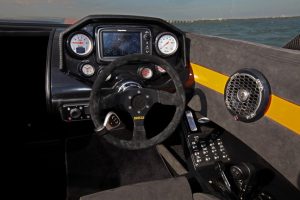 At many poker runs event promoters give out individual awards to boats and/or teams for best boat graphics, best-dressed crew and coolest engine compartment. For the latter, the winner usually has the area finished in a brightly colored gelcoat with batteries in color-matched billet aluminum boxes, trim pumps adorned with custom filler caps and wires and hoses running in evenly spaced, cushioned stainless-steel clamps. There is beauty in this style of rigging.
But there's a new approach that's bound to spark a lot of interest in the performance boating arena. It's fitting that a company with a name like Outerlimits is once again the leader in this latest development.
The manufacturer has a number of industry firsts to its credit and on its new SV 29, when you open the engine hatch, you see no wires, no batteries, no hoses, nothing but the trim pump and a sea strainer. When we flipped the switch for the optional LED compartment lighting, it looked as if the Mercury Racing HP600 SCi was floating against the shiny black gelcoat finish.
Just because mechanical accessories are hidden doesn't mean they aren't easily accessible. With a Phillips-head screwdriver, fasteners for panels can be easily removed at the leading edge of the compartment with access to batteries on the port and starboard side (a second battery is an option). With these panels out, the battery and the bin that holds it can be removed, then simply wrench the backing nuts to access the vertically installed aluminum L-angle motor mounts. Aft are two more panels that can be taken off to access the trim pumps for the 280-S K-planes. Hoses and wire harnesses run forward to the dash in PVC pipes that are fiberglassed to the hull structure.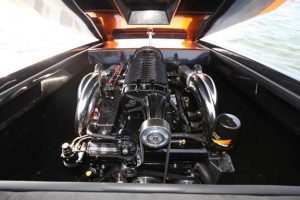 What makes this kind of engine compartment finish possible is Outerlimits' Monocoque X Frame Structure construction. Essentially, the boat is built from three pieces including the hull, the X-Frame Structure, which includes the engine compartment, the cockpit sole and seat bases and the cabin sole, seat bases and V-berth bottom.
They're bonded with adhesive and fiberglass tabbing and the hull-to-deck joint is a proprietary design that is also bonded with a high-grade adhesive. The three parts are formed out of E-glass with epoxy resin and cored with Corecell foam and strengthened with carbon. Not only does this process build a boat with incredibly high strength for its 4,850-pound weight, it results in an efficient construction process. Outerlimits can build the SV 29 in three weeks.
To order a back issue call (800) 461-9128 or sign in to read entire article
That's a good thing because once you drive the SV 29, you won't want to wait long to have one of your own. The 600 hp supercharged Mercury Racing engine was matched to a Bravo One XR drive with ½-inch spacers and 1.5:1 gear reduction. With that propulsion package turning a lab-finished 15 5/8 x 34-inch five-blade Maximus propeller, our test boat ran 101.3 mph at 5,350 rpm. Pull back to 4,000 rpm and you're cruising at just about 75 mph.
Test conditions on Narragansett Bay in Rhode Island provided a real-world look at the SV 29's stellar capabilities. Faced with winds blowing at 10 to 15 knots and one to two-foot chop with white caps, the SV 29 held its line like it was riding on a proverbial rail, even in cross winds and beam seas. In fact, this boat was one of the few I've ever driven that gained speed through a series of slalom turns and it came around in a super-tight radius at 50 to 60 mph, maintaining a secure inboard lean throughout the maneuver. IMCO hydraulic steering helped make the driver's job easy.
After completing the slalom maneuvers at about 45 to 50 mph, we headed straight out into the two-foot chop and within seconds we were running 80 mph and gaining speed.
Outerlimits president Mike Fiore went through numerous variations of the boat's four-step bottom before arriving on the version that's in production. "The battle was generating enough lift to get the boat at the correct running angle without a lot of assistance from the propeller," he explained.
Three of the four steps are about two inches tall with large air intakes and the chines while the last quarter step is about ¼-inch tall. The first step is about 12 feet aft of the bow and angles slightly forward from the chine to the keel. Approximately 30 inches aft, the second step angles slightly aft from the chine to the keel and 4 feet further astern, the third step runs straight across. The smaller fourth step helps break adhesion while the boat is planing and helps keep the bow up through turns.
In keeping with the wow factor that comes with an Outerlimits, you use a remote similar to an automotive key fob to turn on the SV 29's battery power. Ignition is keyless through a button on the billet aluminum accessory switch panel. The driver and co-pilot travel in high-backed bucket seats with a four-person bench. The helm features a thoughtfully designed cluster of Livorsi Marine gauges around a Raymarine E7 GPS/chartplotter and a Livorsi fly-by-wire illuminated trim indicator for the tabs. In the SV 29's bow you'll find a V-berth that's more comfortable than on boats 10 feet longer. It's well over six feet long and there's more than two feet of headroom so you can roll over without banging your shoulder on the headliner.
Back in the cockpit, another plus for poker running is the depth of the bench seat. The backrest came up past my shoulders creating a secure feeling for everyone on board and the Aero Marine acrylic windscreen protected us from the onrushing air at 100 mph. Maybe promoters need to come up with a new award for "Best Poker Run Boat Less Than 30 feet because the SV 29 has just raised the bar.