Ample cockpit space is just one of the key highlights on the SL41.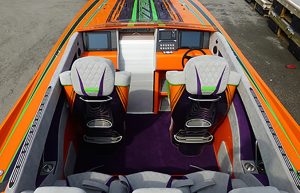 Following a recent trip to the Outerlimits' manufacturing facility in Bristol, RI, the company showcased its SL41, the latest addition to its line of offshore performers that is – needless to say – impressive inside and out.
During a recent performance trial, with stock (and staggered) 700 SCis with Number Six Mercury Racing drives, spinning 17.25"x 39" five-blade Mercury CNC props with an 18-degree rake, the SL41 hit a top end of 116 mph. With a little tweaking, Dan Kleitz, general manager of Outerlimits, explained the 41 could potentially reach 117 mph.
"The SL41 is an ideal choice and a great model to get into the Outerlimits brand," said Kleitz. "Once they really start to enjoy the 41′, they will be interested in upgrading to the SL44' with more power or even up to our larger SL50′ or a SL52′."
In addition to some influences on the hull bottom from the company's SV43 (that claimed the World Kilo Speed record last year at over 180 mph), the SL41 is built using all epoxy e-glass lamination that's post cured, the company's proprietary bonded methods for the hull and deck, plus foam coring throughout.
THE DESIGN OF THE SL41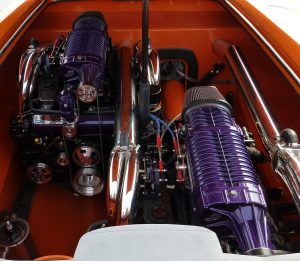 "We designed a whole new bottom, starting with some details of the SV40 bottom as well as the data we learned from setting the kilo record with the SV43 and took it to the 41," said Kleitz. "The end result is light, strong boat that's lightning fast with impeccable handling characteristics."
For a day on a poker run or anchoring with friends, the 41 offers ample cockpit space and highlights a full cabin that sports a galley, a large storage locker, two large benches and a V-berth for overnighting. For added convenience, the 41' incorporates a concealed Porta-Potti that's accessible via a large power slide track out of the V-Berth.
"With the SL41, we decided go with a boat that can go really fast with reliable turn key power. It also allows someone to get into a nice, reliable package that offers great handling," said Kleitz.
For all the details on the SL41 visit Outerlimits Powerboats at www.outerlimitspowerboats.com