By Peter Tasler
This article originally ran in 1998 in our first issue of Power Runs America volume 1 number 1:
Acclaimed lawyer. World class offshore racer. Exotic car collector. Just-turned (October 4) 37-year-old New Jersey born and bred Patrick G. Patel. Esq. is the quintessential American champion. Armed with the heart and soul of a winner, Patel is also blessed with the skill and confidence to emerge victorious.
"Basically, I deal with everything to 100 percent. I have no happy medium. At work. At play. Whatever I'm doing at the time, I do it to the fullest and utmost extent. I don't believe in going to work and going to lunches. When I go to work, I put in 10 to 12 hours at the desk, but when I go away, I'm away racing my boat. I just close everything else out. I guess a momentary intensity would be me." Patel explains in his totally unassuming (and, I suspect, disarming) voice and manner.
Patel (as his friends call him) boasts a string of accomplishments that could shatter a fragile personality in a heartbeat. He earned a four-year football scholarship to St. Peter's College in New Jersey. In his sophomore year he was named varsity captain and Small College All American in his junior year. After graduating law school (University of Connecticut at Bridgeport) in only two and a half years. Patel went to work in his cousin's law firm. He became a full partner in 1987, then bought everyone out in '89.
"That was also the year I won a $10 million lawsuit against the state," adds Patel, recalling an infamous case where an inmate was cruelly beaten and tortured by prison guards. Patel went into the prison ("Almost like an inmate"), got the goods on the culprits and broke the case.
"I have to admit I was pretty scared at the time," says Patel. "But I was younger and braver."
Nevertheless, the derring-do earned Patel stints on major talk shows, from 60 Minutes and Good Morning America to Geraldo. It also clinched his reputation as one of the foremost civil attorneys regarding police brutality cases and earned him the moniker Hudson County Powerhouse Lawyer. Today, Patel, a criminal and civil lawyer licensed in two states, owns a law practice (with partner Thomas A. Sarlo) on Wall Street and his own firm in his hometown, Jersey City.
His unswerving de­votion to his legal career also led Patel to fame and glory in his second love: racing. In his high school days, Patel spent two summers running enduro motocross as a team rider for Suzuki, but that ended when football camp began. Boating, however, has always been in his blood.
"I got my first boat for Christmas when I was 13," he recalls fondly. "It was a 19-foot Silverline ski boat with an inboard engine, all green, called The Incredible Hulk."
Since that day, Patel has owned 78 boats, and he's kept a picture and a log for every one, enough to fill four scrap­books.
"I've had every Wellcraft that was made, jet boats, mod VPs, a big Portofino cruiser that I lived on in the marina, every Fountain that's been made and just about every Skater."
Patrick G. Patel started racing ("driving a friend's boats") from 1987 to 1989 in the Divisional Champion­ships in Key West. That year, he finished third. (Intriguingly, the person he raced with is the father of the lady in his life, Kris Scibetta). But the speed-loving race-legal side of Patrick G. Patel, however, really began to flour­ish when Patel first met the legendary Reggie Fountain.
"I met Reggie in 1989," says Patel. "I flew down there to buy my first Fountain, a 33-foot Executioner which cruised at 100 mph. We became friends right away and I wound up going down there every other weekend."
Patel eventually be­came Reggie Fountain's personal lawyer and was subsequently named Board Attorney for Fountain Powerboats.
Patel also became part of Fountain's offshore race team, racing with Reggie Fountain himself in a one-of-a-kind multi­million dollar boat. Following a stunning win over actor/racer Don Johnson, Patel raced his Fountain Special to a stunning eight wins out of 11 races. In 1992, he was named to the prestigious American Power Boat Association (APBA) Hall of Champions – one of 1600 candidates that year (only four were selected).
"That was the best award I got," he stresses with pride. (Patel was also named Offshore Modified Driver of the Year in the 1996/97 season).
Patel's winning ways with Fountain race boats (he also bought Ohio Steel in 1994) and his association with Reggie Fountain also led to his involvement with Skater (Douglas Marine).
"Reggie called me and I flew up with him in his jet to Skater and met Peter Hledin (president of Skater). As part of my commission for putting together the manufacturing deal between Fountain and Skater, Peter built this 36-foot Skater which is now the In Contempt boat. I had no intention at the time of racing a cat. I was kind of intimidated by them. The only catamaran I ever had was a little pleasure cat."
Hledin also introduced Patel to Mike D' Anniballe; the driving force behind Sterling Performance. As' Patel puts it, "Mike and I just hit it off and we did a whole engine program. His boat has won six out of eight races, always first in every race."
Today, these top guns of the offshore circuit have remained good friends all, and Patrick G. Patel is also acting lawyer for both Hledin and D' Anniballe.
So what does a top-flight racing legal do when he's not busy busting chops on the offshore circuit? Easy, he goes boating in poker runs …in a 42-foot Fountain equipped with twin 1200 hp Sterling Performance blower engines with Number Six MerCruiser drives with 18×32 4-bladed props capable of running about 125 miles per hour. (By contrast, In Contempt, which this year set the World Kilo Record in Sarasota at 130.66 mph, runs about 140).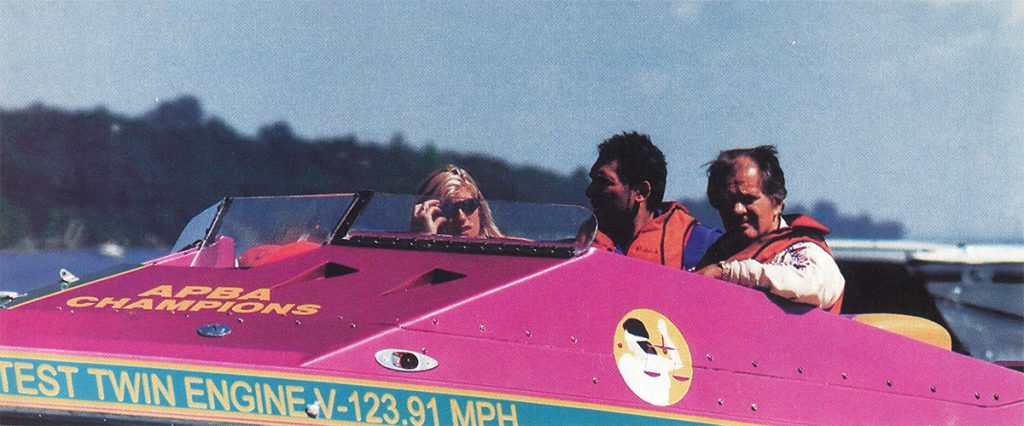 "Poker runs are exciting," says Patel. "You still have the aspect of racing, but you don't have the pressure of breakdowns and – God forbid – acci­dents. I think for the most part poker runs are very safe. The other good thing is that you get to meet a lot of people. At the 1000 Islands run (Power Boating Canada/ Mer­Cruiser Poker Run) I met a lot of poker runners who showed up for the APBA offshore race in Toronto. A couple of them even called me before to make sure I was going.
Patel says he's attended about a dozen or more poker runs so far, from the Hudson River Run from Albany to New York to the one in Atlantic City, but "the best and biggest one I've been in was that 1000 Islands run. It was by far the best. We traveled about 160 miles to get there."
Patrick G. Patel travels to poker runs in the best of company, too. "I usually have with me Doug Lewis (of Professional Marine Racing fame) who's a mechanic as well as my backup throttleman and, of course, Reggie."
While poker runs and boat rac­ing, along with extensive legal duties would be more than enough to sap the energies of most people, Patel's penchant for living life to its fullest extends to other recreational pursuits, too. He boasts a personal car collection that includes a Corvette VRl, a 308 GTS Ferrari and a 365 GTB Daytona Spyder.
"My brother and I own an exotic car dealership in New Jersey, about 250 Corvettes, Ferraris and Porsches in a huge 10,000 sq ft indoor showroom. We ship Corvettes over to a Classic Wheels affiliate in London, England, and we get Ferraris and Porsches back."
Patel also believes in a good work­out. His waterfront home in New Jersey, which has a special room that houses Patel's 18 checkered flags and over 100 trophies, also comes equipped with a 1500-square-foot full gym complete with two hot tubs, sauna, tanning bed, Nautilus and a boxing area.
"I used to box heavyweight," he explains, "but now I box about three times a week. I don't compete anymore. I did pretty well. I won seven out of nine, but you just can't get your head boxed and come to court with a black eye. Now I spar about 15 or 20 rounds to keep in shape."
Patrick G. Patel is also devoted to his family and loved ones. His parents John and Carmela work together, managing his business affairs, which includes real estate investments. His lady Kris (Kris also won the 1995 Miss Petite New Jersey crown and was 2nd runner-up to Miss Petite America in '96. She entered the contest in a bet by Patel, who, being a gracious loser, paid off with a 5-carat heart-shaped diamond ring!) is one of his office managers. And Simba, the miniature Asian Bengal Tiger, is put to work guarding the house.
"Kris loves cats," says Patel with a grin, adding that Simba, who has his own king-size bed, complete with leop­ard sheets, is declawed and defanged.
There's no denying that Patel's zest for life is fast and furious. He's current­ly involved with APBA in putting together a factory class division for the 1998 season for catamarans that will enable poker run-style boats (cats) equipped with twin 500 hp Mere stock engines to compete in offshore racing.
"There'll be no canopies, none of the amenities you see on a full-blown race boat," says Patel. "They'll race in the same way APBA factory single and twin-engine V-bottoms do now."
Patel is also working with Peter Hledin to create a Skater factory-spon­sored boat. But he'll still be racing in APBA Open Class, albeit with a brand new boat that should make its first appearance at the World Championships in Biloxi, Mississippi.
"As part of my help in Reggie's merger with Mercury, Reggie agreed to a factory-sponsored Fountain/Mercury In Contempt race boat. Reggie will throttle when he can, so will Doug (Lewis) and John (Tomlinson), with me driving."
The new boat, however, will not be a Fountain. It's a Skater that's basically a 40-footer designed by Hledin and stretched out to 43 feet as Hledin did for Dubai's Team Victory. The new In Contempt will be powered by Sterling Open Class engines with Traction Product dry sump drives.
And if that doesn't satisfy Patel's craving for adrenaline pumping high velocity, he can always explore his secret desire to race on land.
"I started toying with go-carts about the same time as motorcycles, but it's something I would like to get into right now. It's a hot thing right now. They have a big track in North Carolina. I have a lot of friends I met down there through Reggie. I've been on a track, but I haven't run in a race yet.
"And one day – I don't know when – I'd also like to race stock cars. I'd like to try it, but I think I have to start with go­carts first."
(Editor's note: As we went to press, Patel's In Contempt took the checkered in Galveston, earning Patel the 1998 Open National Championship title in Modified.)
---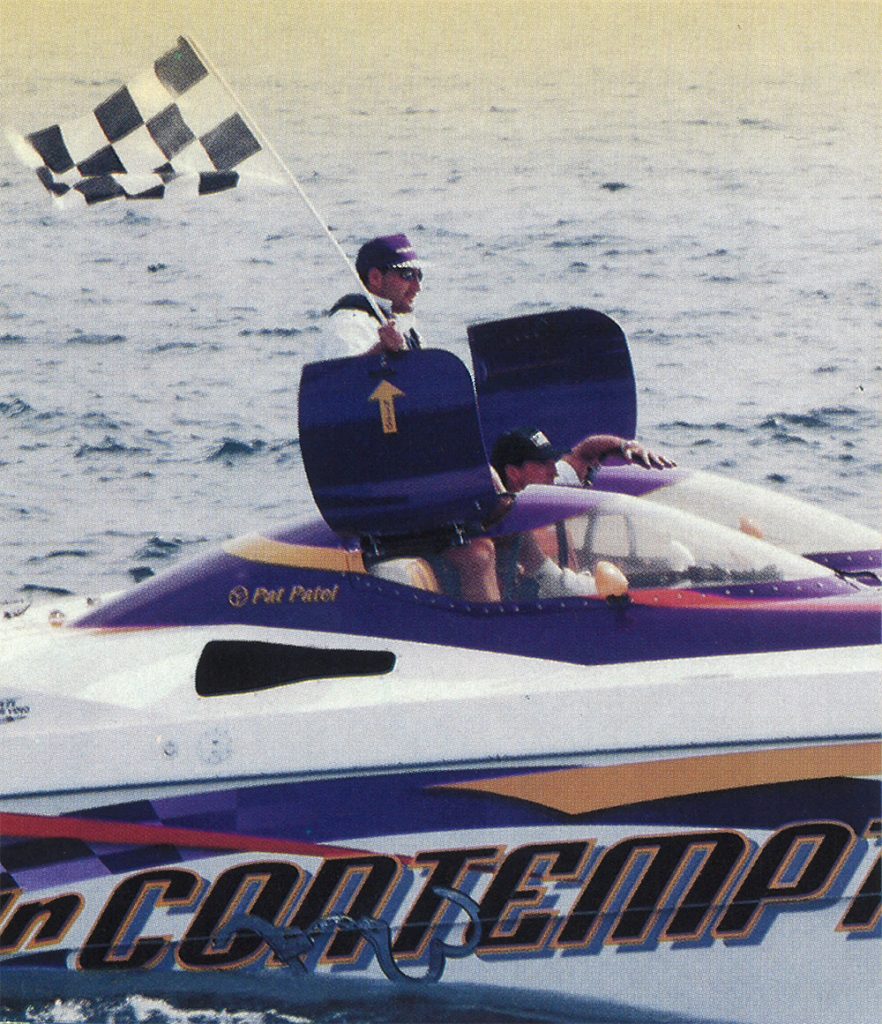 WHAT'S IN A NAME?
Often, you'll find a good story behind a boat name. In Contempt is no exception.
It all began at a trial in St. Petersburg, Florida in 1994. Patrick G. Patel, working on a case for Reggie Fountain was held in contempt by the judge – four times!
"Reggie was so convinced that we were going to lose the case," recalls Patel, "that he wouldn't even stay to hear the verdict. He told me then, 'Patel, you're so damned in con­tempt.' I knew then what my next boat was going to be called."
Patel did win the case and named his boat In Contempt.