The latest issue of Poker Runs America is now available!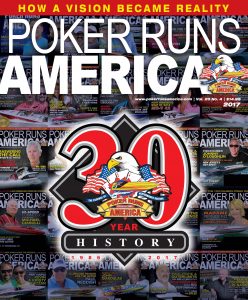 Join us in celebrating our 30-year anniversary in this special edition of Poker Runs America magazine.
Can you believe we've been hosting performance boating events for THREE decades and producing Poker Runs America Magazine for TWO decades?
The years fly by pretty quickly when you live life at full throttle!
Inside this anniversary issue, you will find a history of all our years on the water.  We look back at how Bill Taylor founded and developed the poker run sport and the founding of Poker Runs America Magazine.  We look at the players and events that shaped the world of poker runs, and how the sport has evolved over the past three decades. From boats that topped out at 60 mph to the modern-day Catamarans that shatter the 200mph limit, we have covered it all.
All of this history is pulled from the exclusive vaults of Poker Runs America.
LIMITED COPIES ARE AVAILABLE! Don't miss out on this special commemorative issue!
With all this history, we had trouble fitting it all into the pages of the magazine.  For more exclusive content from our vaults, be sure to pay attention to our website and social media every Thursday. We will be pulling out articles, videos and photos from the past and sharing them with you!
Follow us on social media to be sure you see this content as soon as its available! You can also visit pokerrunsmerica.com/pravaults to see the articles posted so far.
We hope you enjoy all of this exclusive content that Poker Runs America 20-4 has to offer!  Be sure to subscribe to Poker Runs America to get first access to the digital edition of the magazine when it's released!
For information on getting a physical copy of PRA 20-4, contact sbogden@taylorpublishinggroup.com
SUBSCRIBE TO POKER RUNS AMERICA: